Narendra Modi should tighten leash on Manohar Parrikar for his, India's interests
For defence minister Manohar Parrikar to talk loosely about India's nuclear prowess at a time when the PM was en route Japan is unconscionable
Prime Minister Narendra Modi should have a word with his defence minister once he returns from his visit to Japan. Defence Minister Manohar Parrikar needs to have the responsibilities of his high office explicitly explained to him. For a defence minister to talk loosely about India's nuclear prowess at a time when the PM was en route Japan is unconscionable.
The garrulous minister poked a hole through India's nuclear posture on Thursday, questioning a basic premise of India's nuclear policy which New Delhi has been using in its negotiations with Japan as well as in its campaign for admission to the Nuclear Supplier's Group. Parrikar's strenuous, but late efforts claiming that these were his personal views do not hold water. Persons holding important offices should keep their personal views private and not bandy them at official functions.
Addressing the audience at a book release function, the defence minister expounded on India's nuclear policy, saying that India should not bind itself to a no-first-use policy. "Why should I bind myself?" Parrikar asked.
India had announced a moratorium on nuclear testing shortly after conducting nuclear tests in 1998; the Atal Bihari Vajpayee government had announced a no-first-use of nuclear weapons policy in 2003.
India's nuclear policy has an important bearing on the Indo-Japan nuclear cooperation deal, which Prime Minister Narendra Modi signed on Friday. Japan has always stressed on a nullification clause in the nuclear agreement, which states that Japan would nullify the agreement if India were to conduct further nuclear tests.
On its part, India always cited its "unilateral moratorium" on nuclear testing to counter the Japanese demand. It had urged Japan to accept the declaration in the same way as other countries have done in their nuclear cooperation agreements with India. Indian and Japanese negotiators have been working to devise a way around this impediment by conveying the same sentiment in more acceptable phraseology.
Not just that, India's case for admission to the Nuclear Supplier's Group is based on its record as a responsible nuclear power. Being a non-signatory of the Nuclear Non-Proliferation Treaty (NPT), India holds that its "no-first-use" of nuclear weapons policy meets the same purpose. Under the no-first-use policy, India declared that it would not use nuclear weapons unless attacked with nuclear weapons.
Indians have often assumed an air of superiority when Pakistani leaders have spoken of using nuclear weapons, including tactical battlefield weapons. Former Pakistani President Pervez Musharraf had asked "what do we have nuclear weapons for?" in a television interview. Parrikar's remarks are in a similar vein. A defence minister should have a greater understanding of the implications of stated government policy.
Parrikar is known to put his foot in his mouth quite regularly. He had once referred to the Bharatiya Janata Party patriarch, LK Advani as "rancid pickle" during the tussle for supremacy in the party. The former Goa chief minister is not fluent in Hindi as he often proclaims during his speeches, but it is his thoughts and "personal opinions" that are more bothersome than his grammatical errors.
The IIT-Mumbai trained Minister was roundly criticised for his gratuitous insult to the Indian Army as he tried to appropriate the credit for the surgical strikes. In his first remarks after the Indian Army's surgical strikes along the Line of Control, the defence minister likened the army to Hanuman, who needed to be reminded of his extraordinary powers by Jamwant. The Minister had said that the "Indian troops were like Hanuman who did not quite know their prowess before the surgical strikes".
The NDA government has a record number of gabby ministers who like to spout off on their pet peeves or are quick to get into controversy through instant tweets or off-hand remarks. Prime Minister Modi was forced to caution his ministers and senior BJP leaders not to speak out of turn and indulge in chest-thumping in their comments after the Indian Army's action along the LoC. On more than one occasion, Modi has indicated to his council of ministers that he wants them to stay away from controversies, stick to their own subjects and concentrate on their work. But, verily, someone should tell Parrikar to stick to his brief.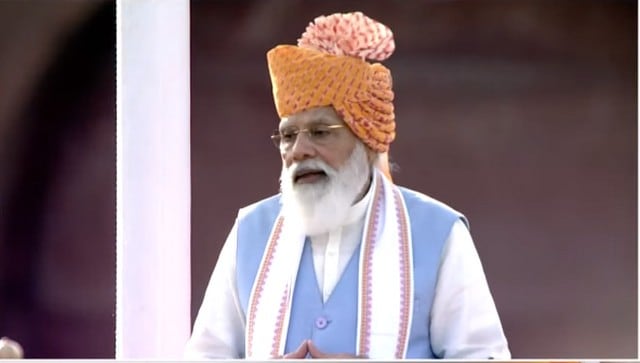 India
At the same time, Modi said, we should not forget the mantra of "Davai Bhi, Karai Bhi' (get vaccinated, strictly follow COVID protocols).'
India
According to global leader approval tracker Morning Consult, the prime minister's peak rating of 84 percent was in May 2020
India
NDMA and an Italian government entity for cooperation in the field of disaster risk reduction and management.