Narendra Modi sanctions Rs 100 cr for action plan to tackle recurrent floods in North East
Narendra Modi sanctioned Rs 100 crore for an action plan to tackle recurrent floods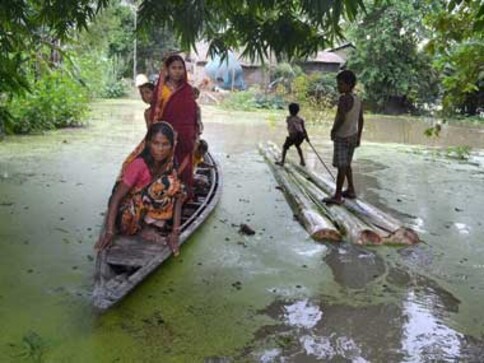 Imphal:  Prime Minister Narendra Modi has expressed concern over the devastation caused by floods in the north eastern states and sanctioned Rs 100 crore for an action plan to tackle recurrent floods, said Manipur Chief Minister N Biren Singh.
Singh told IANS on Saturday: "Prime Minister has sanctioned Rs 100 crore for an action plan to save the environment and learn the causes of floods in the region."
The northeast states experienced floods and massive landslides in the past few months. Besides widespread destruction of paddy fields and other properties, nearly 100 persons lost their lives since April. The rains and floods triggered landslides, cutting off vast areas as the highways were blocked.
Biren claimed that since the vision of the BJP government at the centre is to construct concrete houses for all families by 2022, the felling of trees will be drastically reduced. He said that free cooking gas connections will also help protect the environment.
He said that once felling of trees in the mountains is checked mud and landslides will decrease.
There are 280 ethnic communities speaking 170 languages and dialects in the northeast region. Most families depend on firewood for cooking and charcoal for room heating during winter. They also use wood for constructing houses, bridges and culverts.
The government has also given final touches to dredge the river beds in Manipur. Obstructions like shops, crematoriums and others along the river banks will be demolished unless these are voluntarily removed.
Official sources said that though Manipur has suffered considerably in terms of properties and human casualties in the floods the state is yet to get substantial assistance from the centre.
India
In the presence of the cold winds from north India, most parts of Deccan observed cold nights and mornings. Low pressure area from Bay of Bengal influenced the weather in most states in the peninsula, bringing rainy weather in parts of Tamil Nadu, Andhra Pradesh, Goa, Karnataka and Kerala
India
"It's our duty to take back PoK. A proposal was passed regarding it in Parliament during Congress government... This should be on Modi government's agenda. Currently, Pakistan is in a weak condition, we should take back PoK," Rawat said.
India
Jaishankar, who is on a visit to Manipur's capital Imphal, attended an interactive programme held at Classic Grande in the city on Saturday evening