Ram Nath Kovind hopes for passage of triple talaq bill, says Modi govt committed to empower minorities, farmers and youths
Ram Nath Kovind exuded confidence that law to ban instant triple talaq will soon become a law and the Muslim women can live a life free of fear and dignity
President Ram Nath Kovind on Monday exuded confidence that the bill to ban instant triple talaq will soon become a law and the Muslim women can live a life free of fear. Delivering his maiden address to the joint sitting of both Houses of Parliament, Kovind also made it clear that the Narendra Modi government will do everything to empower the minorities but not appease them.
Here is what the president said about various issues:
On minorities and triple talaq 
On instant talaq, he said "Muslim women's honour was a victim of political one-upmanship. Now the country has the opportunity to free them from this situation.
"My government tabled a bill on Triple Talaq in Parliament and I hope it will become a law soon. After the law comes into force, the Muslim daughter and sister can live a life free of fear and dignity," he said.
The president also pitched for simultaneous elections to parliament and state assemblies, saying there was a need to discuss and build a consensus among all parties on the possibility of holding simultaneous polls. "There is need to discuss and build consensus among parties on the possibility of holding simultaneous elections for parliament and the state assemblies," he said. On welfare schemes Referring to various welfare schemes initiated by the Modi government, Kovind said with a sensitive approach towards providing housing with availability of water, electricity and toilet facilities to all, the government is targeting to provide a house to every poor and homeless by the year 2022. He claimed that Pradhan Mantri Ujjwala Yojana,  a scheme providing LPG connections to women from Below Poverty Line (BPL) households, has empowered poor women to enjoy equal rights with their privileged counterparts thereby addressing a hitherto ignored aspect of social justice. So far, over 3,30,000 cooking gas connections have been provided, the president added. Speaking about 'Beti Bachao Beti Padhao' scheme, Kovind said that the government, in order to eradicate discrimination against girls, has extended the project from 161 districts to 640 districts. On farmers' issue The president said that the highest priority of the government is to remove various difficulties faced by farmers and to raise their standard of living. He claimed that as a result of government's policies and the hardwork of farmers, a record production of more than 275 million tonnes of food grain and about 300 million tonnes of horticultural produce has been achieved in the country. Kovind said that the govt is committed to doubling of farmers' income by 2022. "To ensure remunerative price to farmers for their produce, the agriculture mandis are being connected online. So far, agricultural commodities valued at about 36,000 crore have been traded on e-NAM portal," he said.
On basic amenities Kovind said that the government is providing electricity connections to 4 crore poor people under the "Saubhagya" Yojana. He also claimed that government is actively pursuing the work of connecting all villages under 'Pradhan Mantri Gram Sadak Yojana'. "As compared to 2014 when only 56% of villages had road connectivity, now more than 82% villages, mostly in far flung areas, have been connected by roads," said the president. Speaking about National Food Security Act he said that the government is distributing food grains at cheap rates.
On employment The president claimed that employment opportunities have been provided to the youths belonging to Muslim, Christian, Sikh, Buddhist, Parsi and Jain communities through programmes, such as, 'Seekho Aur Kamao', 'Usttad', 'Garib Nawaz Kaushal Vikas Yojana', 'Nai Roshni' etc. "More than 45 lakh students have benefitted from scholarships, fellowships, skill development and coaching schemes during the last one year," said Kovind. President's comment on employment comes a day after Congress leader P Chidambaram hit out at the Centre for their "wild claims" on job creation. Chidambaram had said that the BJP-led government at the Centre was not taking the right steps to foster real job creation. Chidambaram also warned people of the govt making several claims on job creation. On healthcare Kovind said that a new 'National Health Policy' has been formulated by the government for providing better and affordable healthcare facilities to the poor and middle class. Speaking about 'Pradhan Mantri Jan Aushadhi' Kendras, he claimed that 800 different medicines are being made available to the poor people at affordable rates.
On schemes for youths The president said that the government is working actively towards setting up of 20 'Institutes of Eminence'. "Under this Mission, selected public sector institutions will be provided financial assistance of Rs. 10,000 crore," he said.
On digital literacy Speaking about the Digital Literacy Programme, Kovind claimed that so far, one crore people have been made digitally literate.
Commenting on Aadhar, the president said that the unique identification has helped in securing the rights of the poor by eliminating middlemen.
"At present, Digital Payments are being carried out in more than 400 schemes of the Govt. Till now, more than Rs. 57,000 crore have been prevented from going into the wrong hands," Kovind said.
He also spoke about the introduction of Goods and Services Tax to bring in transparency and make tax system easier.
Kovind said that the government is guided by the fundamental spirit of the Constitution and is committed to the welfare of weaker sections. "My Government is working towards strengthening social justice and economic democracy and to usher ease of living for the common man," said the president.
Vice-President M Venkaiah Naidu, Prime Minister Narendra Modi, Lok Sabha Speaker Sumitra Mahajan, union ministers, BJP president Amit Shah, Congress chief Rahul Gandhi, Sonia Gandhi were among others present in the Central Hall when Kovind delivered his first speech.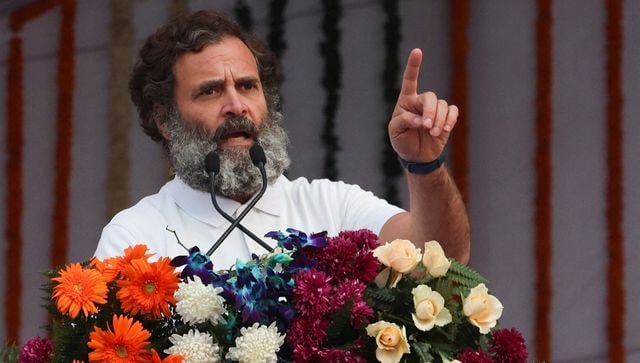 India
Congress leader Rahul Gandhi has been sentenced to two years in prison by a Surat court in a 2019 criminal defamation case over his alleged remarks about the 'Modi surname'. The Wayanad MP now faces the risk of disqualification from Parliament
Explainers
Purnesh Modi is a BJP MLA and ex-Gujarat minister. The 57-year-old, who, joined the BJP in 1984, has held several positions within the party including its Surat city chief. Purnesh was in December 2022 among a slew of big names dropped from the Bhupendra Patel cabinet
Explainers
Rahul Gandhi has joined a small 'infamous' club of politicians who have been disqualified as MPs or MLAs after being convicted in a crime. Here's a look at the other prominent names