Narendra Modi need not explain hugging world leaders, being 'touchy feely' is the desi way of welcoming guests
Hug away Prime Minister Narendra Modi, that's the desi welcome. India understands. Just don't explain yourself or justify it. That's where it goes wrong.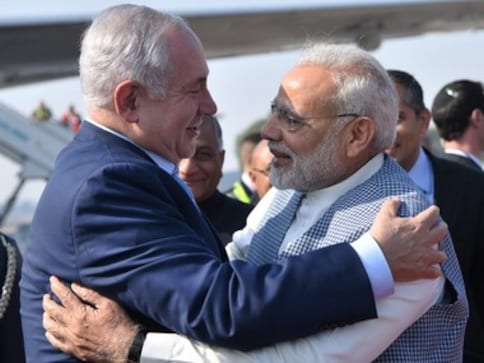 The camera can be a bitch. Between awkward pats on the back and other places (US President George W Bush and German Chancellor Angela Merkel), marooned hands struck in the air (Barack Obama and Vladimir Putin) and pullbacks from the 'touch' (Donald Trump's hand pats and backslaps), VIP greetings have been placed under the microscope often enough.
But Indian Prime Minister Narendra Modi has ripped the circumspection of protocol to shreds and his hugs have now become a subject of debate. His greeting of France's Hollande went viral for its sheer invasion of the person.
Should a leader maintain a certain decorum and restraint, or, go for broke as Modi does?
In many parts of the world 'touching' each other is considered an impertinence and an imposition. We Indians are a 'touchy feely' people. We hug at births, deaths, marriages (mandatory). We even hug if we meet for lunch, departing after lunch and in between to express our appreciation for an anecdote or joke. Knee-slapping, thigh bashing are our way of showing affection and they are sexless actions. We even touch strangers' children without a thought — a familiarity that offends others.
I have witnessed an American lady at an airport threatening to call the police because this elderly gentleman was fondling her child. It took a lot of explaining to convince her that the elderly gentleman meant no harm.
Indians lie in each other's laps in public and walk hand-in-hand without it being a gender thing, lope arms over each other's shoulders and even hold fingers (as opposed to hands) while chatting. Culturally, it is no big deal till it is pointed out. Because then it loses its innocence and turns ugly.
Prime minister Modi only exemplifies what is a common conduct for 1.2 billion Indians. Choking Israel's Benjamin Netanyahu with a bear hug last week probably eclipsed his 'lift and raise' wrestling hold that probably had UK's David Cameron wondering if he was being taken a hostage.
No one would have dared to touch Indira Gandhi or particularly desire to embrace or be embraced by Manmohan Singh. Narasimha Rao abhorred it and Chandra Shekhar never came close. Lal Bahadur Shastri was not just the type and Jawaharlal Nehru was far too formidable for any familiarity of that sort.
What happens is that hours or minutes later, the photograph of the moment becomes an editorial indictment and can be mocked. Was Obama being snubbed, was the clumsy handshake between Trump and Japan's Shinzo Abe indicative of a frost and other similar interpretations. The awkwardness becomes a joke, an illustration of the pent-up anger, frustration or enmity that marks the occasion and the combatants.
Modi roars past all this and it is now a cause to worry if, indeed, he is causing discomfort to his guests. In the upcoming week, with ten chief guests at the Republic Day parade, there is potential for an orgy of hugging. Not all ten inscrutable orientals are going to be comfortable with an effusive welcome. They are far too taciturn and distant.
Modi might be advised to pull back a bit. But then again, that is his style so why cramp it? Hug away prime minister, that's the desi welcome. India understands. Just don't explain yourself or justify it. That's where it goes wrong.
Take heart, you trumped Trump and his little pitty patty handclasp with your overwhelming magic circle.
World
The Chinese Foreign Minister recently praised his Indian counterpart for calling out Western 'meddling', and also acknowledged it as a 'sign of New Delhi's independence'. He needs to realise that this independence also applies to China
World
Embattled Georgia Secretary of State Brad Raffensperger is scheduled to testify about Trump's phone call asking him to 'find 11,780' votes that could flip the state to prevent Biden's election victory
World
During their telephonic conversation, the two leaders reviewed the implementation of the decisions taken during President Putin's visit to India in December 2021