Narendra Modi invites Mongolia's new president Khaltmaa Battulga: New Delhi just sent Beijing a message
Prime Minister Narendra Modi has invited Mongolia's new president Khaltmaa Battulga to visit India, a diplomatic move that may have significant effects.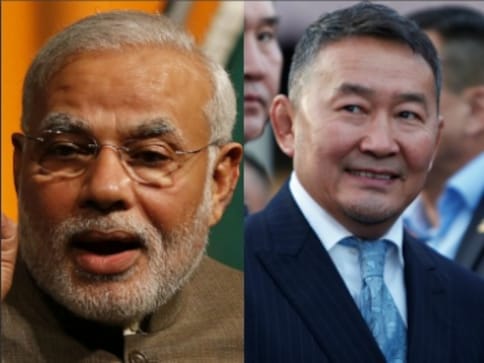 Prime Minister Narendra Modi has invited Mongolia's new president Khaltmaa Battulga to visit India, a diplomatic move that may have significant effect on international relations in South Asia.
After all, when you invite a person who fought and won the Mongolian presidential election on a populist, anti-China platform, and that too at a time when a heated standoff between New Delhi and Beijing continues along the border in the Sikkim sector, heads are bound to turn.
Modi, himself, had visited Ulaanbaatar — the capital of Mongolia — in 2015. India had, at that time, extended a line of credit of $1 billion to Mongolia. After Modi's invitation, the then President Pranab Mukherjee also sent a message to Battulga, saying both India and Mongolia believed in democracy, according to The Economic Times.
This India-Mongolia bonhomie has now found hope for even better ties with Battulga's victory.
To understand Battulga's anti-China views, which in fact helped him win the presidential election, it is important to note that China purchases 80 percent of Mongolian exports, according to AFP.
Mongolia's economy grew by a measly one percent last year, a stark contrast from an impressive 17 percent in 2011. It has been hit hard by a more than 50 percent fall in the price of copper, its main export, over the past five years, while slowing growth in its biggest customer China has hobbled the economy.
Given the slow growth, anti-China sentiment has been growing in Mongolia and people want to reduce the country's dependence on China, something which was advocated by Battulga, said the report in The Economic Times.
In fact, Battulga will inherit a $5.5 billion International Monetary Fund-led bailout designed to stabilise its economy and lessen its dependency on China. An incident which also worsened the ties between China and Mongolia was when the Buddhist-majority Mongolia had invited Tibetan spiritual leader Dalai Lama to visit the country in November 2016.
An angry China had reportedly closed an important border with Mongolia after Dalai Lama's visit, resulting in many Mongolian truck drivers, who were left stranded at the border, according to News18. Eventually, Mongolia gave in to pressure from China and promised never to invite the Dalai Lama again.
China views the Dalai Lama as a separatist seeking to split Tibet from China and strongly opposes all countries from hosting the monk, who has been based in India since fleeing Tibet during an abortive uprising against Chinese rule in 1959.
Now that Battulga has come to power in Mongolia, India has sensed an opportunity.
Perhaps J Mohan Malik, professor at the Asia-Pacific Centre for Security Studies in Honolulu, described it best when he told The Times of India: "President Battulga's victory provides an opportunity for strengthening bilateral ties which are now part of the broader spectrum of the Sino-Indian geopolitical rivalry for the support of small and middle powers."
World
The report also warned that a potential conflict between India and China or Pakistan may spark repercussions that may require the immediate attention of the United States (US), especially In the wake of the Russia-Ukraine war
Explainers
Eric Garcetti, a close aide of President Joe Biden, is set to take over as relations between New Delhi and Washington continue to deepen. Here's what the former Los Angeles Mayor said on the Citizenship Amendment Act and China
World
Chinese president Xi Jinping is in Russia to meet his 'good old friend' Vladimir Putin. The two are expected to discuss a host of issues, including the war in Ukraine. Xi is likely to play peacemaker and reiterate Beijing's proposal to settle the conflict