Narendra Modi in Varanasi: Prime Minister unveils 63-foot statue of Deendayal Upadhyaya, flags off IRCTC's 'Maha Kaal Express'
Narendra Modi participated in the closing ceremony of the centenary celebrations of Shri Jagadguru Vishwaradhya Gurukul
Narendra Modi arrived at Lal Bahadur Shastri International Airport in Varanasi on Sunday morning

Modi unveiled a 63-feet tall statue of Pandit Deendayal Upadhyaya in Varanasi

He also flagged off IRCTC's Maha Kaal Express through video link
Varanasi: Prime Minister Narendra Modi on Sunday participated in the closing ceremony of the centenary celebrations of the Shri Jagadguru Vishwaradhya Gurukul.
वाराणसी में श्री जगद्गुरु विश्वराद्य गुरुकुल शतमानोत्सव में पीएम मोदी: बाबा विश्वनाथ के सानिध्य में, मां गंगा के आंचल में, संतवाणी का साक्षी बनने का अवसर बार-बार नहीं आता है। संतो का आदेश हो और रुचियों का संदेश का महत्व हो तो समय और दूरी कभी बाधा नहीं बनती है। pic.twitter.com/miZ3VAhoZZ

— ANI_HindiNews (@AHindinews) February 16, 2020
He released the translated version of the Shri Siddhant Shikhamani Granth in 19 languages and its mobile application. Uttar Pradesh governor Anandiben Patel, chief minster Yogi Adityanath and Karnataka chief minister BS Yediyurappa were present on the occasion. Modi also dedicated to the nation the Pandit Deendayal Upadhyaya Memorial Centre and unveiled a 63-feet tall statue of the RSS ideologue, the tallest statue of the leader in the country.
Prime Minister Narendra Modi inaugurates the 63 feet statue of former Bhartiya Jana Sangh leader Deendayal Upadhyaya in Varanasi. pic.twitter.com/RGnElRbfqB — ANI UP (@ANINewsUP) February 16, 2020
He also flagged off the IRCTC's 'Maha Kaal Express' through a video link. It will be the first overnight private train in the country to connect three Jyotirling pilgrim centres of Varanasi in Uttar Pradesh, and Ujjain and Omkareshwar in Madhya Pradesh.
Prime Minister Narendra Modi flags off Kashi Mahakal Express(Varanasi-Indore) via video conferencing pic.twitter.com/Z4QrXhoRJu

— ANI UP (@ANINewsUP) February 16, 2020
On a day's visit to his Lok Sabha constituency, Modi has a busy schedule which will see him launching over 30 projects and inaugurating a 430-bed super-speciality government hospital in Varanasi.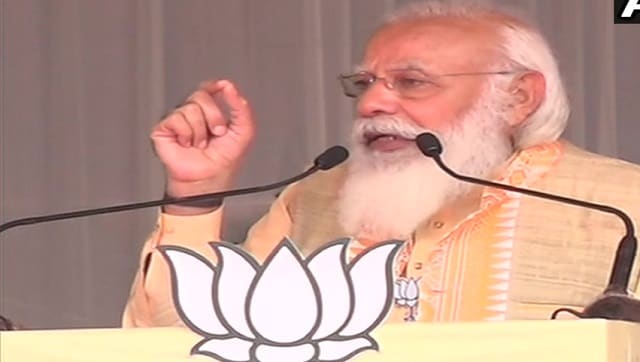 Politics
Modi and Mamata Banerjee have traded barbs, with the former even predicting that Bengal chief minister will lose the prestige battle in Nandigram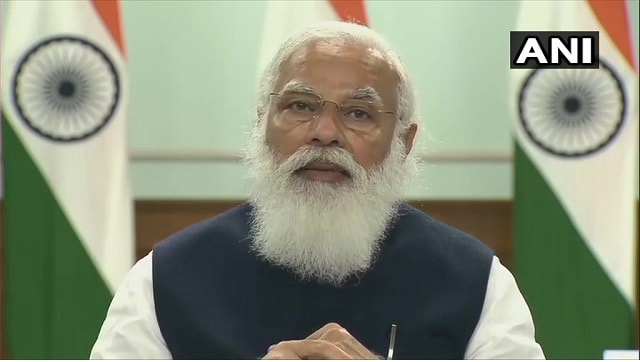 India
Modi's call for embracing modern practices in agriculture comes at a time when thousands of farmers have been protesting at Ghazipur, Singhu and Tikri border points since November 2020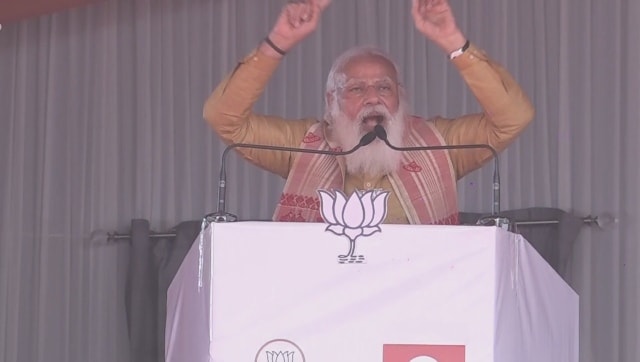 Politics
The BJP is seeking election from nine of 30 seats while AINRC, which heads the NDA in the union territory, is contesting from 16 constituencies