Narendra Modi in Goa: PM's masterful oration hit hard against black money, Congress
On his return, Modi's first day first show proved that he has returned all the more convinced and with many more tricks up in his sleeve.
Prime Minister Narendra Modi wants to turn his war against corruption, black money, fake currency, hawala, drugs and terror financing to a movement for the coming 50 days till 30 December.
He is aware of the kind of hardship that common people are facing every hour and every day due to demonetisation of Rs 500 and Rs 1,000 notes and standing for long grueling hours at a bank to get a fraction of the money, which is theirs. He is also aware that anger has started building up even among those who vociferously supported the Prime Minister's 8 November surprise move due to the unforeseen difficulties they are facing in their daily life due to cash crunch. It was thus very important for the Prime Minister seek their support and blessings for a month-and-a-half.
He also seemed to have taken note of all kind of filthy abusive messages against him by individuals, including one by a person standing with Samajwadi Party leader Amar Singh at a five-star hotel porch that have been circulating on WhatsApp and other social media platforms. That could have hurt him, pained him, angered him. His voice chocking with overflow of emotions: "I was given a mandate to fight against black money and corruption in 2014 and I am doing that. I was not born to hold chair. My countrymen, I left my family, home and everything else to serve the nation."
Modi sought to turn this whole thing into a kind of 'us' versus 'them'; millions of honest citizens versus a smaller but highly-motivated corrupt black money hoarders.
On his return from Japan on Saturday night to New Delhi, Modi made an early landing in Goa to be part of a public function and pour his heart and mind out. There he made best use of his masterful oratory to show his courage and conviction over the use with a mix of facts, emotions, charge, counter charge and asking the audience to bless him by standing and clapping. It looked as though he had waged a war against seen unseen forces and was now asking people to be tough stand behind him in what could be a testing time even for the honest. Modi was yet again presenting himself to them, not just as a dreamer but also a hard-boiled executioner — someone who was bent to take a thing to its logical conclusion if he thought it was for the good of the nation.
The approving roar from the audience, everyone standing and clapping for minutes was an indicator that he had the first part of it, building public perception for him and for the shocker he gave to the nation four days ago.
"Mai janta hun kaisi kaisi takhto se maine ladai mol li hai, mai janta hun kin kin logon se ladai kar li hai. Satar saal se ye desh ko loot rahe hain, ye mere khilaf hai, ye mujhe jinda hani chorenge, ye mujhe barbad kar ke chodenge…aayeye iss imandari ki pahal me mera saath dijiye…Ye Hindustan ke har inmandar ki ladai hai….muje 50 din dijiye agar aapko koi kami lagti hai toh kisi caurahe par desh ki janata jaisa saja degi kabool hai [I know with what kind of forces I have picked up a fight, I know with what kind of people I have picked up a fight. They have been looting the country for last 70 years. They are against me. They will not let me live alive. They would be bent to destroy me. ..come support me in this initiative. This is fight of every honest Hindustani…give me fifty days, till 30 December, and if you think I have failed then I am will willing to accept any penalty that people may like to impose on me]," Modi thundered.
The 70-year reference was for all the corrupt forces, but it was more than clear that he was hitting hard at the Congress and its leader Rahul Gandhi with dipping sarcasm. "You have seen what kind of people, 2G scam, coal scam, millions billions, you know that, you know that story and today one is standing the queue [Rahul Gandhi] to exchange Rs 4,000 currency notes."
But he was not stopping there. He had much more ammunition to fire. It had a strong warning. "Kuch log agar sochte hai ki aage dekha jayega [if some people think that they can handle it for now] then they don't know me. I will bare their kachcha chitta [secret books] on their deeds since independence. All these days they had not understood me. Lately, with strong action coming their way they may now have understood a bit. This is no full stop, several things are going in my mind as a follow up action and the country will see that in due course."
Goa has always been significant for Modi and his testing times. When times were difficult for him as Gujarat chief minister, a BJP conclave in Goa proved to be a turning point, in 2013 it was in Goa where it was declared that he would lead BJP in the 2014 parliamentary polls and in November 2016, after two-and-a-half years in power at the Centre with his biggest and most decisive decision rolled out affecting every single citizen of this country in whatever ways, he landed in Goa make a forceful speech and to seek popular blessings. Modi should note that Goa has not ever disappointed him.
A WhatsApp message doing rounds reads "Na chitting na sandesh, desh ko like me khada kart um chale gaye pardesh [Japan]." On his return, his first day first show proved that he has returned all the more convinced and with many more tricks up in his sleeve.
Politics
Narendra Modi is a man with a mission and with a single-minded determination to transform India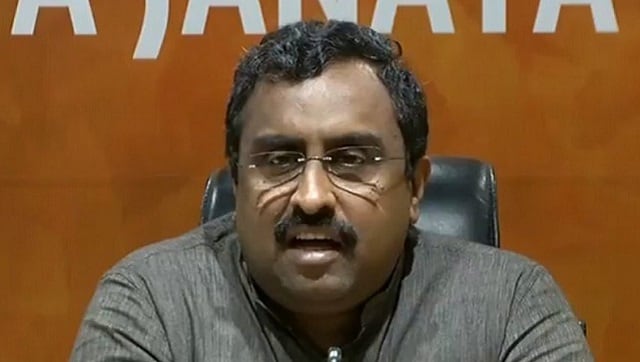 Politics
As he comes out with his latest book, The Hindutva Paradigm, Firstpost talks to him about various issues, including Deendayal Upadhyaya's Integral Humanism, the recent killings of Kashmiri Pandits in the Valley
India
The former prime minister was admitted to the All India Institute of Medical Sciences (AIIMS) on Wednesday evening after he suffered from fever and weakness