Narendra Modi hails Hassan Rouhani's vision for Chabahar port; India, Iran agree to cooperate in trade, finance
Prime Minister Narendra Modi and Iranian president Hassan Rouhani on Saturday praised the bilateral relations between the two countries as they agreed to cooperate in the fields of finance, energy, connectivity and cultural ties.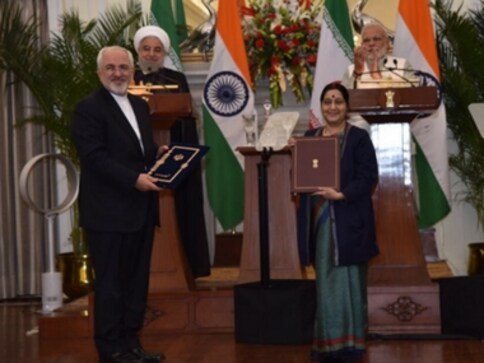 Iranian president Hassan Rouhani, who is on a three-day visit to India, praised bilateral relations between the two countries as he and Indian prime minister Narendra Modi agreed to cooperate in the fields of finance, energy and connectivity, and also agreed to strengthen cultural ties.
"After 10 years, the President of Iran has come to India. I visited Tehran in 2016. Now within two years, your visit has given us all the opportunity to strengthen ties between the two nations. Being neighbours and friends, the relationship has been only been growing over the years. Your leadership and clarity in vision has immensely helped in developing the Chabahar port," Modi said.
The two nations signed Memorandum of Understandings in areas like double taxation avoidance, extradition, agricultural cooperation, port lease, medicine before the two leaders issued a joint statement on Saturday. The two also issued a joint postal stamp.
"We want to increase ties in finance, energy, connectivity and trade. We want to strengthen our age-old cultural ties. Landlocked Afghanistan has got a golden gateway in Chabahar. I congratulate you for the contribution. We have today discussed different topics and taken different decisions. We have taken many steps for the benefit of the future. For the longest of time, India and Iran have been learning from each other," Modi said. Modi said that India and Iran signed nine agreements, including on easing visa rules and cooperation in the medical sector, apart from a maritime agreement on Chabahar port's development.
He added that the two countries have also talked about health, medicine, infrastructure and progress. "We are sure that participation will be equal from both sides," he said.
Speaking at the event in New Delhi, Rouhani said, "People of India, I think it is necessary to extend my thanks to the hospitality and kindness. I again appreciate you and your government."
"You witnessed development and progress, and today we witness the fruit of it," he said. Rouhani said that relations between the two nations were "historic" and go beyond trade and business in today's time.
"We will see development in energy, petroleum, natural gas, petrochemicals. We have had positive talks for better banking relations as well. We didn't have any point of divergence in issues which are our priorities," he said.
Rouhani said that the foundations for better relations have been laid. "We shared views for multilateral relations in the region between our friends. We had consensus. We could combat extremism and terrorism. I hope the decision made during the course helps bear fruit. I hope we see ever-growing success in our bilateral future," he said.
Rouhani's visit to India is his first to the country after taking charge as the Iranian president in August 2013. During Modi's bilateral visit to Iran in 2016, nearly a dozen pacts were signed between the two countries.
The Trilateral Transit Agreement (Chabahar agreement) was also signed by transport ministers of India, Iran and Afghanistan in the presence of Modi, Rouhani and Afghan president Ashraf Ghani.
The contract entails capital investment of $85 million by India for equipping Chabahar port in southeastern Iran.
The strategically important port will open up the transit route for India to Iran and Afghanistan, bypassing Pakistan.
India and Iran have robust economic and commercial ties covering many sectors, though it has traditionally been dominated by the import of Iranian crude oil by India, which continued to engage with Iran at the time of sanctions.
According to the external affairs ministry, India-Iran bilateral trade during the Fiscal Year 2016-17 was $12.89 billion. India imported $10.5 billion worth of goods, mainly crude oil, and exported commodities worth $2.4 billion.
With inputs from PTI
India
To mark World Tuberculosis Day, PM Modi will address the 'One World TB Summit'. The summit is being organised by the Ministry of Health and Family Welfare and Stop TB Partnership. Global delegates from over 30 countries are scheduled to be present at the summit
India
PM advised authorities to continue focusing on the 5-fold strategy of test-track-treat-vaccination & COVID-appropriate behaviour, enhanced lab surveillance & testing of all Severe Acute Respiratory Illness (SARI) cases
World
Seven-year-old Praanvi Gupta wants to write a yoga book for children and meet India's Prime Minister Narendra Modi, an avid yoga practitioner, who has been promoting the discipline at home and abroad