Narendra Modi gives full marks to NDA government, calls Opposition unity drama to save corrupt leaders
Modi attacked the Opposition unity, saying the corrupt leaders were coming together 'not to save the country but to save themselves', making an apparent attack on Congress President Rahul Gandhi and his mother Sonia Gandhi
Prime Minister Narendra Modi on Saturday gave a thumbs up to his government in a speech meant to celebrate the completion of four years of the NDA government at the Centre.
Claiming that the NDA government is on a correct path, he said that the BJP is in power in 20 states, which shows that the people have endorsed NDA's performance in the last four years. He said that the NDA government is committed to fight corruption. "Today, things have begun to change in India. Our India is steadily moving forward, from kala dhan to Jandhan, from stagnancy to progress," he said, outlining the four years of NDA's governance.
Speaking in Odisha's Cuttack, the prime minister hit out at the much touted Opposition unity, the Congress party, Odisha government and the Nehru-Gandhi family, while at the same time recounted his government's achievements in a multi-pronged speech.
Opposition unity a sham, arch enemies uniting to save themselves
Modi attacked the Opposition unity, saying the corrupt leaders were coming together "not to save the country but to save themselves", making an apparent attack on Congress President Rahul Gandhi and his mother Sonia Gandhi's bid to bring together a Bihar-style Mahagathbandhan of all regional and non-NDA parties.
"Due to the committment of this government against the black money and corruption, those people who are out on bail in the Rs 5,000 corruption case and many others also involved in corruption cases have come together on the same platform," Modi said.
He was apparently referring to Gandhis taking bail in the National Herald case and Opposition leaders coming together in Bengaluru during the Karnataka Chief Minister HD Kumaraswamy's swearing-in ceremony.
"As we promised four years ago about zero tolerance towards corruption, four former Chief Ministers are behind the bars," Modi said. "It was not only impossible, but unimaginable to touch the high and mighty during the previous governments," he added.
"The way in which our government is committed against corruption, this has made the enemies good friends," he said. "The people of the country are watching them." "These leaders have not come together for the country but they have come together to save themselves and their families."
He alleged that the opposition leaders want to destabilise the current government. "But people know everything," Modi said.
NDA committed to anti-corruption
The prime minister also said that this is a committed government instead of the confused government. He also said that in the last four years, the investigating agencies have carried out searches at over 3,000 locations and unearthed over Rs 53,000 crore of the undisclosed money.
"It was the committment of the government that passed the Benami Properties Bill, instead of the confused government which delayed it for over 30 years," he added.
In the last year, the central agencies have conducted 3,000 raids and discovered over 35,000 crore worth of undisclosed income. The government has created special CBI teams to probe corruption and benami properties.
He said that the unwavering commintment to probe cases of corruption have brought together many unlikely allies. "And the nation knows all this, the people can understand their conspiracy," Modi said. He claimed that his government has actually reduced the number of companies swindling money in India. "Central agencies have discovered many fake companies and our government has canceled the registration of 22,6000 bogus companies," Modi claimed.
Attack on Congress, Nehru-Gandhi family 
The prime minister, without taking any names, made subtle references to Congress president and his mother throughout his speech. While pointing out his government's achievements, Modi said that it is important to remember how much the one family, which ruled India for 48 years, cared for India.
"It is important to remember how a party which bows down before one family, was only intent on grabbing power." He urged the people to remember how until four years ago the many corruption scandals were a matter of shame for India and Indians abroad.
"We must all remember the remote control prime minister and the decisions taken outside Parliament and Cabinet ministries." He also added that these people had maligned the image of India.
Coming down heavily on the Nehru-Gandhi family, Modi said that the family did not do anything for the poor and the basic amenities and growth were stuck at a mere 50 percent. "Half the population was bereft of an electric connection, proper roads, bank accounts, and even basic infrastructure," Modi claimed. He then asked the people who they thought were the marginalised 50 percent people. "The poor, the adivasis, and farmers of the country," Modi answered.
He said that it was the vote bank politics of the dynast party that has kept these people backward. He claimed that the governments used to calculate the most influential voter banks ahead of drafting policies and worked only for them. "They never could have imagined about sabka sath, sabka vikas. They used to announce schemes and forget about it. They never even included Northeast India in the nation's growth plan," Modi said.
"Atkane, latkane, bhatkane wali karya sanskriti se sath aisa haal tha ki ek shatabdi ke baad bhi aam aadmi in mulbhut suvidhaon ka bhugtan nahi kar sakta tha. (Governments that are hesitant, mislead people, and like to keep projects in limbo had spoilt the work culture in our country such that the people wouldn't have gotten basic amenities even after 100 years of Independence.)"
Modi calls NDA a govt of the poor, highlights humble background of leaders
The prime minister's speech was also rich on promises to poor. In a bid to reach out to the masses, Modi said, "The people sitting in this government have reached here after living through poverty. That is why, even the sweat of poor is pious for us. And that is why they make it their prime responsibility to serve the poor."
He said that the president, vice-president and the prime servant (Narendra Modi) all of them are from such a background that they value every pence.
He said that on one hand some people have been fed with a single and golden spoon, but people in NDA have not even seen a spoon in their childhood.
"We have seen the days of poverty. And we were not born with silver spoon. In fact we did not see the spoon in our initial days," Modi said, in an apparent jibe at Rahul.
10 out of 10 to NDA government
Modi said that it is because of their outreach programs and various welfare schemes that the NDA has been able to form government in 20 states with the people's blessings. He said that the NDA has now truly become a large party from Panchayat to Parliament.
Modi also claimed that the victories of NDA government aren't a win for any particular leader or party, "but it is the blessing of those mothers who have been uplifted from a life of chocking on smoke through the Ujjwala Yojna." He said his victories are the "smile of the beneficiaries of Beti Bachao Beti Padhao scheme and the prayers of farmers who got the fruits of Kisan Bima Yojna."
He said that the way his government is working has increased the prestige of India manifold across the world. Commending his government's commitment, he said "we are neither hesitant in taking strong decisions, nor are we scared of making bold strides."
Pointing out key legislation enacted by his government, Modi said that this is what happens when there is a government that works with commitment.
In an apparent attack at the previous UPA government, he compared his 'commitment-oriented' government to a 'confused' government run on remote control.
He said that it was due to his committed government that they have managed to limit the fiscal deficit. On the other hand, a confused government cannot free India from corruption or bring in tough laws.
Highlighting his government's welfare schemes Modi claimed:
- that 10 crore new LPG connections were given to rural households under Ujjwala Yojna
- that 60 crore LED bulbs were distributed which has directly reduced the electricity bills by Rs 40,000 crore
- that his government distributed over 13 lakh soil health cards to farmers
- that his dream to electrify every rural household is nearing fulfilment
- that the number of Naxalism-hit districts has come down from 126 to 90.
- that 25 crore Jandhan accounts have been opened.
Modi also claimed that the government is undertaking a special project to take development to even the remotest islands of India. He said the first phase of the scheme covering 16 islands under the Andaman and Nicobar island group and 10 islands under the Lakshadweep islands has already started. He urged the people to remember the time before 2014 and asked them to continue working for journey for a new India.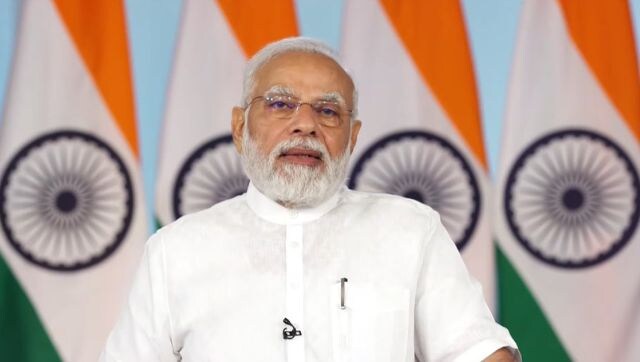 India
Prime Minister Narendra Modi on Monday greeted people on the beginning of Navratri and wished them happiness, fortune and good health.
India
The five-day conference will see participation of over 550 delegates from 115 countries to discuss issues related to development and strengthening of integrated geospatial information management, its capacities and capabilities
Politics
AAP chief Arvind Kejriwal knows too well that it won't be easy to make inroads into Prime Minister Narendra Modi's home state and hence taking calculated moves to take up the challenge