Narendra Modi congratulates Xi Jinping on re-election, says he looks forward to working on bilateral relations
Prime Minister Narendra Modi congratulated Chinese President Xi Jinping on his re-election for a second five-year term, saying he looks forward to working with him to further develop Sino-India relations
Beijing: Prime Minister Narendra Modi on Monday congratulated Chinese President Xi Jinping on his re-election for a second five-year term, saying he looks forward to working with him to further develop Sino-India relations.
Xi, 64, was unanimously elected by the 2,970 deputies of Chinese parliament the National People's Congress (NPC) last week.
"Dear President Xi Jinping, congratulations on getting re-elected as the President of the People's Republic of China", Modi said in his message posted on his account on the Chinese social media platform Weibo on Monday.
"I look forward to working with you for further development of our bilateral relations," he said.
Modi had opened his account in the popular social media blog Weibo during his visit China in 2015. He has 1,83,379 followers.
Earlier, the NPC also ratified a proposal to remove the two-term limit for president paving the way for Xi to become leader for life.
India and China are currently making diplomatic efforts to improve the relations following the 73-day long standoff at Doka La in the Sikkim section.
Foreign Secretary Vijay Gokhale recently visited Beijing and held talks with top-level Chinese officials, while Defence Minister Nirmala Sitharaman has recently said that she planned to visit China next month.
Modi and Xi are expected to meet this year on the sidelines of the Shanghai Cooperation Organisation (SCO) summit to be held in June this year at the Chinese city of Qingdao.
Find latest and upcoming tech gadgets online on Tech2 Gadgets. Get technology news, gadgets reviews & ratings. Popular gadgets including laptop, tablet and mobile specifications, features, prices, comparison.
India
Ram temple will be the harbinger of a prosperous India, said Narendra Modi during the foundation stone laying ceremony in Ayodhya
India
He also tagged a 17 July tweet of his where he had predicted that there would be more than 20 lakh cases by 10 August if the government didn't do enough to curb the pandemic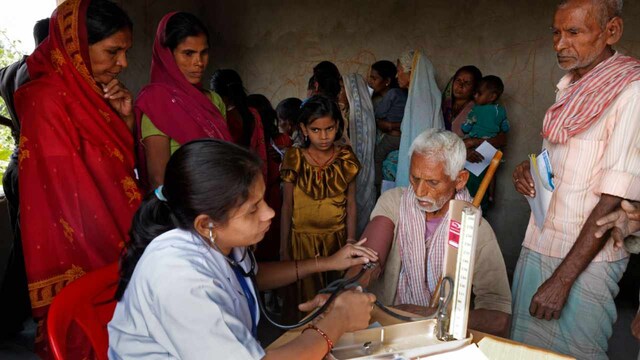 India
India has voiced the need to invest in primary healthcare but the budget hasn't kept pace with the announcements, experts say.