Narendra Modi can take India-Israel ties to a whole new level, leave chequered past behind
With the kind of trust that exists between India and Israel today, Narendra Modi with his ambition, can take it to another level altogether.
Israel's chequered journey since its independence in 1948 notwithstanding, there are very few countries that qualify to be such natural allies for India. And there are several reasons for it. The Jewish story across centuries, much like the journey of Hindus, is one of unbridled resilience and determination battling umpteen pogroms. The demand for a separate land for Jews gained momentum around one hundred years ago, after which Jews spread over Europe and Northern Africa started migrating back to what is present day Israel. It is a coincidence that the Hindu nationalist movement gained its maximum momentum around the same time, precipitated by the Khilafat movement. India became independent in 1947, bifurcated into two countries. Israel became independent in 1948, with a Palestine bifurcation.
Now, given that Mahatma Gandhi and Jawaharlal Nehru accepted a partition designed purely on religious grounds, India could very well have been considered a Hindu nation state, while continuing to be a liberal, secular democracy. Why Nehru chose to see India otherwise, is a separate topic altogether. Israel, on the other hand, was always seen as a Jewish nation-state despite an over 20 percent Arab Muslim population. However, the legislation to explicitly declare Israel as an Jewish nation-state was carried out only last week by the Nethanyu government, amidst much backlash. Israel just as well continues to be a secular democracy.
Now, India's relationship with Israel can be distinctly seen in four different phases. The first phase was of non-acceptance or denial from 1948-1950. This was the time when India even voted against Israel's admission in the United Nations in 1949. Nehru's naiveté in the early years of independence and his genuine insecurities over the domestic Muslim constituency, influenced India's stand in these years.
The next was a phase of informal engagement. From the late 1960s, Indira Gandhi is believed to have had RAW engage with Mossad on intelligence sharing. However, what made headlines during this period was India's unwavering support for Palestine. India, in fact, was the first non-Arab country to recognise the Palestine Liberation Organisation's authority as 'the sole legitimate representative of the Palestinian people.' A PLO office was set up in the Indian capital in 1975, with full diplomatic relations established in March 1980. India instantly recognised Palestine's statehood following its declaration on 18 November, 1988.
Now, interestingly around this time, Israel after battling years of diplomatic persecution for decades, was finally gaining clout with several powerful countries taking cognisance of its robust democratic system, sound economy and technological prowess. India finally initiated full-fledged diplomatic relations with Israel in the year 1991 under an unusually foresighted Congress prime minister, Narasimha Rao. This marked the start of the third phase for our relationship, a phase of rapprochement. The coming years saw the official visits of two Israeli presidents to India in 1997 and 2003, besides the first visit by an Indian home minister to Israel, LK Advani in 2000. In hindsight, it will not be entirely wrong to say that India's relationship with Israel pre-1991 was need-based.
However, during 2004-14, we once again went into a circumspect mode under the hypocritical Congress. So, while a few Union ministers did visit Israel, those visits never yielded optimal results because they were never meant to. The illusory fears of the Congress of losing its local Muslim vote bank never allowed the relations to progress beyond basic courtesies.
After 2015, another new phase began in our relations — one which I would consider a phase of robust engagement. In 2014, Sushma Swaraj refused to allow a resolution in our Parliament condemning Israel's attack on the Gaza Strip. Pranab Mukherjee became the first Indian president to visit Israel in 2015. Later in July, 2017, when Prime Minister Narendra Modi created history by being first Indian prime minister to visit Israel, it completely turned India's traditional approach towards Israel and Palestine on its head.
For the first time in history, India managed to successfully de-hyphenate Israel and Palestine from the point of view of its engagement with both or either. Hence, while on one hand, India's proactive engagement with Israel across spheres like information technology, bio-technology, innovation, agriculture and defense among others was to be pursued wholeheartedly, India's support towards the Palestine cause remained intact, though separated. Now, this layered approach was not easy to pull off. And this is where much of the credit for its success goes to the excellent understanding that Modi and Netanyahu share. The fact that the style of politics of both the BJP and Likud party have striking similarities between them, only makes this bond easier and stronger.
So yes, sections within the Isreali political setup, were somewhat unhappy with Modi's separate visit to Palestine, as also the fact that in December 2018, India voted against Israel on a resolution moved by Turkey condemning the US decision to shift its consulate to Jerusalem.
On the first issue, India took a principled stand. It retained its age-old support for the Palestine cause. In fact, the firmness with which India held on to its layered approach was something large sections of informed Israelis and Palestinians even appreciated. The second issue is something which we may want to revisit. Like on many previous occasions, India could have done better in abstaining from the vote. Anyway, despite those temporary hiccups, Israel continues to see a true friend in India and large sections of its civil society look up to our country.
What is equally laudable is India's diplomatic win in ensuring an unprecedented direct Air India flight from Tel Aviv to New Delhi which flies over the Saudi airspace. This flight, which I took on 12 July, invariably runs to over 80 percent capacity, a clear indication of the ever increasing engagement between the two nations.
Anyway, with the kind of trust and partnership that exists between the two countries today, Modi with his ambition, can take it to another level altogether.
Modi is among the very few leaders today who can manage to bring Benjamin Netanyahu and Mahmud Abbas back to the negotiating table. The talks between the two have been in a state of limbo for long. The prime reason for it is the sense of hopelessness along the Gaza strip. The situation there is going from bad to worse. In fact, during my visit to an area very close to the Gaza strip border as part of an American Jewish Committee (AJC) delegation, we witnessed how Hamas was shelling balloons and kites, knotted with incendiary substances, that would burn up crops and agricultural land on the Israeli side. Israel obviously has been retaliating as and when necessary, leading to a dangerous deadlock. Now given Hamas' antecedents, the situation is going to get worse and another war can't be ruled out. In this situation, it is obvious that till the time that Hamas holds sway over Gaza strip, any solution is unlikely, So, while Israel sees the effort to negotiate a waste of time, given that it is anyway doing well on all fronts, Palestine sees this as Israel's indifference. Agreed that in the present situation, a resolution is ten times more difficult than it was pre-2006 (before Hamas took over Gaza), but Modi can still create history by bringing the two leaders to the discussion table. If he can get them to India for this, it will be an achievement like no other.
Secondly, there is still a huge unexplored zone when it comes to cultural exchange and engagement of soft power between the two countries. The Jewish community with a global population of 1.5 crore has produced nearly 200 Nobel prize winners. Much of their success is due to their family and societal values, which are still very strong. India shares similar values and a similar progressive outlook. A more robust people-to-people and cultural contact will be a huge boon for both countries.
The author is a BJP leader and tweets @tuhins. Views expressed are personal.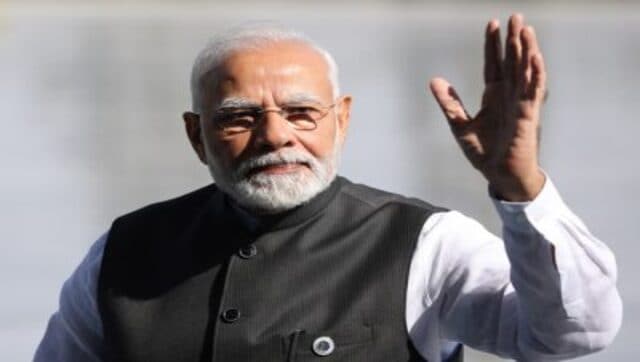 Opinion
Between 2014 and 2022, Narendra Modi not only transformed the BJP into the world's largest political party but, along with Amit Shah, he also helmed a fundamental structural retooling of the party and its support base
India
Social media has been effective at establishing a direct line of interaction between the public and prime minister Modi. Needless to say, the people of India love the digital presence of the PM
India
Since taking charge, PM Modi has stressed achieving self-reliance or AatmaNirbhar Bharat in all senses. He has a firm belief that self-reliance can help bring India on par with other more developed nations