Narendra Modi appeals to youth in Kashmir to shun violence, says 'every stone thrown hurts hearts and minds'
Prime Minister Narendra Modi on Saturday appealed to those Kashmiri youth who have joined violence to return to their homes and live a life of dignity.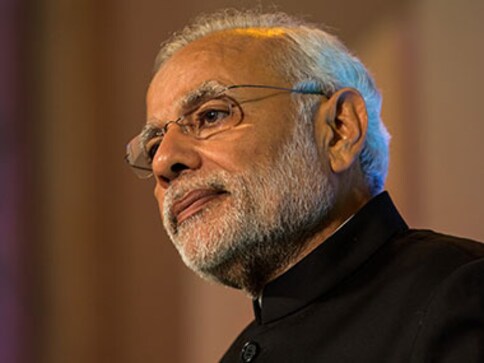 Srinagar: Prime Minister Narendra Modi on Saturday appealed to those Kashmiri youth who have joined violence to return to their homes and live a life of dignity and peace.
Addressing an official function at Sher-i-Kashmir International Convention Centre (SKICC) in Srinagar where he inaugurated the 330mw Kishenganga Hydel Project and also laid foundation of Srinagar Ring Road, Modi said: "The PDP-BJP government is trying its best to bring back the misguided youth who have left their homes and families."
"It is time that these youth return to their families. Each stone thrown by a misguided youth hurts the hearts and minds of the people in Jammu and Kashmir.
"Those who have been helping violence in the state from across our borders are themselves disintegrating this time," he said.
"Atalji (Atal Bihari Vajpayee) always advocated and supported 'Kashmiriyat' and Modi is also the disciple of the same 'Kashmiriyat'," he said.
The prime minister said the people of state know how they have been deceived by forces inimical to peace. The Central government has appointed a special representative to speak to all elected people to find a way out of these difficult times, he said.
"There is only one solution to all problems and that is development. All those countries in the world who followed violence are finding ways and means to shun it and save their people.
"Time will come soon when J&K will re-emerge as the crown and coronet of peace and progress for the entire country."
Modi said it is the love and affection of the people that brings him here so often.
"The holy month of Ramzan is the time when we re-dedicate ourselves to the teachings of Prophet Muhammad. It's an honour that I am here during the holy month of Ramzan."
The prime minister said everybody associated with the Kishenganga project needs to be complimented because it was a difficult task.
"The 42 kilometre-long Srinagar Ring Road, whose foundation I have laid, will go a long way in providing connectivity that is vital for progress and development...Jammu Kashmir of the 21th century is going to be a model of progress and prosperity. It was said in the past that waters and vitality of mountains does not help the people living in these mountains. But this saying is being proved wrong here as the waters and vitality of your mountains is now being used for your betterment and progress."
Modi said tourism has been a part of J&K's development, but today's tourism has changed fast. "Today's tourist wants a better eco-system and cleanliness, and the more you address these issues, the more number of tourists would be coming here."
Pointing out that connectivity is very essential to improve the eco-system, he said: "Before coming here, I started the work on Asia's longest tunnel. Whether it is the Srinagar Ring Road or any other connectivity project, the completion of these road projects will save you time and increase your earnings."
"Better roads will definitely add to the beauty of the state. I am happy that the people of state are helping themselves. I recently saw a video in which a five-year-old girl, Jannat, is shown cleaning the Dal Lake."
Modi said one lakh local youth are being trained under the "Himayat" programme, adding that around 16,000 youth have been given scholarships to study outside the state.
He said the Jammu and Kashmir Police would soon complete the recruitment process of 5,000 youth.
"Security forces have lent a helping hand to mitigate the sufferings of the people during floods and natural calamities...Every sacrifice made by our security forces is remembered and respected by every citizen of the country."
Modi is now scheduled to address the convocation of Sher-i-Kashmir University of Agricultural Sciences and Technology (SKUAST) in Jammu city.
He will also lay the foundation stone for 58.2km-long Jammu Ring Road before flying back to New Delhi.
World
The report also warned that a potential conflict between India and China or Pakistan may spark repercussions that may require the immediate attention of the United States (US), especially In the wake of the Russia-Ukraine war
World
In a series of cryptic tweets, I&B Minister Anurag Thakur highlighted what he claimed to be the BBC's hollow claims of maintaining journalistic ethics
Opinion
Pakistan Foreign Minister Bilawal Bhutto is getting increasingly hyper about India whether it is in the UN or in the bilateral fora that happened in Berlin late last year or to a domestic audience