The NaMo app: How Narendra Modi is using technology, data, and targeted comms strategy to stay ahead of the political pack
Narendra Modi App survey is an innovative stratagem to seek accountability from BJP lawmakers, forcing them to leave their coterie and go among the people, engage and work towards earning good ratings.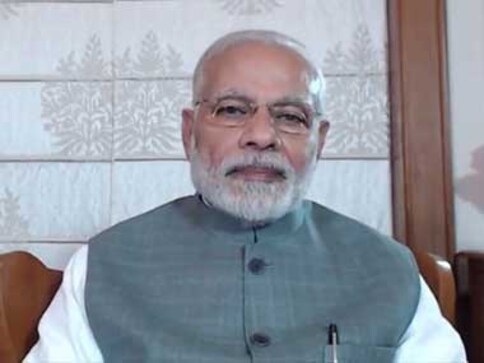 As a politician, Narendra Modi brings a CEO's approach to his communications strategy, applying tools that are taught at business schools to the manner in which he addresses specific constituencies, localising his political messaging. His methods may have evolved from an intuitive space but operating principles are similar to those used in the corporate world.
This evolving strategy of innovation and assessment has helped the prime minister stay ahead of his political rivals.
To better understand this model, we may take a look at his decision to launch a survey on the Narendra Modi app on the occasion of his government's fourth anniversary on Saturday. The ostensible aim of the survey is to promote a public assessment of the Centre's four years of work — its different schemes, programs and initiatives — collect data on issues that citizens consider important while voting and to request appraisal of BJP legislators at different levels of governance. As we shall presently explore, the layered exercise goes much beyond its stated aims.
The app-based survey, according to a media release, enables people to rate the Modi government's performance, the execution of its flagship schemes and the conduct of MPs and MLAs. It seeks voters' opinion on three most popular BJP leaders at constituency and state levels and also asks people to rate them on their availability, honesty, humility and popularity. It also asks people about issue that concern them the most and the condition of various amenities and infrastructure in their constituencies.
At one level, the survey is an innovative stratagem to seek accountability from BJP lawmakers, forcing them to leave their coterie and go among the people, engage and work towards earning good ratings. The parameters of "availability, honesty, humility and popularity" are designed to discourage lawmakers from becoming scant, insular, arrogant and disconnected from people — the common trappings of power — and encourage them to work hard and be accountable for their actions, filtering out those who are unable to do so.
Consider the purposes of this exercise. One, it will ensure a two-way feedback system where leaders get an idea of their strengths and chance to work on their weaknesses. Theoretically, some lacunae in last-mile implementation should automatically correct itself. It may also promote a healthy competition among lawmakers.
Two, the survey allows Modi to bypass the secondary communication system that invariably firewalls the top leadership from gauging the ground realities and enables Modi and Amit Shah to open a direct channel of communication with people. Primary feedback on lawmakers' performance and functioning of schemes is an invaluable data to shape campaign strategies and address grievances more effectively.
With an year to go before Modi seeks a return mandate, the timing is an indication that Modi wants to run a campaign that is as scientific as possible instead of the common "something for everyone" strategy. Politics is an imperfect science and voters often cast their ballots (or refrain from doing so) out of emotion instead of logic, yet Modi seems to believe that a degree of rationalisation is possible.
Three, the survey filters out opportunists in the party who rely on networking and 'influence-peddling' to seek tickets during elections. It sets clear eligibility criteria that should make Shah's job easier.
Four, the survey is also an inspired marketing strategy. One of the biggest problems of developing an app is to enthuse users to download it. An app without downloads is just vanity. People/corporate houses/political parties spend millions to increase app downloads. Here, by virtue of creating an accountability environment, Modi is ensuring free downloads.
The NaMo app has five million users at last count with a rating of 4.6 on the Android platform. It is already among the top 10 of 'Top Free News and Magazines" category in Playstore. A certain number of voters might feel encouraged to download the app and take part in the survey on their own. Even if that number is minuscule, a greater number of downloads may be ensured by leaders who will ask followers to install the app. However, mere installations won't lead to favourable ratings. Anonymity of survey procedure will force leaders to work for their popularity and be among people — the principal objective of this exercise one year ahead of re-election.
At another level, the survey goes deeper than all these objectives. It intensifies the connect between the party and electorate and seeks to develop the bond of trust that the prime minister has sought to painstakingly create over his four-year stint at helm.
Modi perceives politics as the art of communication and tries to constantly refine and innovate this art. He uses a number of platforms (social media, radio, TV, rallies, apps, etc), a number of venues (public addresses as well as speeches on different forums) and different modes (direct and indirect) to disseminate his political messages. The survey is the latest attempt of this immersive communication strategy.
This relentless engagement with people and the bond of trust that he has carefully built and nurtured, allows Modi to defy all popularity curves and punch above the weight of his party. In survey after survey, we find Modi's popularity outstripping BJP's. He naturally lies at the centre of his party's campaign strategy, often acting as a force multiplier to tilt the balance in BJP's favour in tight electoral contests, as we saw in Gujarat or Karnataka. Modi's latest effort shows a willingness to push the boundaries of his communicative strategies to the next level so that his competitors are forced to play catch-up.
This is important because as the incumbent, Modi needs a new "development narrative against a progressively higher development bar," as this article points out. To mitigate the challenges arising out of a combination of high expectations and ever-rising development bar, Modi must convince the voters that he is still the best bet to take the country forward despite some inevitable shortfalls in performance.
This is where immersive communication strategies such as the survey fit in, because it reinforces the picture of honesty and sincerity around Modi. Voters may be willing to put up with him despite some shortcomings because they trust him. These persuasive strategies may affect the final outcome in 2019.
World
Kishida will meet Prime Minister Narendra Modi and also deliver a speech on Japan's Indo-Pacific strategy and its new defence posture. Fifteen years ago PM Shinzo Abe first spoke about Indo-Pacific cooperation during his visit to Delhi
World
Kishida, who is on a two-day trip to India, said he hopes to promote a vision of a free and open Indo-Pacific, a Tokyo-led initiative for greater security and economic cooperation that is geared toward curbing Beijing's growing assertiveness.