Name plate engraved with Syama Prasad Mukherjee's name defaced in Kolkata; Ambedkar statue vandalised in Uttar Pradesh
In a fresh incident of statue vandalism, black ink was smeared on a name plate engraved with Jana Sangh founder Syama Prasad Mukherjee's name at Presidency University campus in Kolkata on Monday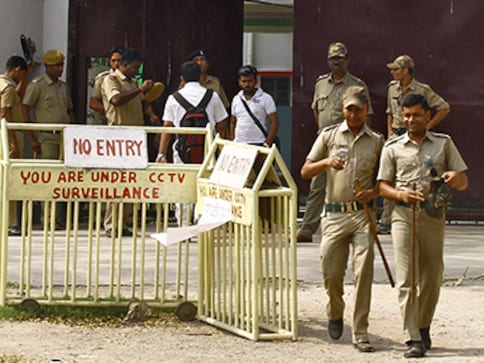 Two fresh incidents of statue vandalism were reported from different parts of the country on Monday.
In Kolkata, black ink was smeared on a name plate engraved with Jana Sangh founder Syama Prasad Mukherjee's name at the Presidency University campus, while a statue of BR Ambedkar was vandalised by unknown miscreants in Bachwal village, Azamgarh, Uttar Pradesh. A News18 report said police personnel have been deployed in Bachwal to prevent any untoward incident and a case has been filed against unknown persons.
West Bengal: Black ink smeared on Jana Sangh founder Syama Prasad Mukherjee's name engraved on a name plate at Presidency University campus in Kolkata pic.twitter.com/m8IQOq73ob

— ANI (@ANI) March 19, 2018
This is not the first time that the Jana Sangh founder's statues have come under attack. Last week, a statue of Mukherjee was found damaged in Assam's Kokrajhar district and the matter is under investigation.
Earlier this month, a bust of the Jana Sangh founder was allegedly vandalised by members of a left-wing student organisation in West Bengal. Seven members of a left-wing student group were later arrested in the matter. Police had said that all seven were members of a far-left student outfit known as "Radical". Six of them were students of Kolkata's Jadavpur University. The incident had drawn sharp reactions from the Bharatiya Janata Party's West Bengal unit.
West Bengal BJP president Dilip Ghosh had condemned the incident, saying, "Be it people from the Left or any other party, I am warning everyone to refrain from trying to insult leaders and statesmen like Syama Prasad Mukerjee." Sayantan Basu, general secretary of the West Bengal BJP, had released a statement demanding strong action against the culprits.
Similarly, on 10 March, an Ambedkar statue was vandalised in Rajapatti village in Azamgarh. Prior to that, miscreants had targeted an Ambedkar statue in Meerut, according to the News18 report cited above. Earlier, it was reported that unknown miscreants had defaced BR Ambedkar's bust in Chennai. According to a report on NDTV, miscreants poured paint on Ambedkar's bust in Tiruvottiyur area of Chennai on the night of 7 March.
The country has witnessed a spurt in incidents of statue vandalism in recent days. On Saturday, India's first prime minister Jawaharlal Nehru's statue was found with its faced blackened in Katwa town of West Bengal, the police had said. The Congress had alleged that the BJP was behind the incident but the saffron party had denied any involvement in the matter. On 10 March, a life-size statue of Michael Madhusudan Dutt, a prominent poet during the 19th century Bengal renaissance, was found defaced in Raniganj of West Bengal's Purba Bardhaman district. Dutt's face was smudged with red colour by unknown miscreants, triggering condemnation in political circles as also among the locals.
The incidents of defacing statues of political and social leaders were triggered by the demolition of two statues of Vladimir Lenin in Tripura, following the BJP's victory in the state elections. This had caused the CPM to lash out at the saffron party and seek Prime Minister Narendra Modi's intervention.
With inputs from agencies
also read
Explainers
Sengol will be installed in the new Parliament building by PM Narendra Modi on 28 May. This historic sceptre has become a bone of contention between the ruling BJP and the Opposition party Congress, which are sparring over its use at the time of Independence
India
Congress leaders paid their respects to Nehru on his 59th death anniversary at an event held at Shanti Van in New Delhi