Najeeb didn't just vanish: Why are JNU authorities not showing any sense of urgency?
Is there any specific reason why the police have not been able to follow the trail despite having 12 suspects in custody?
It is tempting to pillory Kanhaiya Kumar and the other four high profiles of his tribe namely Umar Khalid, Anirban Bhattacharya, Rama Naga, Anant Prakash and Ashutosh Kumar for being relatively insipid in their role to find Najeeb Ahmed the student who has disappeared from JNU. But the higher priority would be to ensure his safety and get him back from wherever he is.
While Najeeb's sister is playing the dominant role in the search or at least the call for it and in between slogan shouting and a few sundry gheraos and protest marches there is a sluggish texture to the usually vociferous JNU crowd who made headlines earlier this year with their controversial seminar at the Press Club in New Delhi, the general slowness of the investigation is patently obvious.
There is also the needless rant from Shehla Rashid a former vice president of the JNU Students Union who asks Kanhaiya why nothing is being done by him?
In parts, like the curate's egg, it is a good question. How much is being done by anybody to find a young man who was seen being beaten up by a mob of ABVP goons, then dragged to the vice chancellor's office and roughed up again as no one intervened.
Where did he go from there? The odds that rubbernecking students did not hang around to see what would happen next are very low. So when Najeeb came out of the office did he walk to his room, run to the gate, get into a car, be kidnapped, where were all the brave souls that inhabit this especially green grove of academe? Teachers, students, security staff. Did his friends not help him out at the time of his distress? Simply demanding to put more pressure on the police hardly comes off as concerted action.
Who were these ABVP guys, they are not incognito, surely in this huge span of time their post-mob frenzy period should produce cast-iron alibis. Where did each of you go next?
Najeeb could not just have vanished into thin air. One would opt for the scenario that he has gone into hiding for fear of his life but then at least in this hi-tech age he would have communicated his whereabouts to his family and the sister's stress factor does not indicate this. And that makes it worrying because he could be incapacitated.
Is there any specific reason why the police have not been able to follow the trail despite having 12 suspects in custody?
With ten days since the young man vanished the trail, so to speak, is cold as ice. One can only conclude that Najeeb is either in another city with friends and relatives and has sought refuge and has got in touch with his immediate family but pushed them into silence. If that does not work for you has he been abducted by more goons and, if so, from where…his room, from under a tree, the hospital or clinic if he went there to have his wounds dressed, it is just not possible to have others involved in the scenario and go missing without leaving some eyewitnesses behind.
After you have been thrashed you either go for comfort, refuge or medical assistance. You don't walk off into the wilderness without anyone knowing.
Certainly, the macabre thought comes to mind that the silence is ominous and God forbid does not indicate a much worse development. Until there is a body this option must lie on the side of the table.
I don't think most people care whether the student is Hindu, Muslim or zebra striped. He is missing and he has to be found. Letting this mystery stay unresolved is not acceptable and there seems to be a lid on the outrage.
I watched the former spearhead of the JNU Kanhaiya Kumar give a sort of limp wristed speech to a crowd of farmers where he has supposed to have made the first mention of the disappearance. Wrong crowd, not much zest.
Curiously, even the media seems to be dragging its feet on this one and with the second week nearly coming to a conclusion since Najeeb was last seen the story for lack of a feed is slipping off the pages.
It will be a cruel shame if the Najeeb saga has no ending.
Come on, people, somebody saw something, somebody knows what happened…time to end the agony.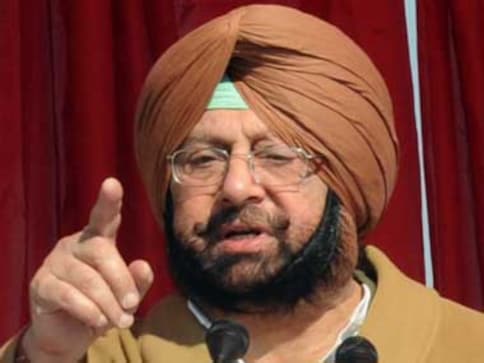 Politics
Amarinder, who was one of the Congress' powerful regional satraps, also said he had never experienced "this sort of interference ever as a chief minister"
India
The project aims to synchronise activities relating to infrastructure building in an area to help Central and state agencies, urban local bodies and the private sector effectively coordinate
India
The Appointments Committee of the Cabinet has approved Khare's appointment as advisor to PM in Prime Minister's Office, in the rank and scale of Secretary to Government of India