Nagaland CM allocates portfolios to inducted ministers;keeps finance,personnel, administrative for self
Nagaland Chief Minister T.R. Zeliang allotted portfolios to the newly-inducted ministers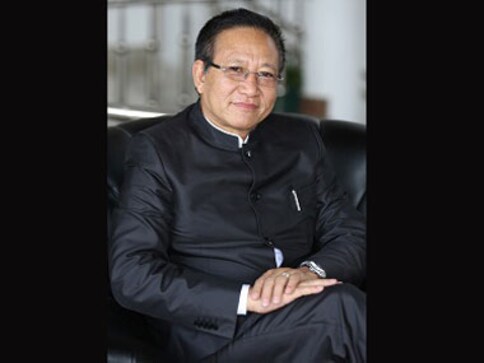 Nagaland Chief Minister T.R. Zeliang has allotted portfolios to the newly-inducted ministers, while keeping a few including finance, personnel and administrative reforms with himself.
Zeliang distributed the portfolios late Wednesday.
Yanthungo Patton, G. Kaito Aye, Kipili Sangtam retained Home, National Highway and Political Affairs and Power which they held in the dismissed Shurhozelie Liezietsu government.
Bharatiya Janata Party (BJP) legislators -- Mmhonlumo Kikon and Imtilemba Sangtam -- were allotted Geology and Mining, Border Affairs and Cooperation, Relief and Rehabilitation and MARCOFED respectively.
Senior Naga People's Front legislator E.E. Pangteang was given Rural Development, while Neikiesalie Nicky Kire got Roads and Bridges.
Kejong Chang was allotted Horticulture, Do-Bhasi and Gaon Bura Affairs, while Neiba Kronu was given the task to look after Environment, Forest and Climate Change.
Imkong L. Imchen was allotted Health and Family Welfare and Tokheho Yepthomi would be looking after School Education and Parliamentary Affairs.
Apart from the two legislators almost all the ministers were either expelled or suspended by the Naga People's Front (NPF) for violating the party's constitution.
The NPF had expelled 19 and suspended 10 of its legislators.
Patton, Sangtam, Aye, Imchen and Yepthomi, who were among those expelled, and suspended legislators Kronu and Kire, Chang were sworn in as cabinet ministers.
Pangteang, who is a senior NPF leader, was the only one who did not face any action.
Zeliang was expelled from the NPF for six years after taking oath as Chief Minister on Wednesday, hours after the governor dismissed Liezietsu for failing to prove majority in the assembly.
Zeliang won the floor test on July 21, getting the support of 36 NPF, four BJP and seven Independent members in the 60-member assembly, where one seat is vacant.
Ten NPF and one Independent members voted against him. Liezietsu was not present in the assembly as he is not a member.