Nabha jailbreak: Harminder Singh Mintoo, Khalistan Liberation Front chief, arrested
Khalistan Liberation Front chief Harminder Singh Mintoo, who had escaped from Nabha jail on Sunday, was arrested by the police in New Delhi on Monday.
Khalistan Liberation Front chief Harminder Singh Mintoo, who had escaped from Nabha jail on Sunday, was arrested by the police in New Delhi on Monday.
CNN-News18 reported that Mintoo was arrested from the Delhi-Haryana border. Delhi and Punjab police had conducted a joint operation.
"Mintoo has been arrested from Delhi railway station by Delhi police," said a senior official of Punjab police in Chandigarh. He said Delhi police nabbed the dreaded terrorist on the basis of inputs passed on by Punjab police.
"We passed on the information about Mintoo following which Delhi police arrested him," official said. He said a team of Punjab police will go to Delhi to bring him back.
Mintoo had made a suspicious call in the morning which was intercepted by the police. All border posts at the Delhi-Haryana border were then put on alert.
Armed men in police uniform had stormed the high-security Nabha Jail on Sunday, opening indiscriminate fire and fleeing with five prisoners including Mintoo, an accused in 10 cases.
News reports had also suggested that Mintoo had ties with the Inter-Services Intelligence in Pakistan.
Mintoo was earlier arrested by Punjab Police from Delhi's IGI Airport in 2014. He was arrested in connection with 10 cases including the 2008 attack on Sirsa-based Dera Sacha Sauda chief Gurmeet Ram Rahim Singh and recovery of explosives at Halwara Air Force station in 2010.
According to another report in The Indian Express, Mintoo simply decided to join the group which had conducted the jailbreak after he found out about the plan. The report said that the armed men had initially not planned to free him.
"Palwinder told us that the plan was only to get the gangsters freed. But Gurpreet Sekhon had told Mintoo that they would escape on Sunday. Mintoo was keeping a watch and joined them in the jail corridor," The Indian Express quoted Daljit Singh Chaudhary, UP ADGP (Law and order), as saying.
In the wake of the incident, Punjab Chief Minister Prakash Singh Badal had called a meeting of senior officials including State Chief Secretary Sarvesh Kaushal and a high alert had been sounded in Punjab with security around railway stations, airports, inter-state bus terminuses and other places of key importance stepped up.
On Sunday night, the alleged "mastermind" of the daring daylight jailbreak, Parminder Singh, was arrested from Kairana in Uttar Pradesh's Shamli district when the getaway vehicle — a Toyota Fortuner — was stopped at a police picket.
A self-loading rifle (SLR), three rifles and several rounds of ammunition were recovered from the SUV during the search, Chaudhary had said.
According to CNN-News18, the arrested man confirmed his involvement in the case in a statement to the police.
Following the security breach, the Punjab government suspended the director-general of police (jails) and dismissed the Nabha Jail superintendent and deputy jail superintendent and set up a special task force to look into the Nabha jailbreak incident. A manhunt was launched to trace the prisoners who escaped, the deputy chief minister of Punjab, Sukhbir Singh Badal had said.
The Punjab government also announced a reward of Rs 25 lakhs to any person providing information leading to the arrest of six escaped under-trial prisoners, ANI had reported.
Sukhbir had also added that a special investigation team under the ADGP rank officer had been constituted to look into lapses as well as any conspiracy theories surrounding the jailbreak incident.
Vineet Joshi, advisor to the Punjab chief minister, told CNN-News18 that in the next 48 hours, all the inmates who had escaped from the jail will be arrested.
Meanwhile, security agencies on Monday continued their hunt of six high-profile prisoners, including two terrorists and four gangsters.
Police and security agencies were alerted in six states, including Punjab, Haryana, Uttarakhand, Rajasthan, Uttar Pradesh and Himachal Pradesh. Routes towards Nepal were also being checked.
"Raids are being conducted at various places. It appears that the prisoners who escaped and their attackers went in separate directions soon after escaping from the Nabha prison," a senior Punjab Police officer told IANS on Monday.
In neighbouring Haryana, the Haryana and Punjab Police confirmed the recovery of a Hyundai Verna car from a village in Kaithal district. The abandoned car was one of the getaway vehicles used by the escaped prisoners and their attackers. "On search of the car, we recovered a police uniform and some mobile numbers. We are investigating this. The registration number plates of the car are fake," a Haryana police official in Kaithal said.
With inputs from agencies
Politics
Sources said the cabinet is likely to see the induction of fresh faces after the Delhi meeting, where the probable candidates will be discussed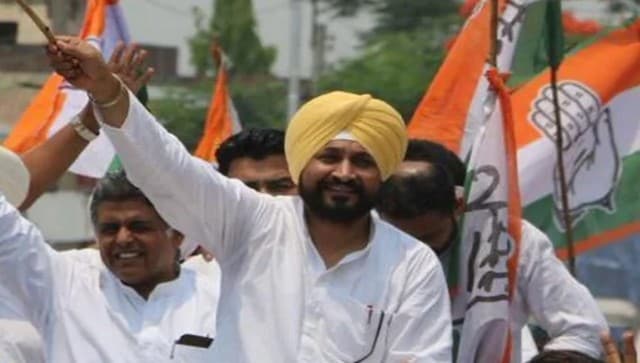 India
Newly-appointed Punjab Chief Minister Charanjit Singh Channi had on Monday held his first Cabinet meeting.
Politics
The worst of the bitter power tussle in Punjab Congress might be over. However, the behind-the-scenes political wheeling and dealin has brought the party's dirty laundry out in the open just months before elections