Mumbai, Thane, Palghar likely to receive very heavy rainfall over 24 hours; IMD issues 'orange' alert for Vidarbha
The Colaba weather bureau, representative of south Mumbai recorded 63.2 mm rainfall, while the Santacruz observatory, representative of Mumbai's suburbs, reported 31.6 mm rainfall till Friday morning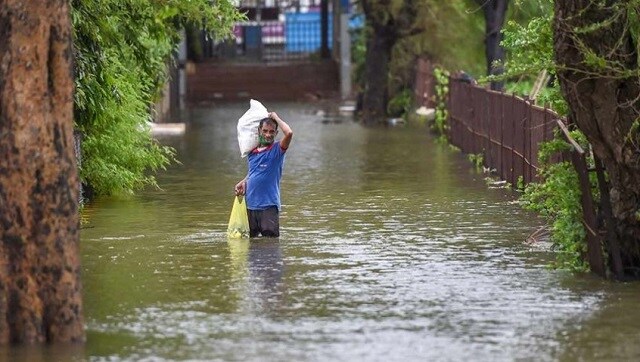 Mumbai: Mumbai and neighbouring Thane, Raigad and Palghar districts are likely to receive heavy to very heavy rainfall over the next 24 hours with gusty winds, a senior IMD official said on Friday.
The India Meteorological Department (IMD) official added that an "orange warning" (indicating heavy to very heavy rainfall) has been issued for the Vidarbha region for the next 48 hours.
"Palghar, Thane, Mumbai, Raigad, likely to receive heavy to very heavy rainfall in the next 24 hours, gusty winds. Ghat areas of Maharashtra, similar pattern with possibilities of isolated extremely heavy rainfall towards Northside," the IMD said.
"Similar trend tomorrow too. Vidarbha:Orange Warnings for 48 hrs," KS Hosalikar, Deputy Director General IMD (Mumbai), tweeted.
Earlier, Mumbai and Thane received widespread moderate to heavy rainfall over the 24-hour period ended at 8.30 am on Friday.
According to the IMD, the Matheran observatory in adjoining Raigad district recorded 122.20 mm rainfall during the same period.
The Alibaug weather station in Raigad district recorded 49 mm rain, while Ratnagiri district in the coastal Konkan region received 83.6 mm rainfall, the IMD said.
The Dahanu observatory in Palghar district recorded 67.4 mm rainfall, it said.
The Colaba weather bureau, representative of Mumbai's island city, recorded 63.2 mm rainfall, while the Santacruz observatory,  epresentative of Mumbai's suburbs, reported 31.6 mm rainfall, it said.
The Thane Belapur Industries Association weather station recorded 60 mm rainfall during the period, the IMD added.
also read
India
Maharashtra CM Eknath Shinde has announced that the city of Ahmednagar will now be renamed Ahilyanagar after the Maratha warrior Ahilyabai Holkar. The Malwa queen was known to be a great ruler and a learned politician. Her contributions to women's empowerment and education are unforgettable
Explainers
A religious procession taken out by a group of Muslims stopped outside the famous Trimbakeshwar temple in Nashik to spread incense in the direction of the deity, as per tradition. However, security guards refused to let them climb the steps. Here's how it snowballed into a controversy
India
At present, the villagers are reportedly pursuing justice and making efforts to identify the engineer responsible for approving this substandard work