Mumbai housing societies that don't segregate garbage may soon face electricity, water cuts: BMC
Housing societies in Mumbai which aren't segregating their wet and dry garbage may be in for a rude shock, with the BMC initiating stringent punitive measures against them
Housing societies in Mumbai that aren't segregating their wet and dry garbage may be in for a rude shock, with the Brihanmumbai Municipal Corporation (BMC) initiating stringent punitive measures against them. The civic body has said it will cut power and water supply to errant societies, following up on a threat it issued last year.
As reported by The Indian Express, the BMC will not only disconnect electricity and water supply but it will also initiate legal action against housing societies found not segregating their garbage. The report said the civic body will also write to the Maharashtra Pollution Control Board (MPCB), demanding action against errant complexes.
A senior official from the solid waste management department of the BMC said that it is mandatory for all projects constructed since 2007 to erect facilities such as composting units. However, many of the projects aren't doing so, instead using space demarcated for this purpose as a parking lot or as a garden, he said.
"These societies, which had 'intent of disapproval' under the waste management rule, were supposed to treat waste within their premises. The rule proposes action such as disconnection of water and electricity. However, this can be done only after taking the MPCB's consent. Hence, we are writing to them," a senior official from the SWM department said.
A report in The Times of India in October 2017 quoted BMC commissioner Ajoy Mehta as saying the rule will be applicable only to bulk generators of garbage. Bulk generators are defined as societies with a built-up area of 20,000 square metres and more, and those which generate 100 kilograms of wet waste a day.
The BMC had also announced it would stop lifting waste from bulk generators from October, which was later extended by four months. "The BMC is holding exhibitions, meeting housing societies to understand their problems in case they are not able to process their waste and also considering central segregation centres for societies that do not have the space. After chalking everything out, we expect people's participation," Mehta had said.
But with repeated extensions also failing to achieve the desired target, the BMC has finally run out of patience.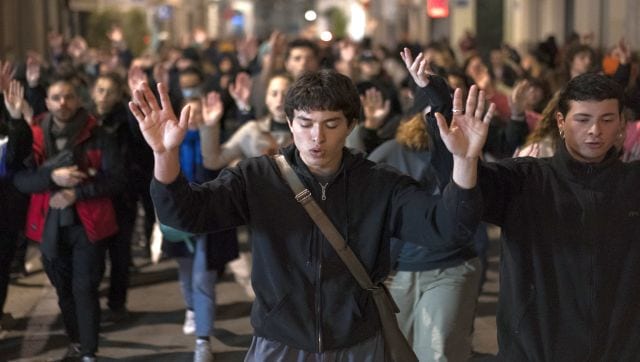 World
France has been seeing protests, which have turned violent in recent days, as the Emmanuel Macron government pushes pension reforms through parliament. In India too, there's a debate on the pension scheme, some arguing that the old method is fiscally unsafe
Photos
Trash has piled up in Paris and other cities, as garbage workers have gone on strike for days. They are protesting against the unpopular bill raising the retirement age in France from 62 to 64
World
The municipal garbage collectors in Paris and some other cities in France have gone on strike to oppose Emmanuel Macron's pension reform bill. Due to this, tonnes of stinking garbage are piling up in the City of Lights