Mumbai fumes over 50% spike in electricity bills since Adani Power took over; discom cites tariff revision in September as cause
The residents of Mumbai are agitated over inflated electricity bills received from Adani Power since the company took over the city's power circle in August from the Anil Ambani-led Reliance Infrastructure (RInfra). The Congress party and some consumers have taken to social media to accuse the company of increasing the bills sharply in October.
The residents of Mumbai are agitated over inflated electricity bills ever since the Adani Electricity Mumbai Ltd. (AEML) took over the city's power circle in August from the Anil Ambani-led Reliance Infrastructure (RInfra). The Congress party and some consumers have taken to social media to accuse the company of increasing the bills sharply in October.
Been receiving numerous complaints from Mumbaikars about highly inflated electricity bills. In some cases, residents are reporting a 40-50% rise in unit consumptions. Are state & central regulators asleep at the wheel?

— Milind Deora (@milinddeora) November 21, 2018
Senior Maharashtra Congress leader Sanjay Nirupam launched an all-out attack on the company for "looting" Mumbai. Calling the Adani Group chairman Gautam Adani and RInfra's Anil Ambani "friends" of Prime Minister Narendra Modi, Nirupam said, "Instead of encouraging privatisation in an honest way, the Modi-led BJP government has created an environment where private firms are looting the common people. Initially, Anil Ambani looted the people and now Adani is doing the same. Aren't Gautam Adani and Anil Ambani close friends with Modi?"
Nirpuam claimed that the electricity charges have doubled in Mumbai since the Adani group company took over power transmission in the financial capital.
Consumer complain, Adani Group puts blame on 'increased consumption'
A section of consumers in the suburbs had even tweeted to the firm to get their meters re-checked. Adani Electricity told The Times of India that every complaint was being treated seriously.
"We have found no problem in the billing process as it has been done as per directives of the state regulatory commission," it said. "There has been a tariff revision since September. Also, consumption increases during October and citizens may be falling into a higher slab. This can result in bills being higher than that in the previous month," the report quoted an AEML source as saying.
Whereas an AEML spokesperson told India Today, that the consumer would have to take into consideration the seasonal variations while comparing the tariff charges. "Electricity tariff rates are determined by the Maharashtra Electricity Regulatory Commission (MERC) through a transparent process including public hearings. In Mumbai, electricity consumption increases in the month of October due to higher ambient temperature. This year (2018) electricity consumption during October was higher by about 18 percent over the preceding month(s). Consumers must compare October billing in 2018 with October of 2017, than September month of 2018. This is to take into account the seasonal variations." According to the report, the spokesperson further added, that all the talk about billing matters had "no sanctity" and was "quite baseless".
"We have checked billing patterns and foreseen no change other than seasonal variations. We welcome anyone to seek clarification on any billing issue and mail to us details of a pattern change and we would facilitate a response."
Adani Electricity started billing Mumbai consumers from September and faced hiccups in the first two billing cycles itself. As per a report in The Economic Times, some consumers witnessed an increase in bills for the month of September also — which the company attributed to its inability to read meters in some areas due to "internal agitation on certain past issues" — with the assurance to pass on the credit after the meter reading is done. Two consumers confirmed to the publication that the credit was reflected in their subsequent electricity bill.
The switchover
The business, acquired by Adani Transmission Limited (ATL) from RInfra — after a process of nearly nine months — includes power generation units in Dahanu, power transmission networks in Mumbai and Maharashtra, and retail power distribution set up in the Mumbai suburbs. The total consideration value for the deal between the two companies was around Rs 18,800 crore.
"Earlier in August 2018, RInfra signed a deal of Rs 18,800 crore for the sale of its Mumbai energy business to Adani Transmission to pare its debts. This amounts to the burden of Rs 2,000 crore on the consumers. Why should we Mumbaikars always pay so that the prime minister and his favourite businessmen can continue to loot us?" Nirupam had asked.
Nirupam had also procured electricity bills from the two companies to highlight the difference in the billing and cost of electricity being provided to the consumers. In these two bills, he pointed out that the fixed charge has been increased to Rs 60 per month as compared to Rs 55 per month earlier for the 0-100 tariff category. He also pointed out the increased fuel adjustment charge rate, wheeling charges and energy charges per unit.
Earlier in 2017, ATL and RInfra had signed the Definitive Binding Agreement for a 100 percent stake sale of the integrated business of generation, transmission and distribution of electricity in Mumbai, making the Adani Group's entry into the large scale power distribution sector which currently serves over three million customers spread across 400 sq km of the Mumbai suburbs.
In December 2017, Nirupam had written to the Maharashtra Electricity Regulatory Commission (MERC) asking whether they were aware of the agreement under which RInfra would be selling its power business in Mumbai to ATL. However, the company told The Economic Times, that the Congress allegations were "totally irresponsible, false, incorrect, distorted, carry innuendos and level false and malicious insinuations". It is interesting to note that ATL owns and operates 35 bulk power grid sub-stations with approximately 19,300 MVA of transformation capacity across the country, making it the largest private sector transmission and electricity distribution company in India.
How are the electricity tariffs regulated in India?
Electricity distribution in India is a regulated business with prices being determined by the regulator after taking all fixed and variable costs under considerations. In an order dated 12 September, the MERC had approved a revision of tariff for the state's power distribution companies, the state-run — Brihanmumbai Electric Supply and Transport Undertaking and Maharashtra State Electricity Distribution Co, and private distributors Tata Power Company and RInfra (which is now AEML).
Earlier in November, the state power regulator Maharashtra Electricity Regulatory Commission (MERC) had reversed its earlier order on the compensatory tariff which helped Adani Power Maharashtra Ltd.(APML) to get an additional tariff of Rs 55 crore to Rs 60 crore as a one-time payment from state power distribution company Mahavitaran Ltd. The power tariff scenario in the country had changed when the Supreme Court had ruled in April that with changes in domestic law such as New Coal Distribution Policy (NCDP), compensatory tariff could be given to power generators.
MNS to hold protests
However, back in the millennium city, the Maharashtra Navnirman Sena (MNS) has thrown an open challenge to AEML to prove that electricity bills have been hiked by 0.2 percent, and not 10-15 percent as claimed by it and the citizens. The party on 18 November had given the power company a 10-day ultimatum to address the public grievances of inflated electricity bills, or else, face its wrath.
On Saturday, a delegation of MNS leaders along with the AEML authorities held a discussion to address complaints from citizens on the sudden rise in power bills. Senior party members Avinash Abhyankar and Nayan Kadam tabled several electricity bills before the AEML officials to substantiate their claim that bills recently received by citizens were higher by 20 to 40 percent in comparison to the earlier service provider, Mid-Day reported. According to the report, an AEML spokesperson said, "The meeting with public representatives was constructive. We explained the regulatory process of tariff determination. We are committed to working towards improving the consumer experience. We have a 24x7 customer support for redressal of any complaint."
Find latest and upcoming tech gadgets online on Tech2 Gadgets. Get technology news, gadgets reviews & ratings. Popular gadgets including laptop, tablet and mobile specifications, features, prices, comparison.
India
India has been ranked lower than its neighbours, including Pakistan (88), Nepal (73) and Bangladesh (75), in the global report released recently
India
'Like the decisions on Ram Mandir and Article 370, the prime minister has decided when there would be war with Pakistan and China,' he is heard saying in a video clip on social media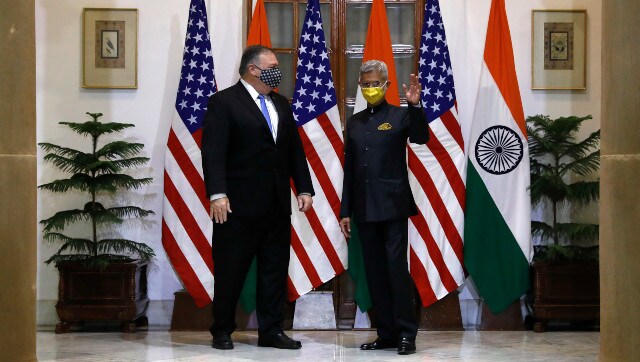 India
The focus on convergences and its institutionalisation through dedicated frameworks alleviates the pressures on the two sides to urgently contemplate formalisation of ties.