Aryan Khan to be released tomorrow due to non-submission of bail papers by 5.30 pm
The paperwork got delayed when, while signing the surety bond, two photographs of Juhi Chawla were not readily available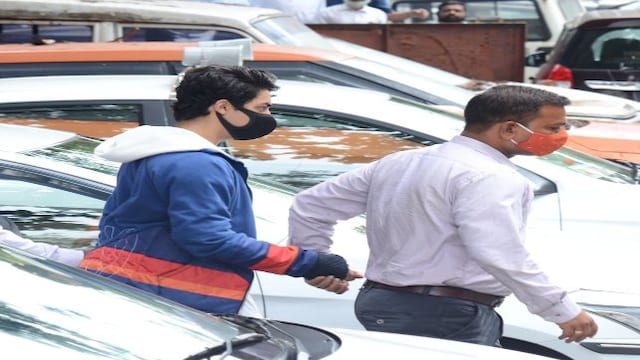 Aryan Khan will spend another night in Arthur Road Jail as his release papers did not reach the jail authorities within the stipulated time of 5.30pm.
"We won't give special treatment to anyone. The law is the same for all. The deadline for receiving the bail papers was 5.30 pm. That has passed. He won't be released today," the official told PTI.
The assertion by the prison official came even as there were indications from Aryan's legal team that a "slight postponement till 7 pm" was possible.
These developments come after Juhi Chawla signed Aryan Khan's surety bond of Rs 1 lakh, but the hassles were far from over. As per an India Today report, two photographs of Juhi Chawla were required to complete the formalities but they weren't immediately available. Due to this, a court official reprimanded Aryan Khan's legal team in Marathi, "Have you people never done surety work?"
Thus, by the time the photographs were finally brought from outside, the paperwork had got delayed.
Aryan Khan's bail order by Roshneesh K'Maneck on Scribd
The court also imposed 14 conditions on Aryan Khan and co-accused Arbaaz Merchant and Munmun Dhamecha, who were also granted bail, which includes him having to surrender his passport and not communicating to the media.
The bail order read as:
1. Each of the applicants/accused shall execute PR bond of Rs one lakh with one or more sureties in the like amount
2. Applicants/accused shall not indulge in any similar activity
3. Applicants/accused shall not try to establish communication with co-accused or any other person involved directly or indirectly in similar activities or
4. Applicants/accused shall not make any call to any person indulging in similar activities as alleged against them, through any mode of communication
5. Applicants/accused shall not undertake any action which is prejudicial to the proceedings before the Hon'ble Special Court (established under the NDPS Act)
6. Applicants/accused neither personally nor through anyone make any attempt to influence witnesses nor tamper with the evidence
7. Applicants/accused shall surrender their passport before the Special Court immediately
8. Applicants/accused shall not make any statement to any form of media -- print media, electronic media, including social media
9. Applicants/accused shall not leave the country without prior permission from the special judge for NDPS at Greater Mumbai
10. If the applicants/accused have to go out of Greater Mumbai, they shall inform the Investigating Officer; and shall give their itinerary to the Investigating Officer
11. Applicants/accused shall attend the NCB Mumbai office on each Friday between 11:00 am to 2:00 pm to mark their presence
12. Applicants/accused shall attend all the dates in the Court unless prevented by any reasonable cause
12. Applicants/accused shall join the investigation as and when called upon to do so before the authorities of NCB
13. Once the trial begins, the Applicants/accused shall not in any manner try to delay the trial
14.If the Applicants/accused violate any of these terms, NCB shall be entitled to straightaway apply to the Special Judge/Court for cancellation of their bail
Aryan Khan's advocates will now take the certified copy of the high court order to the special court that is hearing the cases related to the Narcotic Drugs and Psychotropic Substances (NDPS) Act, along with the requisite documents and sureties.
After verification, the special court will issue the release papers which would be handed over to the Arthur Road prison to secure Aryan Khan's release.
A single bench of Justice N W Sambre had on Thursday granted bail to Aryan Khan, 25 days after he was arrested during a drug raid on a cruise ship off the Mumbai coast. The high court had said it would provide a copy of its order on Friday.
With inputs from PTI
Entertainment
The hashtag #BoycottBollywood raised its head right before Pathaan, the first major release of 2023, with a controversy over its song Besharam Rang.
Entertainment
The media event which was attended by SRK along with his co-actresses Anushka Sharma and Katrina Kaif became all fun, leaving everyone in splits following the actor's reaction.
Entertainment
Priyanka further also went on to say that her "ego is not bigger than her job" and that she is very professional and takes pride in it.