Mumbai at 'serious risk of flooding' between 3-5 July, predicts Skymet; high tide expected at 12.35 pm today
After witnessing the heaviest spell of rain on a single July day in the past 45 years, Mumbai braces up to face another spell of heavy to very heavy rainfall on Wednesday. Indian Meteorological Department has warned of intermittent downpour between 3 and 5 July with close to 200 millimeters (or more) rain expected per day
After witnessing the heaviest spell of rain on a single July day in the past 45 years, Mumbai braces up to face another spell of heavy to very heavy rainfall on Wednesday

Indian Meteoroligical Department has warned of intermittent downpour between 3 and 5 July with close to 200 millimeters (or more) rain expected per day

Private weather agency Skymet said Mumbai is at serious risk of flooding between 3 and 5 July
After witnessing the heaviest spell of rain on a single July day in the past 45 years, Mumbai braces to face another spell of heavy to very heavy rainfall on Wednesday and Thursday. India Meteorological Department has warned of intermittent downpour between 3 and 5 July with close to 200 millimeters (or more) rain expected per day.
Private weather agency Skymet said Mumbai is at "serious risk of flooding" between 3 and 5 July. "Close to 200 millimeters or more rain per day is likely during this period, which could hamper normal life," it said.
Monsoon is likely to move over to Maharashtra's drought prone regions of Vidarbha, Marathwada, spreading over western Madhya Pradesh and Gujarat.
Weather prediction for today and tomorrow 
IMD has predicted heavy to very heavy rainfall in Mumbai and its suburbs over the next 48 hours, and a similar situation is expected in Vidarbha and Marathwada regions as well. It also advised tourists to not visit mountain areas since heavy rainfall is expected across the state of Maharashtra. Skymet said that intermittent spells of light to moderate rain and thundershower will continue over Mumbai, Mumbai Suburban, Palghar, Pune, Raigarh, Ratnagiri, Sangli, Satara, Sindhudurg and Thane the districts of Mumbai, mumbai suburban and Konkan coast during next 2-3 hours.
A high tide of about 4.69 meter is expected to hit Mumbai coast at around 12:35 pm and a low tide of about 1.58 meter is expected at 06:34 pm on Wednesday.
A break from rainfall in the early morning hours brought some relief to Mumbai residents, but moderate rains would continue till July 3 afternoon. However, this would only be a temporary relief as rains would increase again by Wednesday evening.
After Monday night's deluge in suburbs, the Brihanmumbai Municipal Corporation said it has made the necessary preparations as per the weather warnings. "The next two days are going to be very critical to us and our machinery is geared to face any eventuality during excessive rains," BMC additional commissioner Ashwini Joshi told Press Trust of India.
He said that all the 1,400 dewatering pumps of BMC are deployed at 53 flood-prone spots, including 22 chronic spots and assistant municipal commissioners have been asked to supervise their territory.
Maharashtra chief minister Devendra Fadnavis has also asked the people and authorities to remain vigilant over the next two days and closely track weather bulletins. "We need to remain alert for the next two days," he said.
While monsoon made a late entry into the city and the state of Maharashtra, it has more than made up for its delay. Six pumping stations of MCGM pumped out more than 14000 million litres of water and discharged it into the sea, which is more than combined capacity of Tulsi and Vihar lakes.
Three dead, 16 missing after dam breach in Maharashtra's Ratnagiri
At least six people were killed and 16 went missing after a dam in Maharashtra's coastal Konkan region breached following incessant rains leading to flood-like situation in downstream villages, The Indian Express reported.
The Tiware dam in Ratnagiri district developed a breach late Tuesday night night after heavy rains, a district official said. At least 12 houses from a hamlet adjacent to the dam were washed away. Teams from local police, district disaster management cell, fire brigade along with local villagers started the searching for missing villagers. An NDRF team stationed in neighbouring Sindhudurg district and those from the Pune headquarters of 5th Battalion of the NDRF were also moved for the spot late on Tuesday night, The Indian Express reported.
Toll rises to 22 in Mumbai's rain-related incidents
At least 22 people were killed in Mumbai alone and several others were injured after a compound wall collapsed on hutments in Malad East early Tuesday morning. Twenty-one people were killed and 78 injured in a wall collapse incident in the northern suburb of Malad in Mumbai following heavy rains on Tuesday morning. One more person succumbed to injuries late Tuesday night, raising the toll to 22.
The injured were admitted to civic-run hospitals and 15 of them were discharged after primary treatment, a senior civic official told reporters here.
Efforts by rescue workers to get a 15-year-old girl out of the debris of the wall which collapsed in Malad, proved futile as she was brought out dead.
Two persons died in Malad after they were locked up in a car flooded with rain water. One person was electrocuted in Vile Parle and a security guard was killed in a wall collapse in suburban Mulund
Fourteen people died in rest of Maharashtra in rain-related incidents since Monday, officials said. In Pune, six labourers were killed and three injured after a wall collapsed in Ambegaon area late Monday night. A wall collapsed in Kalyan in Thane district early Tuesday killing three people, officials said. In Buldhana district, a 52-year-old woman was killed on the spot by a bolt of lightning.
With inputs from agencies
also read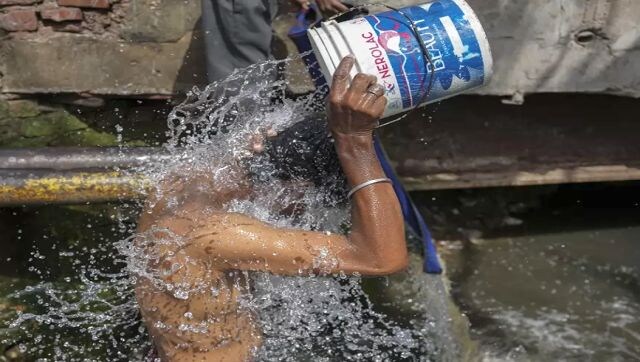 Opinion
In the upcoming week temperatures are set to rise across Punjab, Haryana, Delhi NCR, Chandigarh, Uttar Pradesh, Rajasthan, Madhya Pradesh, Chhattisgarh, Gujarat, Maharashtra, Telangana and Andhra Pradesh
Explainers
The El Niño weather phenomenon is here and it is expected to send temperatures soaring globally. Experts also worry that with an El Niño event this year, India is unlikely to receive normal rainfall during the monsoon
Opinion
The north-eastern states will continue to receive on and off moderate to heavy rains across the week, but a very significant spell is not seen in the near future as the Bay of Bengal branch of the monsoon is expected to have a very slow start this year