'More of a learning experience for me': Former Assam top cop Mukesh Sahay now teaches maths
The Sonaram Higher Secondary School staff in Guwahati is all too happy with this association with the former top cop.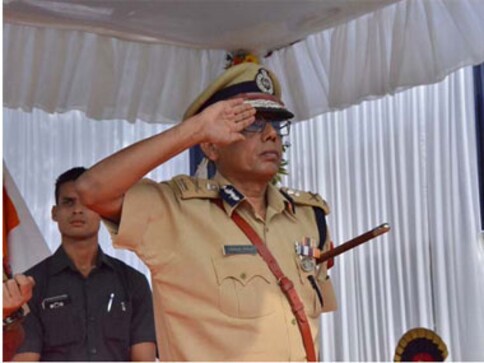 Former Assam director general of police Mukesh Sahay, who hung up his boots on 30 April, has little time to enjoy the luxury of a superannuated life. Having overseen law and order at a time when the entire state was declared a disturbed area — beside the ongoing sensitive National Register of Citizens process — the 1984-batch IPS officer always had his hands full. However, this has not deterred him from taking up a new challenge: Teaching mathematics at a local government school in Guwahati.
"It all happened when they invited me for a programme last year as a chief guest. While enquiring about the history of the school, I found they do not have a mathematics teacher. So, I told them that I could step in to fill the void. But it was difficult when I was in service as I could not commit to a particular time. Such was my nature of work. After I retired, I called up the principal to inquire if there is a need for my services. The principal told me to come as no one had joined till then. Luckily a regular teacher mathematics teacher has also joined now. She is very bright," Sahay told Firstpost.
The former DGP said that with the joining of the new teacher, the workload has decreased.
"Now, I am teaching calculus in Class 12. The Class 11 students are yet to come. I teach them for around one-and-a-half hours. This is my way to give back to society and I have offered my services voluntarily," he added.
Sahay said the students are enjoying his classes but it is too early to "assess". "They should feel benefitted. They should understand and assimilate the subject and the outcome can be assessed only after a period of time," he said.
The Bihar-born former IPS officer, who has an illustrious 34-year track record as a police officer, is a postgraduate in science and also trained as a lawyer. Thanks to his long stint in Assam, language is no barrier to his philanthropic venture.
"Even though I have to teach in the vernacular, I have no problem. Mathematics has its own language. Whether it is in Assamese, English, Bengali or Hindi, it doesn't matter, unlike literature subjects. It is more of a learning experience for me than teaching experience. It is also a relearning experience for me", Sahay said.
The Sonaram Higher Secondary School staff is all too happy to be associated with the former top cop.
"The mathematics teacher retired in May 2016," said Dwinjendra Nath Barthakur, principal, Sonaram Higher Secondary School. "As the recruitment roster of the government keeps on changing, the post was reserved for an ST candidate. Although we advertised in the newspapers, not many candidates appeared. These days, the candidates have to be TET (teacher eligibility test) qualified. Finally, we appointed a lady teacher from Golaghat. But she also got a job in another school near her home and left. Since then, we have been managing somehow. I'm a chemistry teacher but I had to take the mathematics class, with the help other teachers, as much as possible."
"Sahay came to know about her condition when he was invited once to a school programme. Although he once tried to take classes while he was still serving as the DGP, it did not work out because of his extremely busy schedule. Sahay then promised us to help after his retirement. He called me on 3 May to offer his services. He started taking classes from 7 May. He comes in at 11.30 am and leaves at 12.45 pm. For now, he takes classes for the Higher Secondary second year as the Higher Secondary first year will be filled up only after fresh students take admission after the high school results. Sahay has, for the time being, decided to continue for a month. He may extend it further if he doesn't get engaged in any other work," said Barthakur.
Incidentally, the results of High School Leaving Certificate and High Madrassa Examinations conducted by the Board of Secondary Education, Assam will be declared on Friday.
Barthakur's predecessor Kanaklata Devi also expressed happiness over the development. "He has been taking classes for over 15 days. I met him when he came to our school for a function. Seeing that the school did not have a mathematics teacher, he gave us his word that he would teach students after his retirement. I am so happy that he is doing that and beautifully taking classes," said Devi, who retired over a year ago.
Situated on the banks of the river Brahmaputra adjacent to the Bharalumukh Police Station in Guwahati, the Sonaram Higher Secondary School is a co-educational institution established in 1936.
According to a report in The Times of India, "Many renowned personalities like poet Raghunath Choudhury, poet Ambika Giri Rai Choudhury, litterateur Chandra Nath Sarma, and former chief minister Bishnuram Medhi studied at the school".
also read
Education
GATE 2023 scorecards can be downloaded by the students for free till May 31. An additional fee of Rs 500 will be applicable after the deadline
India
Notices have been issued to the Ministry of Environment and Forests and the state government with regard to the wildlife sanctuary in Assam by a three-judge bench of Justices B R Gavai, Vikram Nath and Sanjay Karol
Opinion
In a nation that has achieved independence merely 75 years ago, the lack of education into what was required to achieve it, the millions of sacrifices it needed remain missing