Mood of First-Time Voter: 77% say newspapers most trustworthy medium; 15% males believe social media forwards
The first part of the section of the Mood of the First-Time Voter survey titled 'News and Media' examines the differing views of male and female respondents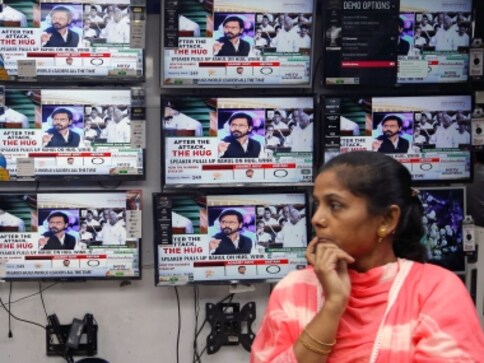 Forty percent of female respondents said social media was their primary source of news, compared with 30 percent of males

Over three-quarters of males and females believed that newspapers were the most trustworthy medium

38 percent of male respondents claimed to always fact-check stories shared on social media, compared to 28 percent of females
The Lok Sabha election in a few months is set to see a massive 130 million first-time voters go to the polls. The stakes are already high for the National Democratic Alliance that seeks to secure five more years and a seemingly united Opposition that seeks to dislodge the ruling BJP and its allies at any cost.
To get a better idea of how young first-time voters — people aged 18 to 21 — perceive of the forthcoming election, YouGov India and Firstpost conducted a nationwide survey between 3 and 9 January. There was a total of 1,324 respondents, from a panel of over 40,000, who answered questions ranging from politics and jobs, to religion and the media. The findings are being serialised in four sections:
1) Politics and Ideology
2) News and Media
3) Religion and Community
4) Jobs and Economy
The first part of the section titled 'News and Media' examines the differing views of male and female respondents.
Forty percent of female respondents said social media was their primary source of news, compared with 30 percent of males and both sets (37 percent of females and 28 percent of males) claimed that this was the medium with the greatest influence on their thoughts and actions. However, over three-quarters of both sets (77 percent of males and females) believed that newspapers were the most trustworthy medium, with word of mouth seen as the least trustworthy (24 percent of males and 28 percent of females).
Meanwhile, 38 percent of male respondents claimed to always fact-check stories shared on social media, compared to 28 percent of females.
To read the findings of the section of the survey titled 'Politics and Ideology', click here.
World
Katherine Schweit, who heads FBI's active shooter program, tells people not to ignore those type of posts, especially from children or young adults. Report it, she advises, to a school counselor, the police or even the FBI tip line
Tech
In a statement, Meta said, 'By making advertiser targeting criteria available for analysis and reporting on ads run about social issues, elections and politics, we hope to help people better understand the practices used to reach potential voters on our technologies'
India
Ratan Lal was arrested under Indian Penal Code sections 153A and 295A by the Cyber Police Station, North