Modi's rise seems to coincide with Pakistan's change of Afghanistan strategy: 'Sleepwalking to Surrender'
Editor's note: In this extract from the book Sleepwalking to Surrender author Khaled Ahmed attempts to trace the impact of Narendra Modi's rise to power, in Pakistan's political arena and its handling of the question of terrorism.
Pakistan sinks in amnesia when discussing foreign policy and behaves like a state with its internal sovereignty intact. It has actually handed over the conduct of its foreign policy to jihadi elements it no longer controls. It also forgets that any 'reformulation' of policy by the elected government may run up against the ingrained mindset of these non-state elements. Indeed what is amply proved on the streets is the capacity of these 'instruments' of policy to also be the formulators of policy. Many 'incidents' have to be 'owned' by the state through the paradox of denial, that is, instead of punishing the instrument, denying that the instrument has orchestrated an event.
Pakistan has suffered economic damage pursuing the unchanging 'principled' policy of revisionist challenge to India but this may not have hurt it enough to make it repent. In his latest comment, ex-World Bank Pakistani economist Shahid Javed Burki says: 'The past process was "India-centric" in the sense that Pakistan tried, sometimes with desperation, to balance India's growing military might. That approach proved costly. In a 2007 report, I wrote I estimated the cost to Pakistan of the running dispute with India over Kashmir and other issues. I estimated that the Kashmir dispute alone had cost Pakistan 2.25 per cent to 3.2 per cent a year of growth loss in GDP terms. 'Compounded over a period of six decades, this suggests the magnitude of the colossal damage Pakistan has done to its economy by following this particular quarrel with India. This study used purely economic factors; it did not take into account the undeniable fact that some of the cost of this approach towards India contributed to the rise of Islamic extremism in the country. That, too, has resulted in serious economic losses.'
Modi thinks India too has damaged its economy through the anti-business Nehruvian model, which his predecessor prime minister began to overturn but failed to complete the job. Prime Minister Sharif can hit it off with Prime Minister Modi but will be hampered by elements that force the world to call Pakistan a failed state by reason of lost 'internal sovereignty'. Modi will take the trade-first option offered by Sharif; but if he is squeezed on the 'Kashmir-first' option he will join the rest of the world on squeezing Sharif with 'do-more' pressure against Pakistan's 'instruments of foreign policy', the non-state actors.
Internal Demons
An impetuous interior minister in Islamabad stubbed his toe on the presence in Pakistan of a Mumbai don named Dawood Ibrahim. He assumed that Modi had made progress with Pakistan conditional to Pakistan coughing up Dawood Ibrahim, wanted for terrorism in India. It developed that Modi hadn't said anything about Dawood Ibrahim. But in the coming days, the Mumbai don and many others in the gallery of non-state rogues, let off with figleaf verdicts by Pakistani courts according to international opinion, will become a major agenda of bilateral discussion. Pakistan will balk; and Pakistan will suffer for being transfixed in a policy rut.
Most foreign policy experts in Pakistan study events keeping their eyes averted from how much Modi can gain from international reaction to Pakistan's gallery of internal rogues. In 2008, a UN Security Council committee, on India's request, designated Jamaatud Dawa the frontal organization of Lashkare- Taiba, as a global terrorist organization and its leader Hafiz Mohammad Saeed, Zaki-ur-Rehman Lakhvi, chief of operations of Laskhar-e-Taiba, and Haji Muhammad Ashraf, chief of finance of the group, as terrorists. America went ahead and placed $10 million on Saeed's head.
While in jail, Lakhvi has been allowed to wed again and, after regular cohabitation, become the father of a baby. Unfortunately for Pakistan, in 2012, a terrorist called Abu Jandal but actually Zabihuddin of India, repatriated to India by seemingly friendlyto- Pakistan Saudi Arabia, revealed all. While Zabihuddin was doing R&R in Saudi Arabia after training in Pakistan, Lakhvi phoned him triumphantly from his Rawalpindi prison to tell himthat he was having the time of his life four years after his trial started with no end in sight in 2013. In 2013, the Supreme Court of India pronounced that the 1993 serial bombings in Mumbai, which killed 257 people, were the result of 'the management and conspiracy of the blasts by Dawood Ibrahim and Tiger Memon, and that it was executed with the help of the ISI which played a vital role in imparting training to the accused'. Dawood Ibrahim is officially not in Pakistan but his movement is apparently not restricted by any niceties of security although some Karachi publications have come under pressure for reporting his whereabouts. Rumours hit Lahore in April when he visited the city to shop for another wedding in the family.
The Afghan Factor
Islamabad is making up his mind about what policy to adopt for the post-withdrawal Afghanistan with a pro-India Abdullah Abdullah as President armed with a bilateral security agreement with the US. So far the strategy was to oppose the Indian presence in Afghanistan and make it tough for India by getting the Taliban and foreign militants through cross-border terrorism. This policy, dividing the Taliban into 'good' (who attacked Afghanistan) and 'bad' Taliban (who attacked Pakistan) was flawed because of the linkages the two categories developed when Islamabad tried 'peace talks' with the 'bad' Tehreek-e-Taliban Pakistan. Pakistan's 'trade-first' approach to India will sort out other
complicated strategic issues. The 'foreign militants' being nursed by Pakistan on its soil are hurting its friend China. In the latest incident on 20 May, a Chinese tourist was kidnapped in Dera Ismail Khan in the Khyber Pakhtunkhwa province and taken to North Waziristan, followed by a Taliban spokesman announcing that the Chinese tourist would be released if China were to free a number of Uighur warriors from its prison in Xinjiang. Next day, 21 May, the Pakistan air force bombed North Waziristan, killing seventy-one men, including, according to Inter-Services Public Relations (ISPR), Taliban commanders and 'foreign militants'.
In the coming days, Modi will mount friendly pressure on Pakistan to 'do more' on its non-state actors and the 'foreign militants', a strategy he will pursue in tandem with the US and, more delicately, China. The global view of these elements has been vague. More reliably, Pakistan's doyen of commentators on the Taliban, RahimullahYusufzai, reported in the News of 28 May 2014:
'Around 12 groups of foreign militants are listed, the prominent ones being the al-Qaeda led by late Osama bin Laden's successor Dr Ayman-al-Zawahiri, the Islamic Movement of Uzbekistan (IMU), the Islamic Jihad Union which is a breakaway faction of the IMU, the East Turkestan Islamic Movement (ETIM) made up of the separatist Chinese Uighur Muslims and headed by Abdullah Mansour, the mainstream Afghan Taliban movement and the powerful Haqqani Network affiliated with it.'
Modi's rise seems to coincide with Pakistan's change of Afghanistan strategy, namely, its reliance on the instrumentality of the 'good' Taliban to defeat India in Afghanistan. Under the new government in Kabul, the odds of the success of this strategy are stacked against Rawalpindi–Islamabad. The process of peace talks with the 'bad' Taliban was a part of this strategy with which the Pakistan army was not in agreement. Prime Minister Sharif thought that if the strategy was inflexible and obdurately fixed, then he should at least make his government minimally functional in the midst of the pro-Taliban terrorist affiliates and madrasa-linked clergy spread across the country. That policy has luckily come to grief.
Excerpted from 'Sleepwalking to Surrender: Dealing with terrorism in Pakistan' with permission from Penguin Books India.
India
Modi conveyed support for the important role of the UN in Afghanistan and called for a renewed backing of the G20 for the message contained in the UNSC resolution on Afghanistan
India
On 7 October 2001, he was sworn in as Gujarat chief minister for the first time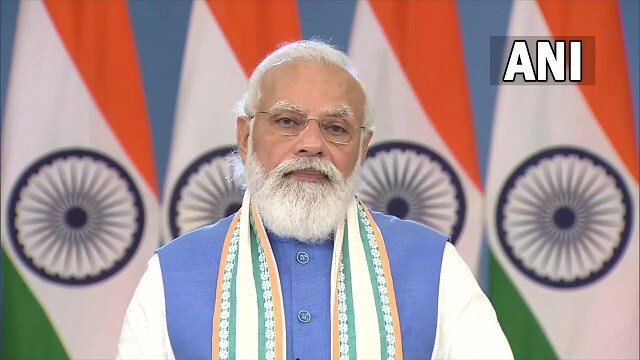 India
The agenda of the summit will include a discussion on response to humanitarian needs, security and the fight against terrorism and human rights in Afghanistan