Modi in US: Warm signals from Trump administration in hosting PM reflect an Obama-era continuity
There is also a concerted effort being made behind the scenes to ensure that Donald Trump and Narendra Modi strike a smooth relationship.
Despite the image of disruption, incoherence and ad-hocism defining the early days of the Donald Trump presidency, the broad contours of the new US President's foreign policy is not all that different from his predecessors. Perhaps the realities of leadership in a complex world with different variables ultimately snuff out the options for adventurism. Be that as it may, it is increasingly clear that for all his vows to "drain the swamp" and iconoclastic image, Trump is neither a radical nor a revolutionary.
This is all the more evident as Narendra Modi's fifth US visit is upon us. Analysts would be hard-pressed to find dissimilarities between the Trump regime or Barack Obama era in the way Washington is gearing up to host the Indian prime minister. Media reaction, too, offer an eerie similarity. Talking heads in India have always appeared more excited than their American counterparts over India-US schmoozing. This is quite natural, given the power imbalance between two nations. Be in Obama or Trump era, this hasn't changed. Indian media is far more enthusiastic right now about the visit than US media, for whom the visit is little more than an incidental item to be carried at best in inside pages.
Obama had famously called India-US ties the "most defining partnership" of the 21st century. Along with Modi, both leaders had taken significant strides in translating much of the rhetoric into deliverables. There was a persistent fear in Indian strategic and policy-making circles — taking into account Trump's transactional approach to foreign policy, callousness in letting crucial desks in US State Department remain horribly understaffed and prolonged domestic woes — that he may either suffer from a lack of interest in Modi's visit or hold India-US ties hostage to rapid progress in trade relations.
After all, despite being among the fastest-growing large economies, the pace of growth and reforms in India even under a supposedly reform-minded prime minister remains sluggish. To the US, New Delhi is an important strategic partner in south Asia, a promising counterbalance to China and a fellow democratic enforcer of a rules-based world order. Yet, the reality is that it is still struggling to fill even the shoes of a middle-power. The apprehension was, for a president whose foreign policy is rooted into 'what's in it for me' realism, India might not hold enough promise.
If early signs are anything to go by, these doubts seem to be unfounded. Reports indicate that Washington is lining up a red carpet welcome for Modi. The Indian prime minister will be the first head of state to be accorded the honour of a White House dinner hosted by Trump.
PTI quotes a senior Trump administration official as saying: "The White House is very interested in making this a special visit. We're really seeking to roll out the red carpet. In fact, the two (leaders) will have dinner, a working dinner at the White House. This will be the first dinner for a foreign dignitary at the White House under this administration. So, we think that's very significant."
There is also a concerted effort being made behind the scenes to ensure that both leaders strike a smooth relationship which may set the paradigm for closer ties in the near future. Interestingly, India's foreign secretary S Jaishankar flew to Washington just ahead of Modi's visit to meet key figures in the Trump administration and set the tone for the prime minister's engagement with the US president. This is a break from protocol. It suggests that both sides wanted to leave absolutely nothing to chance to make the maiden Modi-Trump meeting a success. Once again, this is indicative of the importance India holds for Trump-led US.
On Friday, Jaishankar met US Secretary of State Rex Tillerson, one of the key sobering influences on Trump, and the outcome of that meeting lays out clearly the areas of convergence that both sides are stressing on.
According to a US State Department spokesman, "Tillerson noted the Prime Minister's visit will strengthen ties between the United States and India and advance our common interest in fighting terrorism, promoting economic growth and prosperity, and expanding security cooperation in the Indo-Pacific region."
In a way, this represents continuity, and that is never a bad thing when it comes to bilateral ties.
Continuity is the manifestation of stability and it is clear from the signals emanating out of Washington that the India-US relationship is on an even keel and unlikely to be derailed, despite a demagogue adorning the White House.
Part of the reason is that India-US relationship is insured by a number of strategic, structural bulwarks. The Obama administration had accorded India the status of a 'major defence partner'. Four 'foundational agreements' define such a role. India has entered into two such agreements with the US so far: Logistics Exchange Memorandum of Agreement (LEMOA) — signed in October last year and the General Security Of Military Information Agreement (GSOMIA) — inked in 2002. The other two are up for grabs. For a fiercely non-aligned country such as India, the signing of these agreements signal the extent to which India has joined the US sphere of influence. Yet the bilateral tie is not dependent on military-strategic considerations alone. It goes deeper.
In areas of trade and commerce, people-to-people links, defense cooperation, soft power and mutual strategic interests, India-US relationship has enjoyed natural progression and this is unlikely to be reversed. The hot debate over visa programme makes for alarmist headlines but the reality is that in imposing restrictions over a liberal visa regime and clamping down on immigration, Trump has merely stayed true to the backlash in the western world against free movement of trade and people. It will be unwise on India's part to make this the fulcrum of Modi's meeting with Trump and there is every indication that both sides are trying desperately to play down this thorny problem.
The White House has already announced that discussions on civil nuclear deal will be on agenda when Modi meets Trump — a pact that has fallen prey to mutual apathy — and there are no plans to raise H1B visa programme. Besides, the US recently cleared the selling of 22 unarmed reconnaissance drones to India and is reportedly positive about letting Lockheed Martin build F16s in India in a partnership with Tata Advanced Systems.
The Economic Times notes that officials "are working overtime to complete negotiations on moving the assembly line for the F-16 fighter jet to India to enable Modi and Trump to jointly make an announcement on the deal."
Besides, in the appointment of Kenneth Juster as US Ambassador to India — which has interpreted as a good move for bilateral ties — Trump has signaled he values the partnership. The devil in the end lies always in the finer details though.
India
In its statement, the Prime Minister's Office said e-RUPI is a cashless and contactless instrument for digital payment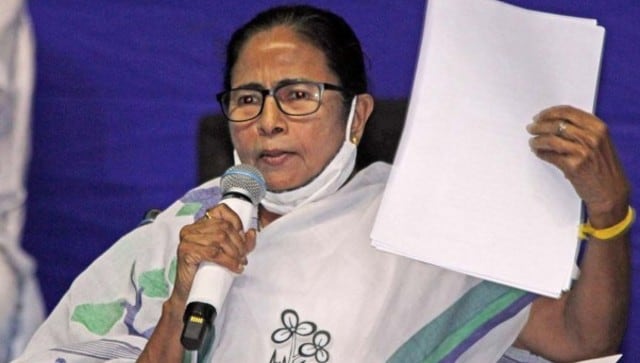 Politics
All this in the backdrop of #AbkiBaarDidiSarkar trending on Twitter, thus further fuelling rumours about a United Front.
India
The ''Mann Ki Baat'' programme is broadcast at 11 am on the last Sunday of each month through various channels of the All India Radio and Doordarshan