Modi cabinet lacks wow factor: But here's why it's promising
At first glance, the long list of unknown names in Modi's ministry makes no connect. But there is a clear message of performance written even here?
I admit to have been a trifle underwhelmed by Narendra Modi's choice of ministers. If one sets aside the all-star cast at the top - Rajnath Singh, Arun Jaitley, Nitin Gadkari and Sushma Swaraj - and some promising artistes lower down the order (Smriti Irani, Piyush Goyal, Harsh Vardhan), there was no wow factor to the ministry. (For the full cabinet list, read here) How, I thought, was Modi going to deliver with this motley bunch, given the electorate's skyhigh expectations?
One would have also expected to see competent people like Arun Shourie and Suresh Prabhu in the ministry - they were among the best performers in the Vajpayee cabinet. Why didn't they make it in a BJP government that isn't exactly spoilt for choice in terms of talent? And what do you make of choices like Narendra Singh Tomar, Thawar Chand Gehlot, Sarbananda Sonowal, Shri Nihalchand, GM Siddeswara, Mansukhbhai Vasava, Raosaheb Danve, Vishnu Deo Sai or Krishan Pal? Who are these people, and how did Modi even come by these names?
But then, a day later, I am more optimistic about Team Modi. Reason: a team becomes a team only if big egos do not get in the way of performance and every member believes he has something to prove and contribute. It's like the Avis ad: "We're No 2, so we try harder". By picking his second-rung ministers from relatively obscure quarters and paying little heed to the claims of people with bigger reputations and egos, Modi has effectively flung a challenge to both his stars and his newbies. The new ministers, given a big chance now, will not only owe allegiance to Modi, but will be fighting to prove their worth. And the high-profile stars who will be handling finance, home, et al, will find that they have to try even harder to maintain their reputations.
Modi has effectively flung the gauntlet to his own team: show me that you can deliver.
There are, of course, other reasons why Modi may have done what he did. For example, by putting fresh faces in key ministries like railways (Sadananda Gowda), HRD (Smriti Irani), agriculture (Radha Mohan Singh), petroleum (Dharmendra Pradhan), commerce and industry (Nirmala Sitaraman), power and coal (Piyush Goyal), Modi has done a smart thing: the new ministers will effectively be led by Modi's own preferences in these sectors and will be eager to implement his policies. These are, effectively, ministries that Modi will influence directly or indirectly. He can challenge them to come up with great ideas, but he will guide them in the direction he wants.
Even smarter, Modi has put many untested leaders in full charge of their ministries, even while attaching them to some larger ministries. For example, Nirmala Sitaraman is in independent charge of commerce and industry, but she will be minister of state in Arun Jaitley's finance ministry, handing corporate affairs and finance; Gen VK Singh is minister of state with independent charge of the north-east, but he will be under Sushma Swaraj handing external affairs and overseas Indian affairs; Prakash Javadekar has independent charge of the Information and Broadcasting ministry and also environment and forests, but he also gets parliamentary affairs, where he will operate under Venkaiah Naidu.
This is innovation, Modi-style. By giving his junior ministers both independent charge as well as a reporting structure in other areas, Modi has ensured two things: the ministers have areas where they can make a mark, but they have to also learn to work together for the larger good. For the senior ministers, this is a double-challenge – they have to learn to engage and ensure the cooperation of their junior ministers and not just assume they can tell them what to do. Also, they know that their own performance will be measured by the yardstick set for their junior ministers. If the junior ministers outperform the seniors in the areas of independent charge, they may get promoted. Never have the stars been put on watch on strongly.
Where do the allies get into the Modi scheme of things? Once again, Modi has done clever things. There are only four allies in government as of now - one each from the Akalis (Harsimrat Kaur), Telugu Desam (Ashok Gajapati Raju), LJP (Ram Vilas Paswan), and Anant Geete (Shiv Sena). The message is clear: even for allies, performance is the key to more responsibility. This message has been sent by giving some of the BJP ministers extra ministries to handle – which obviously will be shed when the ministry is expanded. The allies have to work for obtaining more ministries.
The Modi ministry also subtly reinforces the Prime Minister's statement that he wants to develop India in a partnership with the states, especially state Chief Ministers. Portfolios like agriculture, rural development, urban development, food, women and child development, food processing, social justice, tribal affairs, education and health cannot be driven purely by the centre. These are largely within the legislative powers of states, and if the centre wants anything done, it has to work with the states and not impose schemes from above. This is where the UPA failed – it imposed legislation (food security, land acquisition) from above, and the states took the centre's money without being grateful for it. Thanks, but no thanks.
By putting low-profile, low-ego ministers in charge of some of these ministries, Modi has probably tried to ensure that his ministers do not get into needless tussles with state governments, especially if they are run by opposition parties. Putting a combative and free-talking Gadkari in charge of urban development could have led to more tussles with states than a Venkaiah Naidu; a Radha Mohan Singh in agriculture would be less likely to develop airs about his importance than someone with a higher profile.
There is clearly a method to Modi's choices. There may be no wow factor to the cabinet, but there is a new energy in it. A wow factor would have ended up raising expectations ever further, and Modi has ensured that his team is less preoccupied with show than substance. Good move.
Find latest and upcoming tech gadgets online on Tech2 Gadgets. Get technology news, gadgets reviews & ratings. Popular gadgets including laptop, tablet and mobile specifications, features, prices, comparison.
India
The missile hit the target with pin-point accuracy after performing "extremely complex" manoeuvres, said officials, The defence ministry said that it will ensure the warship's invincibility by engaging naval surface targets at long ranges.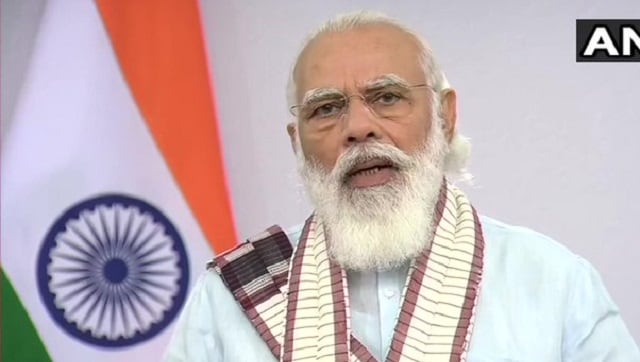 India
Acknowledging that the country has come a long way in the fight against the pandemic since the 'Janata Curfew' in March, Modi said that India has been more successful in saving the lives of its citizens than more prosperous countries.
India
Rajnath Singh recently complimented the BRO for its "unwavering commitment" towards delivering outstanding quality infrastructure