Mob attack on Kolkata's posh gated community reveals growing social inequalities
The social inequalities in Kolkata are too obvious, too in your face to be made light of without consequences. The city is a pressure cooker and the pressure has started building up.
It could have been a Costa-Gavras film. The ambitiously named Fort Oasis, with its cluster of tall, slim edifices, stand proud and insouciant amid a mass of low, dark shanties that throw its glistening white buildings into sharp relief. "It's amazing how close the centre of the city is, yet how far you feel from it! That's the magic of Fort Oasis," claims its brochure, not incorrectly.
Until Sunday morning that is, when the bliss was shattered and the city came marching in, violently, intimidatingly, ominously. For over an hour that morning, the neighbours of Fort Oasis, the small-time plumbers, carpenters, electricians, house painters, taxi drivers, car washers, other daily wage earners and, above all, the jobless who crowd the sprawling bustees (slums) across the road, metamorphosed, from willing support hands, to belligerent, disruptive, anti-socials, smashing cars in the parking lot and the furniture in the lobby with bricks, iron rods, hockey sticks.
This is a slice of life in Kolkata today which will surely be brushed aside but will be ignored only at our peril. The social inequalities in this city are too obvious, too in your face to be made light of without consequences. The city is a pressure cooker and the pressure has started building up.
Saturday was Vishwakarma Puja, which is still a big thing in the city even though industry is a vanishing species here and this is the God of machinery, technology, mechanical equipment and production. Fort Oasis itself has come up partly on the site of the abandoned factories of Calcutta Chemical and the Indian Bureau of Mines. Vishwakarma Puja revelries continue, even in factories that have downed shutters.
Accordingly, 22-year-old Avijit Pandey and two friends who live in shanties not far from the fancy Fort Oasis, were on a night out in the second-hand scooter they had bought jointly a few months ago when a Mercedes rammed into them, throwing Avijit, who was riding pillion, on to the bonnet of the Mercedes and leaving the other two in a heap on the mangled scooter.
Instead of offering help, the occupants of the Mercedes, two women, one of whom was apparently at the wheel, and one man, first tried to drive away but their airbags ballooned up, making it impossible to make a getaway in that car. No matter, a pick-up car soon arrived and the three made their escape,untouched by human hand.
By the time they were taken to hospital by bystanders living up their Vishwakarma Puja night, Avijit was declared dead, his friends severely injured.
Next morning, a car-washer claimed the Mercedes belonged to a Fort Oasis resident. It could well have been. The cars bashed up in its parking lot on Sunday morning was a roll call of the shiniest and priciest: BMW 320d, Audi Q3, Mercedes C class, Nissan, Toyota, Honda City, Skoda, Renault Duster, etc. etc. But not the errant Mercedes which was still lying on the roadside.
But the angry mob was not to be assuaged so easily. The milling youth needed to vent their frustration, needed a release for their pent up fury at the rich getting richer and they going nowhere. The gleaming, glistening cars in the parking lot were practically asking to be smashed up, for a message to be sent, for a warning shot to be fired.
It could have been a Costa-Gavras film because one of his most famous films was set in Chile and Latin America is the ringleader in gated communities built by and for the privileged to keep the have-nots at bay. Inside the huge iron gates and fortress-like walls there are, as in Fort Oasis, CCTVs, lake, swimming pool, lush gardens, glass, chrome and marble shining bright, central air-conditioning, children unable to imagine how they can go to school now that their car had been vandalised; outside people living in hovels, fighting for water from the communal tap, parents struggling to put their children even through free, corporation schools.
They are the city fathers' delight. They are given permission promptly, helped to come up as fast as possible, as they are feathers in their cap, things that can be held out invitingly to investors and other high-fliers, thing that will mark their city as "developed" and "urban". There has been a huge boom in gated communities in Kolkata in the last decade or so. Moving in there is the sign you have arrived – and escaped the city. Thus, real estate companies blossom and thrive, making it the biggest business in Kolkata today.
It could be a Costa-Gavras film because there is no shortage of politics – politics that protects the privileged and prevents the masses from rising up against their masters.
Debashis Kumar is a Trinamool councillor, a member of the mayoral council in fact. His voters, the bulk of whom, as is natural, are poor, disadvantaged, needy, practically worship him. He is their Deba-da, who shared the same roots, started from the same hovels as them, has always kept their interests at heart, never disappointed them when it came to water connections, ration cards, permits.
Fort Oasis stands squarely in his ward. The boys who went on a rampage there are his loyal voters. They have marched with their Deba-da in processions, campaigned for his party in every election, manned poll booths despite being aggrieved that he was not given a ticket in the recent Assembly elections.
But Deba-da is as much a victim of their hooliganism as the NRIs and senior executives and retired bureaucrats made indecently rich by the Sixth and Seventh Pay Commissions who call Fort Oasis home. For Mayor-in-Council Debashis Kumar's daughter lives in Fort Oasis and he usually spends Saturdays in his daughter's posh flat. This Saturday was no different.
So, a Ford Endeavour – with a fancy number plate: 001 – owned, he says, by "a relative," but used by him on Saturday was in the Oasis parking lot when his boys stormed in on Sunday morning. It was not left unscathed, probably because they did not know to whom it belonged.
Deba-da sounded no different from the other residents of Fort Oasis when he condemned the vandalism there in no uncertain terms. "Whoever did this was wrong. They should be punished." Whether they are actually punished is another matter entirely.
It is not possible for the political class to come down too harshly on these and similar miscreants if they are to win election after election. And the Trinamool's mainstay is the lumpen proletariat, precisely those who led the charge in Fort Oasis on Sunday morning.
It is ironic that Deba-da is personally affected but even he will prefer to write this off as necessary letting off of steam and not turn this into a cause celebre. Political wisdom dictates it be so. Just as rude, unruly auto-rickshaw drivers, obstreperous taxi drivers, anarchic bus drivers are allowed to get away with behaviour that turns the city's roads into a nightmare.
It can't be a Costa Gavras film as he is unlikely to come down here to make a film at the age of 83.While his acolytes in Bengal are too wrapped up in drawing-room dramas devoted to upper middle class angst or, at most, the film-goers favourite, women's issues, to have time or inclination for larger social churnings that may one day rip the society wide open.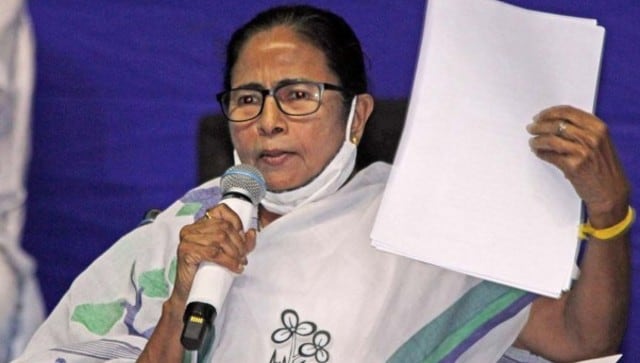 India
The dig from the Mamata Banerjee led-party comes at a time when both the Congress and the TMC are striving to lead the Opposition front against the BJP
Politics
Traffic in the city moved at a snail's space as hundreds of thousands of people from across the state converged on the West Bengal capital for a massive rally of the ruling Trinamool Congress here on Thursday -- touted to be its "biggest ever".
Politics
Violence replaces ideas and ideologies as the key to power, the ruling party uses every trick in the book to perpetrate it.