MNS workers target shops in Mumbai, ask owners to remove Gujarati signboards
Workers of the Maharashtra Navnirman Sena (MNS) protested against a jewellery shop in Dadar and a hotel in Mahim in Mumbai, asking them to remove the signboards in Gujarati, police said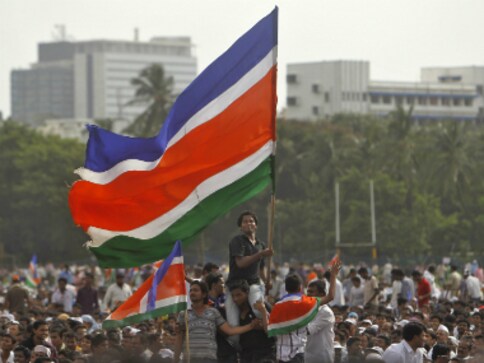 Mumbai: Workers of the Maharashtra Navnirman Sena (MNS) on Friday protested against a jewellery shop in Dadar and a hotel in Mahim in Mumbai, asking them to remove the signboards in Gujarati, police said.
Following the protests, the two establishments removed the Gujarati signboards, they said.
According to police, while the owners of the establishment did not lodge any complaint against the cadres of the Raj Thackeray-led party, seven of them were arrested by police for "illegal gathering" in Mahim.
"In the first case, MNS workers gathered outside PN Gadgil Jewellers in Dadar around 12.30 pm, where the jewellery shop management had put up the signboard in Gujarati," Sunil Deshmukh, Assistant Commissioner of Police told PTI.
After the protest, the management of the removed the signboard, he said.
After Dadar, the MNS workers headed to Mahim junction. There they targeted Hotel Shoba over the same thing, he added.
"There, they requested the hotel owner to remove the Gujarati signboard. The hotel manager then asked his staff to take the board down," Deshmukh said.
There was no complaint against MNS workers from the owners of these establishments. However, as they breached the orders issued by Mumbai Police Commissioner, which prohibited gathering without permission, offences were registered against them and action has been taken, he said.
"Two separate offences of illegal gathering under section 135 of Maharashtra Police Act have been lodged against the MNS workers at Dadar and Mahim police stations accordingly," the officer said.
"Police have arrested at least seven MNS activists in connection of illegal gathering at Mahim," he said.
India
Brij Bhushan Sharan Singh alleged that Thackeray has encouraged "atrocities" against North Indians in Mumbai and he should apologise to them
Politics
Maharashtra Navnirman Sena chief Raj Thackeray is scheduled to visit Ayodhya on June 5
Politics
Bala Nandgaonkar said that he had been asking for security for the MNS chief and his family, but the state government was not paying heed