#MeToo: Journalist Tavleen Singh says MJ Akbar is flawed, but hails his 'immense contribution to journalism'
In a country where baby girls are raped daily and rural women beaten to death for choosing who they wish to marry, this movement makes little sense, Tavleen Singh tweeted about #MeToo in #India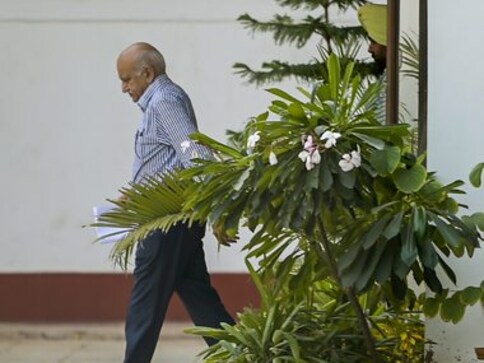 After getting trolled on social media for labelling the ongoing wave of #MeToo allegations as elitist and defending Suhel Seth, journalist Tavleen Singh came out in support of MJ Akbar and tweeted, "By the standards of MeToo we will have to stop reading Hemingway, Ghalib, Faiz and Manto. MJ Akbar is flawed. But should we remember him as a sexual predator or an editor with an immense contribution to journalism." Responding to her tweet, journalist Barkha Dutt said that flawed is a consensual affair, "minus consent - it's called a crime."
On 10 October, Singh had tweeted in response to a Daily Mail report about a young Muslim woman who had been tied to a tree and whipped by her family, after she attempted to elope with her Hindu lover. Singh's tweet asked for Indian feminists to launch a real #MeToo movement, one that brought forward accounts of women who do not speak English:
"Horrifying! Can some of our feminists please start a real Indian MeToo movement for Indian women who do not speak English?" Singh wrote.
Singh's tweet prompted several others to post their own viewpoints — agreeing or disagreeing with the sentiment expressed.
Jaya Jaitly was among those who concurred with Singh, and wrote:
"(The) present MeToo is still among the privileged classes and urban [sic]. Rural, vernacular women are in far worse situations. Hashtags are no solution for them."
Singh responded with:
"That was the point I was trying to make. In a country where baby girls are raped daily and rural women beaten to death for choosing who they wish to marry, this movement makes little sense."
Among those who attempted to present a diverging perspective was journalist Barkha Dutt, who tweeted to Singh and Jaitly:
"It's not either-or. All movements must be as inclusive as possible but harassment, abuse, assault, groping, pawing is not just violation; it's to intimidate women at the work place and stop them from working. How can that not have your support?"
The actress Gul Panag also debated the wisdom of dismissing the current #MeToo movement. She wrote, "As we have more women stepping up and speaking up, it will empower and encourage many many others. It will reach all parts, over time. Yes‌, it will take decades. But it will happen."
Swaraj India's Yogendra Yadav added that while the movement certainly needed to widen its scope, it was a beginning, and couldn't be discounted altogether:
"Every protest of any disadvantaged/oppressed social group (blacks/Dalits/what have you) almost always begins with the relatively privileged section within that group. Sure, we can't stop there, but we must not question the beginning."
Singh responded to Dutt's tweet with:
"It does not have my support Barkha because it seems irrelevant to the daily horror ordinary Indian women face. So far, what may have been flirtation in most cases has been made to sound by all you fine liberals like rape. No support from me!"
And to Panag with:
"The women and little girls who are truly voiceless in India will remain voiceless. The ones who have a voice speak for a very small, privileged minority. Also MeToo assumes that all men are guilty till they can prove their innocence. Is that okay?"
She also tweeted back to Yogendra Yadav with:
"My problem is that a few privileged women are hogging all the attention. If the Muslim teenager who was tied to a tree and beaten to death by her family got the same attention these horrors may stop. Every rape and murder of a woman needs MeToo flashlights."
Writer Ishita Yadav, who was among the four women to come forward with a #MeToo allegation regarding Suhel Seth, then asked Singh if her rationale for dismissing #MeToo could be applied to her own choices as well:
"Weren't you carrying a Chanel bag at your book launch at IHC a couple of years ago? Why would you carry a bag worth more than a couple of lakhs, when people are dying of starvation daily in this country? Makes little sense," Ishita Yadav tweeted.
A Twitter user @rneelmani responded to Yadav calling Singh a hypocrite who was an "activist by day and socialite by night".
Singh then wrote:
"Not an activist. Not a socialite. Definitely a friend of Suhel Seth and have seen more than one woman go out with him willingly to dinner or for drinks and then later complain that he tried to hit on them."
Ishita Yadav wrote back to Singh:
"Oh. So every time you have gone out for dinner or a drink with Suhel Seth or any other male friend, the men have taken you back to their home/hotel room and sexually harassed you because that's what going out for dinner with a man means in your head and theirs?"
To which Singh's reply was:
"No. But, why did you go to Suhel's house? Surely even an 'innocent' young girl like you should have known not to go alone to a strange man's house alone?"
Yadav then pointed out that she had not, in fact, taken up Seth's invitation to go to his home.
Several other Twitter users also said at that Singh's tweets were an example of victim-blaming, and seemed to condone exploitative behaviour.
Journalist Sandhya Menon (@TheRestlessQuil) who has brought forward several #MeToo stories on her Twitter handle since 5 October, also said Singh had done all the women attempting to bring forward accounts of harassment "a great disservice".
World
After firing a large number of Twitter employees, Elon Musk wrote: 'I would like to apologise for firing these geniuses. Their immense talent will no doubt be of great use elsewhere'
Entertainment
The actress and model, in a recent statement, spoke about meeting the filmmaker for a potential role and what happened next.
World
In Qatar, any sex outside marriage is considered as a crime and now the FIFA security committee has ordered the police of the Gulf nation not to arrest female rape victims