#MeToo in India: Survivors should take cue from Rupan Deol Bajaj, make their fights razor-sharp, legally tenable
Rupan Deol Bajaj secured a conviction under two archaic sections of the Indian Penal Code, invoking them exclusively for the first time in 128 years since the IPC was drafted by the British in 1860.
As soon as it became known that MJ Akbar is deploying 97 lawyers to defend himself against allegations of sexual harassment levelled by journalist Priya Ramani, supporters and participants of the #MeToo movement took a deep breath. This is crunch time. The enormity of the battle looms ahead and those at the forefront know that this is the time to get down to brass tacks. It is all very well to offload years of bottled anger and shame on social media, outing big and small names, but what kind of legs will these allegations stand on, in a court of law?
The answers to some of those questions come from the city of Chandigarh which is home to a pioneering woman, who took on a senior police officer 30 years ago for outraging her modesty at a high profile official party. She not only got him convicted after a 17 and a half years long battle, but the precedents set by her case in the Supreme Court clearly show that there is ample ammunition in the law to aid today's #MeToo fighters. Almost everyone remembers the well-known case of senior IAS officer (now retired) Rupan Deol Bajaj and KPS Gill better known as Punjab's top cop. How he 'acted indecently' with her at an official party in July 1988, on the lawns of a government bungalow in the town, in full view of the guests, all of who were the top government officers of the day. But few will remember how exactly Rupan secured a conviction under two archaic sections of the Indian Penal Code, invoking them exclusively for the first time in 128 years since the IPC was drafted by the British in 1860.
#MeToo is a recent development charging ahead on the wings of new media where the gathering strength of the movement offers some protection to the women and faith in their accounts.  Bajaj fought and won her battle at a time when the media was in awe of Gill. And, officialdom in general – who she approached for immediate redressal of her grievance — felt it was too trivial a matter to be even taken cognisance of. It can be useful to revisit her case in these time because not just does it show the way out of legal pitfalls which will most certainly come in the path of women who are speaking out but offers clarity on the definition of womanly modesty, generally dismissed as an inconsequential concept in our patriarchal societies.
Rupan had got an FIR registered under Sections 509 and 354 of the IPC, both of which are usually appended to the more serious Section 376 imposed for rape charges. But these had never before been invoked in isolation. Section 509 deals with words, gestures or actions intended to insult the modesty of a woman and Section 354 deals with assault or criminal force with the intention of outraging the modesty of a woman. These provisions are different from normal physical assault which could apply to both men and women. The two sections deal exclusively with crimes against women as there is an element of modesty involved here. They are invoked, where the accused has caused affront to a woman's dignity and honour.
The Punjab and Haryana High Court dismissed her case under Section 95 of IPC, which is usually invoked to dispose of matters, considered too trivial to be considered as an offence. When the matter reached the Supreme Court, it firstly defined 'modesty' and upheld the crime against her under these two sections. It was a criminal offence, said the double bench of justices MK Mukherjee and AS Anand in October 1995. They also held that Section 95 IPC cannot be a shelter "because an offence relating to modesty of woman as under no circumstances can it be trivial."
The question of triviality is also dogging the #MeToo revelations, especially where most of the accused men admittedly did not 'do' anything, but invaded the private spaces of women, with words, gestures, sounds and actions. That was in the days before WhatsApp, so it would be logical to presume that unwanted lewd messages would also fall in this category. To come back to Gill and what exactly happened that evening, I shall quote from the Supreme Court judgement. He had been "behaving indecently" with Bajaj for quite some time at the party, at one stage, coming and standing in front of her "so close that his legs were about 4" from her knees".
"He then by an action with the crook of his finger asked her to "get up immediately" and come along with him. When she strongly objected to his behaviour and asked him to go away from there he repeated his earlier command which shocked the ladies present there.
Being apprehensive and frightened she tried to leave the place but could not as he had blocked her way. Finding no other alternative when she drew her chair back and turned backwards, he slapped her on the posterior in the full presence of the ladies and guests." A senior officer later advised Bajaj to forget about it, with the words, "Rupan, it could have been worse." The Supreme Court however, observed, "If we are to hold, on the face of such allegations that, the ignominy and trauma to which she was subjected to was so slight that Mrs. Bajaj, as a person of ordinary sense and temper, would not complain about the same, sagacity will be the first casualty."
Notably, in every crime, the prosecution has to prove the wrongful intention of the accused. But in such cases of sexual harassment, the Supreme Court held that his own knowledge that he has indeed acted indecently with a woman is enough to prosecute a man. It is also seen that most eyewitnesses in sexual crimes by powerful men either refuse to depose or backtrack from their depositions under pressure later. None of the distinguished guests at the party in 1988 came forward as witnesses in Rupan's case. Not even a couple of other women who were similarly at the receiving end of Gill's indecent attentions that evening. Rupan had no witnesses and the prosecution was using this weakness to rubbish her charge. So, the third significant issue addressed by the Supreme Court was, that to prove these matters, one witness is enough and the victim herself is the best witness, as long as she is seen to be truthful. The court also set a time limit of six months in which to complete the trial, so as to ensure that the victim is not deliberately tired out in the long drawn litigation.
Most of the women speaking out against their oppressors today, do not intend to take them to court and press charges. Naming and shaming the sexual predators is seen as punishment enough because the #Me Too storm has ensured that they are being believed. Heads have begun to roll too. Rupan's landmark case will be referred to when any of the accused men force the women to prove their allegations in a court of law. Akbar is first off the blocks, testing the strength of the laws – mostly unused — that have offered protection to women for more than 160 years. Laws, that we are now likely to hear more of, in the coming days.
India
Women have accused former journalist and Union minister MJ Akbar of making them feel uncomfortable by calling them to his hotel rooms for interviews, inviting himself to their houses with a bottle of alcohol to even turning up at their houses "for coffee".
India
Akbar's exit is as much of a jolt to the political species as it is to the exalted profession of journalism, which had engendered and tolerated sexual harassment of female subordinates by their male bosses. And the minister's resignation is not just a huge victory for the #MeToo crusade: it will also go down in history as a humongous landmark in the Indian women's fight for their rights.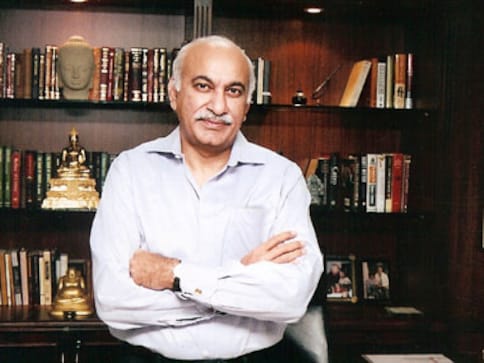 India
Pirya Ramani registered a "strong protest" against MJ Akbar's most recent statement, "which pays no heed to the trauma and fear of survivors or the courage required to speak truth to power".