Mehbooba Mufti-govt in Kashmir bans 5 news channels as they're 'promoting hatred' in Valley
The Jammu and Kashmir government has clamped down on five news channels for 'fomenting' trouble' in Kashmir Valley during the ongoing unrest that has left close to seventy people dead and thousands injured.
The Jammu and Kashmir government has clamped down on five news channels for "fomenting' trouble" in Kashmir Valley during the ongoing unrest that has left close to seventy people dead and thousands injured. These channels, the state government said in a directive to cable operators, have "created law and order problem" and should be blocked with immediate effect.
A letter by district magistrate of Srinagar to the cable operators on Thursday said that the "cable operators have been transmitting programmes which promote hatred, ill-will, disharmony and a feeling of enmity against the sovereignty of State."
The five popular news and current affairs channels the state government have asked cable operators to block include, Noida based Gulistan TV, KBC, JK Channel and Hyderabad based Munsiff TV and Insaaf TV. These channels, according to cable operators, enjoy massive viewership for their news production.
The directive by the district magistrate to the cable operators reads, "whereas, Cable Television Network (Regulation Act, 1995) provides a mechanism to regulate the operation of television network and in order to prevent the breech of peace and to stop incitement and instigation of the public to cause mental and physical threat to particular functionaries of the Government. You are directed to stop telecasting/transmitting of the programmes of these channels failing which action as contemplated under the provisions of Cable Television Networks (Regulation Act, 1995) will be taken against you".
The cable operators have criticised the state governments decision saying these channels have been "actually" showing the "ground reality," while the "mainstream television news channels have largely ignored Kashmir".
"The government had no idea that these were not local channels but satellite channels based outside the state. First, they asked us to stop producing programs on these channels, unofficially. When we told them these channels were not managed by Kashmiri's, they were stunned," Mir Amjid, proprietor of SEN Digital Cable Network, told Firstpost.
"Then the government send a directive to block all five of them. These are very popular channels and they attract massive viewership in valley," he added.
The state governments move to block these news channels is seen as a second attempt to censor news coming out of the Valley. Earlier, the government had banned newspapers for three days, and also blocked news channels when the protests had escalated during the initial days of the unrest.
As there has been no letup in the ongoing protests, officials told Firstpost, the government wants to ensure that the reports about incidents of violence do not spread across the valley, which the government believes is escalating the protests.
Following the strategy of the clampdown the state government has already snapped mobile internet services and the outgoing calls services of the pre-paid mobile phones, while in the last two months post-paid cellphones, broadband internet were also shutdown for a brief period.
Due to the intense curfew and beating of newspaper staff previously the distribution of both national and locals newspapers has also been affected, while the national newspapers have not been able to reach readers for last two months. It is also because all the newspapers stands and agencies have not been able to operate due to the government imposed curfew.
"Selling newspaper in such an environment is very difficult when the government forces are not even allowing newspaper shops to be opened," Hilal Ahmad, owner of Srinagar's known newspaper and bookshop, Khan News Agency, told Firstpost.
While the newspapers are being distributed to some extent in Srinagar there are reports that only one or two newspapers are able to reach other districts and villages.
The evening news bullets on these local channels were the only source of information for millions of people across Kashmir, who have been forced to stay in their houses due to an ongoing curfew.
"These channels were the only source of news from last fifty days. They used to report from every village and town of Kashmir, which no national news channel would do. The government has snatched this last option of information from us," Ghulam Nabi Sheikh, a resident of Baramulla, said on phone.
Other than the clampdown there have also been several incidents were local journalists have been thrashed, beaten up and physically stopped from performing their duties.
India
Like many of his generation, Mehrajuddin Halwai, a Hizb-ul-Mujahideen operative who was killed earlier this week, appears to have been radicalised in the course of the large-scale, Islamist-led street protests which tore across Kashmir from 2006
India
An official statement said that a blinking red light was observed by the troops at a height of 200 metres but the object went back across the border after personnel fired at it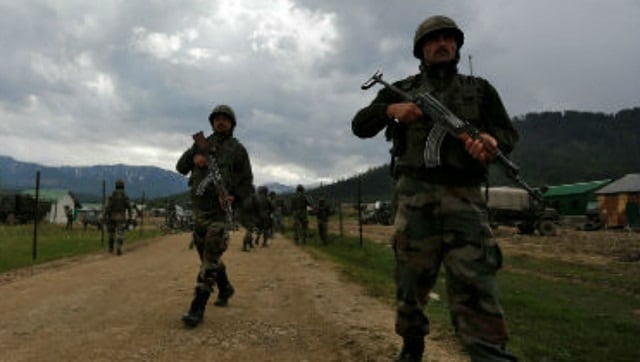 India
The police said that one of the militants, identified as Fayaz War, was involved in several attacks and killings of civilians and security personnel. He was the last perpetrator of violence in north Kashmir