MCD Elections 2017: What Delhi looks like from the sky-high headquarters of its Civic Centre
The MCD Civic Centre, Delhi's tallest building that watches over it from Minto Road, is 'ground zero' for the 2017 MCD Elections
As a city, Delhi's charm is of the 'grounded' sort; it lies in its markets and lanes, in the scents and accents that aircraft and satellites fail to detect — not in skyscrapers or other tall edifices. The capital has accepted its aesthetic 'fate' — for it has obviously never seen itself from the 28th storey of the MCD Civic Centre, the city's tallest building, that watches over it from central Delhi's Minto Road.
Here, a long window band cuts across the building's outer walls and the city's 1,484 sq km shrink into one scene: a sea of slums, splashes of green and pink, the Jama Masjid's red and white... a tilt of the head and you catch the flutter of the Indian flag (one can't tell where it's rising out of, standing aloft over any man-made differences), a few high-rises that stand together on Barakhamba Road and every now and then, the Delhi Metro, crawling across the canvas like a centipede.
The polling for 272 wards of MCD will take place on 23 April 2017. Chief Minister Arvind Kejriwal recently said that the Aam Aadmi Party will make Delhi look like London if voted to power in the upcoming municipal polls. The municipal election of April 2012 saw the Bharatiya Janata Party win the highest number of seats in each of the three new corporations.
Inside the 21st floor of the Civic Centre, there are panels of deep-orange ply on cupboards and doors. Granite of light and dark shades on floors, plants and the chatter of women having lunch around piles of files do their bit to humanise a cold corporate building that features a multi-level parking basement, escalators and elevators with mirrors and music, power back up and iron and glass jet bridges connecting four six-storey building blocks and one 28-storey tower block. In the tower is the office of South Delhi's Commissioner Punit Kumar Goyal and North Delhi's commissioner Praveen Kumar Gupta. The commissioner for the third East DMC has an office in Vishwas Nagar-Shahdara.
The view from the windows is as enormous and engaging as it might seem on paper. The North Delhi Municipal Corporation, in its latest achievement report, states that it has set up India's largest and first integrated RDF-based waste-to-energy plant at Narela-Bawana. The plant produces 24 MW of electricity by processing 2000 MT garbage per day. Electricity produced will be sold, therefore, providing revenue of about Rs 30 to 40 lakh per month to the corporation. The North DMC's revenue from advertising has increased from Rs 14.42 crore in 2012-13 to Rs 39.35 crore till 15 March 2017 for the year 2016-17. A deal with the Income Tax Department has been struck for leasing the 1,41,171 sq ft area along with space for parking 284 cars at about Rs 88 crore with an increase at 7 percent per annum, compoundable.
For the north region, the revenue from parking increased to Rs 18.93 crore till 9 March 2017 for the year 2016-17 from Rs 3.19 crore in the year 2012-13.  Even the revenue from property tax, as stated by the MCD, has gone up from Rs 334 crore in the year 2012-13 to Rs 568 crore till March 2017, for the year 2016-17.  But it isn't just an 'increase in revenue without increase in price' that the civic body boasts about. In tune with the Swachh Bharat Mission, the municipality's north region states it has set up a construction and demolition waste plant at Burari village for recycling and has earmarked more than Rs 9 crore for placing 100 litre dustbins on roadsides. More than 30 model schools have been developed by North DMC and new maternity and child centres have been set up in urban villages like Ghewra and Kirari.
The East Delhi Municipal Corporation has collaborated with GAIL and installed bore wells in 10 acre area of the Ghazipur landfill site for capturing and sequestering methane gas. Owing to this technology, more than 4 LAC M3 gases have been captured and blown away @300 M3 per day, using this innovative and environment-friendly process. In a first of its kind project, East DMC has collaborated with Union Ministry of Urban Development, National Highway Authority of India and Union Ministry of Surface Transport to reclaim the Ghazipur landfill site the capacity of which to accept garbage has been exhausted. The garbage, after processing, would be used for strengthening and widening of NH24. The region has focused on cashless transactions — installation of 22 sale-swipe machines and e-municipality solid waste disposal monitoring system. Emphasis has also been laid on mobile maintenance vans and mobile medical units. One venture the MCD keeps highlighting is the Suposhan Programme, under which 50,000 children of 90 EDMC schools were assessed for their height, weight and haemoglobin level.
The MCD is also setting world records in the number of conversion of street lights into LED lights. In the North region, nearly two lakh street lights and 12,000 semi-half-mast lights are being converted into LED lights. The South Delhi Municipal Corporation has set a world record by converting two lakh sodium street lights to LED and in the next phase, the process of conversion of 75,000 lights has started. Once done, this will conserve six crore units of electricity each year and also reduce carbon dioxide generation by 44,000 tons. In South DMC, 85 percent schools now have proper buildings and under the Swachh Bharat scheme, more than 200 toilet have been made and more than 150 are under construction.
From behind the sky-high windows at the MCD office, holding papers in one hand and a paper cup filled with tomato soup in the other, utopia seems like just another reality that's work-in-progress on ground.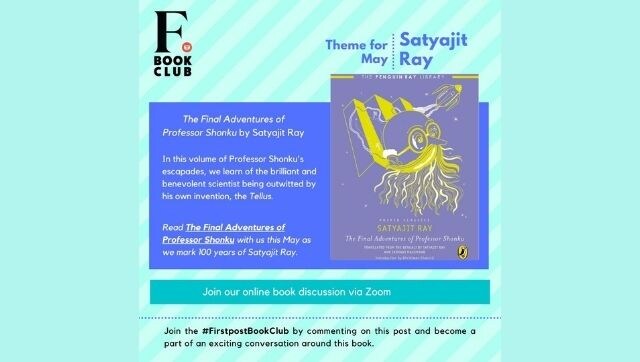 Arts & Culture
The Firstpost Book Club read Satyajit Ray's The Final Adventures of Professor Shonku in May.
Arts & Culture
These include six bronze or stone sculptures, a painted scroll, a brass processional stand, and six photographs. The entire collection is worth around $2.2 million (approximately Rs 16.34 crore).
India
The Safdarjung Observatory, considered the official marker for Delhi, recorded 28.2 mm rainfall, while the Ridge station registered 126.8 mm rainfall from 8.30 am on Saturday to 8.30 am on Sunday, officials said