MASUKA law: National Campaign Against Mob Lynching drafts bill to address rising violence
The National Campaign Against Mob Lynching has drafted a bill, Manav Suraksha Kanoon (MASUKA), to begin a legal conversation against lynch mobs
Following the "Not In My Name" protest marches across the nation on Wednesday to protest the killing of Hafiz Junaid, another demand has been raised to quell the rising trend of mob lynching. This time, the collective National Campaign Against Mob Lynching has drafted a bill known as the Manav Suraksha Kanoon (MASUKA) to begin a legal conversation against lynch mobs.
I may not like RSS but if RSS worker is lynched Masuka Law For Lynching will apply there too to ensure justice just like it wud for Junaid pic.twitter.com/iEZ6s0OC4B

— Shehzad Poonawalla (@Shehzad_Ind) June 29, 2017
In a Facebook live with The Quint, core members of the collective, Tehseen Poonawalla, and Shehzad Poonawalla, explain that these efforts are to incorporate a specific provision into the existing law, ie, to amend the existing Article 21 of the Constitution to address crimes related to mob violence. This includes mob lynching, rumour mongering, hate, etc.
News18 reports Tehseen Poonawalla as saying, "We have proposed to make lynching a non-bailable offence and the punishment for the ones convicted under it would be life imprisonment. It also mandates that the concerned SHO (Station House Officer) of the area would have to be suspended forthwith until a time-bound judicial probe absolves him of charges. This provision has been laid out because if a mob of 100 people is entering an area and lynching someone, it cannot be without the consent of the concerned police officer of the area."
The report adds that lynching cases currently get covered under Section 302 (murder), 307 (attempt to murder), 323 (causing voluntary hurt) 147 (rioting), 148 (rioting armed with deadly weapons) and 149 (unlawful assembly) of the Indian Penal Code.
The MASUKA law for lynching also looks at bringing justice to victims of protests. In The Quint's Facebook live, Shehzad says that rehabilitation of the victims and their families is just as important to ensure that mob lynching isn't successful.
The proposed law is getting positive reactions, especially in the light of Prime Minsiter Narendra Modi's recent comments against gau rakshaks. 
Delivering a speech to mark the centenary of the Sabarmati Ashram in Ahmedabad and 150th birth anniversary of Shrimad Rajchandraji, a guru to Mahatma Gandhi, Modi said that unleashing violence against others went against the ideals of the Father of the Nation. "No person in this nation has the right to take the law into his or her own hands," Modi asserted.
The issue of mob violence conflagrated when 17-year-old Junaid was murdered by a mob when he was on his way home to Ballabhgarh after shopping for Eid. Social media outrage has been on the rise ever since this incident. Congress also posted a video about the rise in mob lynching.
Rule of Law is being broken.
Innocent Indians are being killed.
When will Justice come back to India? pic.twitter.com/z6PE8wCnP6

— INC India (@INCIndia) June 29, 2017
The MASUKA law is also gaining momentum on social media, with users urging the government to consider the bill.
Mr @narendramodi plz begin by sacking Mahesh Sharma, Gyan Dev Ahuja & other BJP legislators who support lynching, Enact a strict law #MASUKA

— Shehla Rashid (@Shehla_Rashid) June 29, 2017
Mob lynching is vitiating the atmosphere creating a more divisive society where the weak is voiceless. Support Masuka Law For Lynching

— Vikas Tiwari (@VowLost) June 29, 2017

Please support Masuka Law For Lynching. It will help to stop street crimes and vigilantism. Special thanks to @tehseenp and @Shehzad_Ind

— Anshuman Panda (@AnshumanWorld) June 29, 2017

MASUKA law for Lynching is ready and the draft will be launched in 1st week of June. Pledge your support. #NotInMayName@StopMobLynching

— Pankhuri Pathak (@pankhuripathak) June 29, 2017

Existing laws are not enough and give a chance to the govt to shun its responsibility
Bring Masuka Law For Lynching
pic.twitter.com/a5p1FqmO0I

— Vinay Kumar Dokania (@vinaydokania) June 29, 2017
Mint has also pointed out that it is 'embarrassing' that the government has to be petitioned to introduce such a law. "Any government which has to be petitioned to introduce a law like MASUKA should be deeply and profoundly embarrassed. But the moral universe has turned on its head, and citizens are left to plead with the government to perform its primary obligation," the report writes scathingly.
The government is yet to respond to the implementation of MASUKA. Tehseen has tweeted that the collective has contacted the "top political leadership to ensure MASUKA will be taken up in the Parliament and state Assemblies."
With inputs from agencies.
India
Modi noted that on the coming 15 August, India will enter its 75th year of Independence and highlighted that Amrit Mahotsav is being celebrated throughout the country to mark that year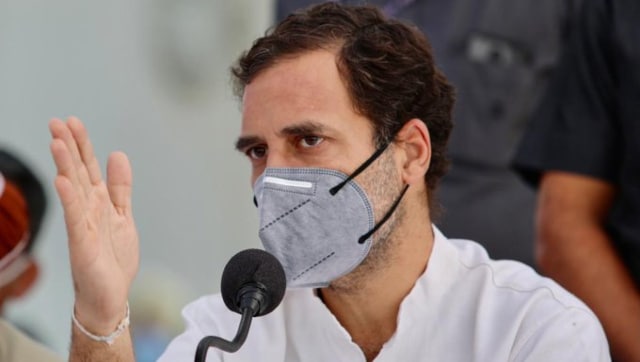 India
The former Congress president also shared a video on Twitter highlighting the alleged slow vaccination rate and media reports where people were not getting vaccines
India
Prime Minister Narendra Modi in his address to the nation on last Independence Day had announced that a new university would be established in Ladakh