Markaz ki chaal: 'Conspiracy of the Centre' and the theatre of the absurd in Kashmir
Modi thinks that on Kashmir, he doesn't need anybody's advice. Handwara should give him a clear indication that he will have to stop and ask for directions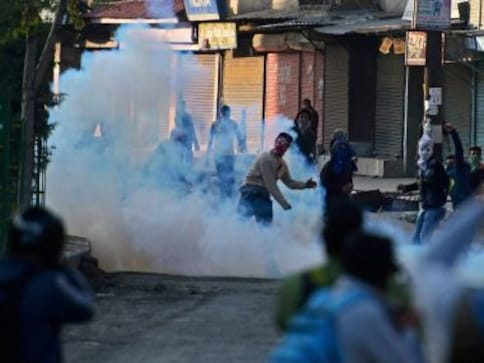 An armoured vehicle of the Indian Army reverses slowly. Around 15 boys are in tow, showering stones at it. One of them beats it with a long stick. In the video that has surfaced on the social media, we cannot make out how the soldiers inside feel, but outside, the fury of the stones sounds like a hailstorm. Once the vehicle is gone, the boys turn their ire towards a police station.
It could be any day in Kashmir. In 2009, it was Shopian in south Kashmir. In 2016, it is Handwara in the north. The rage could be against what the Kashmiris have for long termed as "Markaz ki chaal" (the conspiracy of the Centre). It could be somebody else's chaal, too. But the Markaz is largely forgiving or even indulging at times, like the armoured vehicle smug in its steeliness. The "other" is none of these. That is why it is best to keep silent over the other and blame the Markaz.
But what did the Markaz do in Handwara? A school girl went to a public toilet apparently constructed by the Army under Operation Sadbhavana, though no one has asked why it should be constructing toilets in the first place. A boy or a bunch of boys, either following the girl or watching her, accused her of cosying up with an Armyman inside the toilet. Sensing that things could turn ugly for her, a policeman took her to a police station. In her statement there, recorded on a cellphone camera, she denied the accusation and instead blamed the boys for harassing and assaulting her.
In the meantime, the Markaz ki chaal has been declared outside and the boys are pelting stones at security forces. This is Kashmir where even Shoojit Sircar's 2005 film, Yahaan, in which a Kashmiri girl falls in love with an Army officer, is considered a conspiracy aimed at making Kashmiri girls elope with Armymen. The boys in Handwara attack security personnel, including Army soldiers in a bunker.
There are two versions of what happened, depending on who one is speaking to. Police sources say a few Armymen were trapped inside the bunker that was set afire by the protesters, and to save themselves, the soldiers opened fire, killing two boys. They say the boys were given warning, but they did not pay heed to it.
The other version is that the two boys were not a part of the group of stone-pelters. The maternal uncle of one of the deceased boys has said he was accompanying his nephew when an Assistant Sub-Inspector (ASI) of the police shot him. The officer has been put under suspension for what has been termed as "mishandling" of situation. The residents of Handwara, according to some reports, have told the Deputy Commissioner that the Army exercised "utmost restraint" and did not open fire on the protesters.
But there is no letting go of Markaz ki chaal. A local human rights group, Jammu and Kashmir Coalition of Civil Society (JKCSS), calls a press conference where the girl's mother says her daughter was coerced into denying that she had been "molested" by the Armyman. The JKCSS story is interesting. It is a human rights group but also calls for Kashmir's separation from India. It is also mostly silent on the killings of civilians by various militant groups. One of the key persons of the JKCSS, Khurram Parvez, lost his leg in 2004 in a landmine blast triggered off by militants. It also killed a woman journalist accompanying him. But then the militant organisations are the "other" and even pointing a finger at them means violent retribution. But are human rights activists supposed to be afraid of militant groups? Nobody asks this question of JKCSS, either in Kashmir or outside of it.
The girl has stuck to her statement. Deposing before a Chief Judicial Magistrate in Handwara, she has maintained that no Army personnel molested her and that she was assaulted by two boys, one of them in school uniform. But nobody, including civil liberties walas in Delhi who want women to have freedom to enter Shani temple are even writing a Facebook post on how the girl's freedom has been curtailed and that she has a right to live her life as she chooses, which, by the way, includes cosying up to an Armyman. But then it no longer remains a Markaz ki chaal and puts the other in spotlight.
As this aspect remains shrouded in convenient silence, the girl's life is getting dissected. On social media, some in Kashmir are saying that she should be buried alive. Some are calling her a prostitute. A comment on Khurram Parvez's Facebook wall reads:
"To confirm whether truth or lie (the girl's statement)… keep eyes on her pupils, if the same move around during her statement, she is lying. If she looks straight without moving her pupils around she saying the truth."
The comment ends with the man's declaration that "this is what science says".
This is what "science" says. But what does the common sense say? That is not something one asks in Kashmir.
What is the Markaz doing, meanwhile? The Markaz is using neither science nor common sense in Kashmir. Has the ASI been suspended for firing at and killing one of the boys? Then why is nobody from the state or the central government coming forward and saying categorically that the Army did not kill them? Or if the Army did fire that led to their deaths, then it needs to be asked that why would the boys, one of them a promising cricketer, attack an Army bunker? When the girl has categorically denied any involvement of Army personnel, why is no action being taken against the two boys guilty of assaulting her?
Markaz brings us to Narendra Modi. After he took charge of India, many among his ultra admirers thought he would order tanks to be rolled into Kashmir's main market square. Thankfully, Modi did not live up to their fantasy. But he did something else that many people found almost masochistic. He sent Ram Madhav, a man from the Rashtriya Swayamsevak Sangh (RSS) and currently on deputation with the Bharatiya Janata Party (BJP), to meet Engineer Rashid.
For years, the RSS and its affiliates had been febrile with "Ek vidhan, ek nishan, ek pradhan", their campaign to abolish Jammu and Kashmir's separate flag and constitution. But now, in spite of occupying the Raisina Hill, their man was hugging Rashid, a man who raises Kashmir's separate flag in parks, and in press conferences, and had earlier brought a resolution in the state legislative Assembly, seeking amnesty for the Parliament attack convict, Afzal Guru.
Who is the BJP with, many asked. Is it with the man who considers Guru a hero, or is it with those like the handful of non-Kashmiri students of an engineering college who raised the Indian flag in their campus and got beaten up for it? The BJP has different answers at different places. It has chosen to be bipolar, smug in its assessment that it has done a fine job with managing to form a government with Mehbooba Mufti.
But the welts from the self-flagellation have begun to appear. For the first time in many years, the funeral processions of terrorists killed in action with the security forces are attracting thousands of people. Then, as they got bolstered further, people in villages began to attack security forces engaged in gun battles with terrorists.
The Home Ministry is worried about it. But nobody has a clue about how to deal with it. Modi, of course thinks (and has said in as many words) that on Kashmir, he doesn't need anybody's advice or analysis from anywhere in the world. Handwara should give him a clear indication that he will have to stop and ask for directions.
But the question also is: who will give him directions even if he asks for them?
Rahul Pandita is the author of, among others, Our moon has blood clots: a memoir of a lost home in Kashmir. He tweets @rahulpandita. 
India
Immediate alert was sounded and more than 4,000 pilgrims were taken out of the area safely till now
India
In 2017, terrorists targeted a CRPF camp housing the Pre-Induction Training Centre at Lethpora in the Pulwama district of South Kashmir and the 185 battalion headquarters, killing five troops
India
Yasin Malik, who was kept in solitary confinement in a high-risk cell in Tihar's jail number 7, has been shifted to the prison's Medical Investigation room where doctors are constantly monitoring his health status and updating officials about the same