Marathwada's drought: History of state's sugarcane addiction long precedes the water crisis
While the sugarcane crop might be at the centre of a debate at present with Marathwada reeling under an unprecedented drought, its history in Maharashtra goes way back.
The protagonist in the 1974 Marathi film Saamna, a sugar baron, tells a minister, "You fix the prices from there. I'll take care of the rest here." The film was among the early representations of the nexus between the sugar lobby and politicians in Maharashtra. Indeed, while the sugarcane crop might be at the centre of a debate at present with Marathwada reeling under an unprecedented drought, its history in Maharashtra goes way back.
Just three years after Independence, the first sugar co-operative factory - the Pravara Co-operative sugar factory - was set up in 1950 at Ahmednagar in Maharashtra. The co-operative factory has now expanded into a much larger empire, which includes an education trust and a hospital. Several other co-operatives have also made similar forays into other sectors, further strengthening an already powerful sugar lobby. The factory was established by Vithalrao Vikhe-Patil, the grandfather of the present Maharashtra Leader of Opposition Radhakrishna Vikhe-Patil.
In the decades to come, the sugar co-operative industry would shape the careers of several senior politicians in Maharashtra. This includes past chief ministers like Yeshwantrao Chavan, Vasantdada Patil and Shankarrao Chavan.
In Marathwada, however, the water-guzzling sugarcane crop is widely perceived to be one of the reasons for the severe drought in the region. Last year, the Maharashtra government had considered banning sugarcane cultivation in certain districts of Marathwada. However, the sugar economy, developed over the course of several decades, continues to be the most remunerative option for farmers in the short-term.
Speaking to Firstpost, Amit Deshmukh, Latur city MLA said, "Farmers understand that sugarcane is the most profitable crop, and opt for it keeping this in mind. It is true that industries linked to other crops like cotton did not come up in the same way as sugarcane. However, banning the sugarcane crop altogether is not the solution, as we need to keep in mind that one sugar mill directly or indirectly benefits about 1 lakh. Nevertheless, I do think there is a need to legally mandate drip irrigation for water-intensive crops like sugarcane and banana."
Further, Deshmukh said, "Sugarcane also produces ethanol and power, which reduces our carbon footprint."
Striking a different note, Mahesh Vijapurkar, a senior contributor for Firstpost said, "Sugarcane cultivation has not caused a hydrological drought in Marathwada per se. But it has caused an imbalance in terms of the water available for other crops. Earlier, leaders like Shankarrao Chavan stressed the importance of conserving water even while growing crops like sugarcane. The present leadership also needs to realise the same."
To a question on why a larger economy could not be built other crops, Vijapurkar said that there was a lack of 'entrepreneurial leadership' in the cotton-growing areas.
The result — more and more regions are now turning to sugarcane. Maruti Kale, the sarpanch of Khambala village near Hingoli, said, "Though most people in our area have not been growing sugarcane, some have begun to do so. One cannot expect the average farmer to think about the water table or the irrigation scenario in general. For them, sugarcane is simply much more profitable than other crops."
Speaking to Firstpost, Chandrakant Patil, Minister for Co-operation in Maharashtra said, "In the present day, with more modern technology, sugarcane does not need as much water as it did earlier. Banning the cultivation of the crop is not the solution. Co-operatives have been the backbone of the rural economy for a long time, and acting against them will have a detrimental effect."
However, even as the government has not heeded the demand to put restrictions on sugarcane cultivation, it is planning to enforce a five-year ban on sanctioning new sugar mills in drought-hit Marathwada.
This has come after a sharp increase in the area under cultivation for the water-intensive crop in the recent years. Although Marathwada lags behind western Maharashtra in terms of both rainfall and irrigation, the area under sugarcane cultivation has been rapidly increasing. Take, for instance, Beed district, which is one of the worst affected parts of the region. In 1960-61, sugarcane was being cultivated in a mere 200 hectares of land, while in 2011-12, the number rose to 8,90,100 hectares, according to data available on the district's official website.
Though the water-intensive sugarcane has been identified by the government and several voluntary organisations as a reason behind the drought, the problem appears to be a more nuanced one. Speaking to Firstpost, Prasad Chikshe, a water management expert from Ambejogai in Beed, said, "I urged farmers to save water and to avoid cultivating sugarcane in Marathwada. But the situation is more complex than that. Why should politicians only tell people in Marathwada not to grow sugarcane? Why can't they frame policies by which western Maharashtra allows more water to reach Marathwada, so that the crop can be viable?"
Deepak Deshpande of Adhunik Kisan, who is based in Kej taluka, strikes a similar tone. "It is almost like an unwritten rule that people in rural areas must make sacrifices for the comfort of the city-dwellers, and never the other way round. The government can put in place some water cuts for urban areas as well, in order to provide for agriculture in Marathwada. After all, the farmers produce agricultural commodities which are consumed in cities as well."
However, the sugarcane crop is a relatively recent entrant into the agrarian economy of Marathwada. Bhagwan Kedar, who runs a cattle camp in Sarni-Sangvi in Beed, said that while the crop is being cultivated in the area for over a decade, this is the first time that it has failed to this extent. "As sugarcane has few takers in the market, several farmers feed it to their cattle here. At least, it is put to some use," he said.
Meanwhile, the failure of sugarcane in other parts of the country has also had an effect on the region. Every year, five to six lakh people from Beed district alone temporarily migrate to Karnataka, Telangana and western Maharashtra to work on sugarcane fields there.
Kamala Mhaske, a farmer from Bhavthane village said, "Usually, people leave for such places around Dussehra or Diwali and return only at the time of the next kharif sowing season (in June). However, this year, most people returned by Mahashivratri (March)."
According to Mhaske, while several such people have taken up work under the MGNREGA, they have found the payments to be delayed and irregular. Pointing at a canal completed under the scheme, she said, "This canal was completed months ago, and there still has not been any payment for it."
Maruti Kharat is one such farmer, who had gone to a village near Bijapur in Karnataka. "While I own 3-4 acres of land, it is not enough to support my income. I had tried out the option of working on sugarcane fields to see if it would be of any help. But it was to no avail."
Dwarkadas Lohia, the founder of the organisation Manavlok, said, "Although sugarcane is not suited for this region considering the water availability, its cultivation has been steadily increasing over the years. But after this year's crop failure, the cultivation could be less next year."
Commenting on the reasons for its prevalence in the region, Lohia said, "One of the reasons also is that sugarcane is a crop for the farmer who does not want to engage in much work. It does not need much care and attention, and is not as prone to pests or disease as some other crops. And, of course, it commands a good price in the market."
According to Ravi Deshmukh, a farmer in Beed district, a land holding of an acre can yield 20 tonnes of sugarcane which can get at least Rs 40,000 in the market, a substantial remuneration for the farmer.
In spite of the difficulties faced on multiple fronts, the popularity of sugarcane in Maharashtra remains undiminished. The disproportionate share of resources cornered by the crop was recently noted in a report by the Commission of Agricultural Costs and Prices (CACP), which observed, "In Maharashtra, sugarcane cultivation, which is on less than 4 percent of the total cropped area of the state, takes away almost 70 percent of irrigation water in the state, leading to massive inequity in the use of water within the state."
The report calls for investing in productivity in states like Uttar Pradesh and Bihar, while encouraging the use of drip irrigation to save water resources in Maharashtra.
With inputs from Sanjay Sawant
This is the final segment of a 13-part series on Marathwada's drought. The epilogue that follows will examine short- and long-term solutions to the problem.
Read the previous parts of the series here:
Part 1: Region is parched, impoverished and desperate, but it's a crisis of its own making
Part 2: In the midst of severe economic downturn, private water sellers reap profits in Latur
Part 3: Drought has brought the economy down and is forcing farmers to leave the region
Part 4: Water scarcity has created a region where trust has eroded and left the social fabric frayed
Part 5: Maha has the most dams in the country, but the least effective irrigation network
Part 6: A surveyor of suicides tells the story behind the statistics and the lonely struggle of Indian farmers
Part 7: Will outreach help reduce farmer suicides?
Part 8: 'Toothless' laws lead to water exploitation
Part 9: Shirpur, Jal Biradari projects show impact of small local initiatives
Part 10: Why debt-ridden farmers are deemed least creditworthy
Part 11: Crop insurance for farmers not adequate to cover cultivation costs
Part 12: How climate change has destroyed agriculture and ruined farmers
Find latest and upcoming tech gadgets online on Tech2 Gadgets. Get technology news, gadgets reviews & ratings. Popular gadgets including laptop, tablet and mobile specifications, features, prices, comparison.
India
Srinagar is totally dependent on supplies of essentials such as petroleum, LPG, kerosene, vegetables, poultry and mutton, as well as other grocery items, from outside via this road
World
A YouGov survey this month of roughly 19,000 people in 17 countries and regions showed that most were distrustful of a COVID-19 vaccine made in China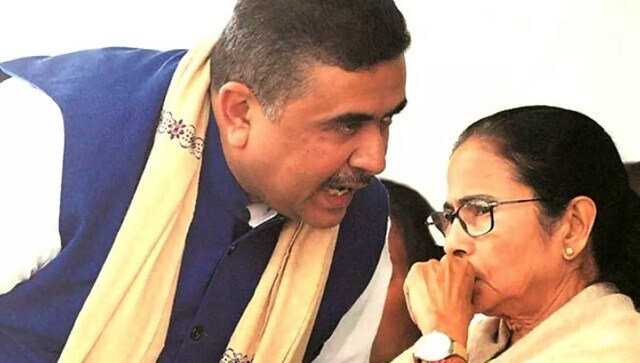 Politics
It is important to remember that Suvendu Adhikari barely got two MLAs to quit alongside him from his 'stronghold' and another three from other districts