Marathwada villagers demand jobs under MGNREGA as drought dries up work in farms, factories
Fearing a rise in the number of suicides, alcoholism and housebreaking incidents, farmers in Marathwada are demanding that the Maharashtra government immediately provides jobs to the youth under the Mahatma Gandhi National Rural Employment Guarantee Act (MGNREGA)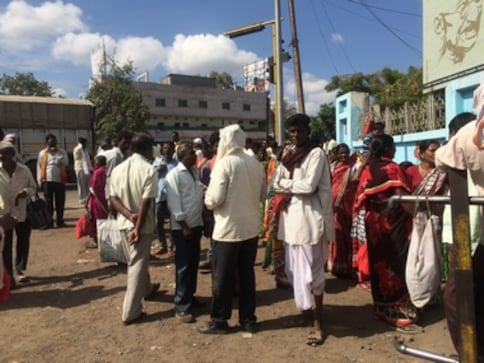 Pune: Group of adults and youths chatting under big trees, inside community halls or near temples, is a common sight nowadays in villages in Marathwada. Sometimes one can see a group of women sitting idle as well. As there has been less than 5 percent sowing this Rabi season due to lack of rain, there is no work for daily wagers who relied on weeding, tilling, and other agriculture-based works to earn a livelihood. Having experienced drought three years ago, elders in the village express the need for the government to offer work through the Mahatma Gandhi National Rural Employment Guarantee Act (MGNREGA), 2005. They say, failure to do so would result in housebreaking incidents in the daytime, a rise in the number of suicides, and bad habits like alcoholism and gambling will go up.
At 12 in the noon, a few adults and youth, sitting in front of gram panchayat in Pakharsagvi village, five kilometres from Latur, were discussing the drought of 1972 which is considered as the worst ever drought till now. Women at the same time had gathered at a village temple to sing bhajans (devotional songs).
"In general, all these adults would be in farms. Farmers would be waiting for the harvest that will be out by January and labourers would be choosing which farm to work. But, currently, all agricultural lands are dry. A few farmers who have little water are growing jawar or gram, and are managing on their own to avoid shelling more towards labour charges," says Bhagwat Shingan, a 70-year-old farmer from Pakharsagvi.
"The situation looks grim. How many more days can these adults, especially the youth, sit talking here? The government needs to offer jobs otherwise life will be very difficult," he adds.
According to Shingan, in 1972, the then government in power, thankfully, offered jobs to almost everybody and that is what the government should do now.
Namdev Badgire, a farm labourer from Mamdapur village near Patoda in Ambejogai in Beed district, said, "I don't any own land and work as a labourer in others' farms and so does my wife, brother and his wife. Since we work as labourers we don't have grains kept aside for house consumption like most farmers do. Our lives depend on what we earn as a daily wage. The quantity of grains we get at ration shops is not enough for our family of eight which includes two children each of me and my brother. Where can we get money for their schooling, travelling, grocery shopping, health emergencies, and festival celebrations? Not everybody can migrate to cities like Pune or Mumbai. Besides, what are the chances of getting good work, or a safe place to stay and that too after leaving our children behind? The option for us is to stay at home, and that is why we want the state to give us jobs."
Vasant Narare, also from Mmdapur village, claims that after 1995-98, people in his village have never seen a tehsildar or talathi offering any work under the earlier National
Rural Employment Guarantee Act or after the MGNREGA.
"In fact, Maharashtra has a separate act and MGNREA. We do read the news that so many jobs were provided, that a number of public works were done and youth were provided jobs and how crores of rupees have been spent on this. But believe me, I am 45 years old and I have never seen anybody in my village getting any job under these schemes," says Narare.
Badgire added that at least seeing the severe drought situation and the increase in the number of suicides, "the state should implement and execute these schemes effectively and their officials should keep a check on whether jobs are being provided at the local level to beneficiaries having job cards".
Shingan informs that all construction sites and most of the MIDC factories requiring water are no longer operational in Latur after the local administration prohibited any kind of usage of water apart from drinking, animal and daily usage.
"Villagers go to Latur spending Rs 15-20 and wait there for 3-4 hours expecting some work, but they return home empty-handed spending the same amount. They are losing money in the hope of finding some work, yet they cannot afford to lose hope and keep going every day. Go to Shivaji Chowk in Latur and you will meet labourers coming from nearby villages every day," he says.
Kaushabai Bhande from Kasarkheda in Latur taluka said, "What can we do if we don't get work? Nowadays we are not even getting work as housemaids due to saturation. What option do women like us having no land have? If we manage to get food we will eat otherwise we drink water and sleep. That is what we have been doing."
Jijabai Ghule who is also from Kasarkheda, says, "Three years ago Marathwada faced severe drought conditions. We saw daily incidents of housebreaking back then. If people don't get jobs it's going to happen again."
Shingan shared his experiences, "Housebreaking is not the only menace rising out of unemployment. The number of suicides is already going up and will be much higher. If it continues, addictions like alcoholism, gambling and drugs like weed will catch adults."
Purushottam Bhapkar, divisional commissioner of Marathwada region, didn't reply to calls as to when would work under MGNREGA will be availed to people in the area.
India
The incident took place on 6 June when the accused called the woman, who is his subordinate, for a meal, then forced her to have liquor and raped her
India
This happened on Wednesday at the Automated Teller Machine (ATM) of a private bank in Khaparkheda town, located around 30 km from Nagpur city
India
The bodies were found in two different houses of the brothers, located 1.5 km apart, in Mhaisal village in the western Maharashtra district