Maratha quota stir: Four policemen injured, over 70 vehicles torched as protests turn violent; prohibitory orders imposed
The violence was a continuation of the protests that rocked several districts of Maharashtra for the last week, as sporadic incidents of arson, violence, road blocks and noisy processions have been reported
A protester in Maharashtra's Beed district committed suicide on Tuesday, the latest in a spate of suicides that have rocked the state's Marathwada region over the last few days.
Abhijeet Deshmukh, a resident of Veeda village in Kej tehsil, hanged himself from a tree near his house, police said. "We found a suicide note in which he mentioned that he is taking this extreme step in support of Maratha reservation demand," Beed SP G Shridhar told the news agency PTI.
The note also mentioned other reasons for his suicide, like unemployment and unpaid bank loan, another police official said.
Deshmukh's was the fifth suicide to hit the state in the last week. In addition, a number of protest rallies also took place across the state. The Maratha community, which had earlier taken out silent marches across the state to highlight their demands, resorted to violence. Protesters resorted to arson at separate places in Maharashtra on Monday.
Four police officials were injured in stone pelting, while nearly 70 vehicles, including state and civic-run buses and those of police, were damaged or torched during the violence in Chakan near Pune. Some police personnel also sustained injuries in stone-pelting by the agitators.
The Pune Police said some "anti-social elements" had infiltrated the Maratha quota agitation in Chakan, which was peaceful initially. "The agitation was peaceful till 12.30 pm. However, the mob later split into small groups and some anti-social elements started damaging the vehicles," said district Superintendent of Police Sandip Patil.
The police suspects some miscreants from the adjoining areas and districts could have joined the peaceful protests to disrupt them, Patil said. He said the police contained the agitation after additional enforcements were rushed to Chakan. The officer said some hooligans were carrying fuel cans and shovels with them. The process to identify them and registering cases is going on.
However, a day later, the situation is under control, and the police appealed to the people not to believe in rumours. Some Maratha organisations had given a call for a bandh in Chakan, while a rally was also carried out.
Violent Monday follows bloody Sunday
Monday's violence was a continuation of the protests that rocked several districts on Sunday. Osmanabad, Solapur, Kolhapur, Nandurbar and Aurangabad all witnessed sporadic incidents of arson, violence, road blocks and noisy processions on foot and on motorcyles, with prohibitory orders clamped in many police station areas.
ST buses were targeted in Solapur's Pandharpur pilgrim centre and adjourning Kolhapur since Sunday midnight, forcing a precautionary suspension of all ST services for the day as roads were blocked by squatting activists and burning tyres.
Activists attempted to set afire some vehicles and ST buses in Nandurbar but were thwarted by police though some parts observed a shutdown.
In Aurangabad, Pramod Hore Patil committed suicide by jumping in front of a running train after posting his intention on Facebook. He ended his life sometime on Sunday, but his body was recovered on Monday near Mukundwadi railway station, resulting in a shutdown in parts of the district. This is the fourth quota-related suicide in the violence-hit state in the past one week, while Deshmukh then became the fifth a day later.
In Aurangabad, after learning about Hore's suicide, a large number of people gathered outside his house. His family members said they will not take possession of the body till the state government takes a final decision on the issue of reservation, over which the Maratha community has been agitating.
With inputs from agencies
Find latest and upcoming tech gadgets online on Tech2 Gadgets. Get technology news, gadgets reviews & ratings. Popular gadgets including laptop, tablet and mobile specifications, features, prices, comparison.
Lifestyle
In the face of the coronavirus pandemic and lockdowns, fashion weeks across the world have been forced to recalibrate their existing practices, priorities, and their very role. The upcoming Lakme Fashion Week also grapples with these concerns in its first-ever digital edition.
Lifestyle
Following a parched few months in luxury retail, can digital fashion weeks like LFW offer greater business to designers?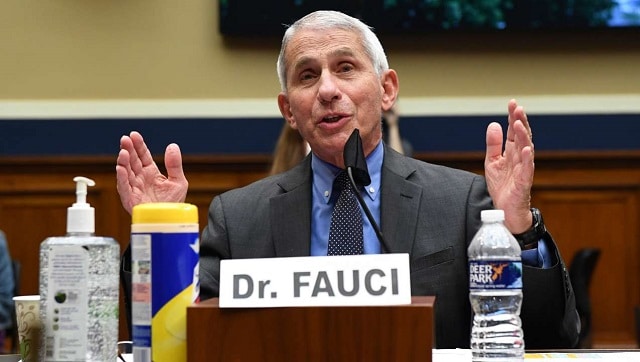 World
Trump seems to have made the calculation of trying to cast Fauci, a man who has served six presidents, as the villain of the piece. It is, to put it kindly, an interesting strategy. To put it bluntly, it looks like a misguided ploy that may end up costing him a second term