Maoist attack kills Doordarshan cameraman, two cops in Dantewada; crew found pamphlets denouncing polls
The slain police personnel were identified as Mangal Ram and Rudra Pratap Singh.
A cameraperson working with national broadcaster Doordarshan and two police officers were killed by Maoist in an attack in poll-bound Chhattisgarh on Tuesday. The crew was attacked by Maoists in the Nilavaya village in Aranpur area of the district. Achyutanand Sahu, the Doordarshan cameraperson hailed from Loisingha, Bolangir district of Odisha. Sources told Firstpost that another DD reporter too took a bullet and has been taken to a nearby hospital. The reporter is out of danger.
The slain police personnel were identified as Mangal Ram and Rudra Pratap Singh. Two others, including constable Vishnu Netam and assistant constable Rakesh Kaushal, were injured and were taken to the hospital.
#DDNews had deputed team to cover #Chhattisgarhpolls, comprising of Camera person-Achyuta Nanda Sahu, Dheeraj Kumar and MM Sharma. In a #Naxal attack #AchyutaNandaSahu was martyred. The entire #DDNnews Family salutes his service and stands by his family in this hour of grief pic.twitter.com/xIh74b055g

— Doordarshan News (@DDNewsLive) October 30, 2018
Sources informed Firstpost that the evacuation process is underway and 111 CRPF battalion has been rushed for reinforcement and evacuation. "The real face of the Naxals has been exposed," said DIG Naxal Operations P Sundarraj. He further added, "The year 2018 has caused a lot of losses in the resources of the Naxals due to anti-insurgency operations." Sundarraj said that such an attack is an attempt to derail anti-insurgency operations. He also said that two other people have also been injured in the attack. According to the DIG, the media team was travelling with a police patrolling team when the attack took place. A security team is currently at the spot. It is being said that the DD team, while shooting in the Nilavaya jungles, came across several pamphlets distributed by the Maoists, denouncing the upcoming Assembly elections and calling for boycott. Nilavaya is an area where the government agencies were busy creating awareness about the voting process and democratic participation as elections are to be conducted here for the first time. The Maoists have painted messages calling for boycott of elections in the region and this attack could be a reinforcement of their stand with regard to voting rights.
Even before the stride of democracy, it was the strike of Maoists that brought the nondescript Nilavaya to the news. Nilavaya is actually on the threshold of history as this round of Assembly election would have been the first kind of any polls held in this Maoist-dominated belt since India's Independence. Maoist menace has been so destructive over the years that the Naxals dug off the approach to a bridge over a river hence making transportation to the village nearly impossible unless one crosses it by other means. Ahead of the state's Assembly polls scheduled for November, this is the second incident of insurgency-driven violence in less than five days. On 27 October, four personnel of the Central Reserve Police Force (CRPF) were killed and two injured after Naxals blew up a mine-protected-vehicle (MPV) in poll-bound Chhattisgarh's Bijapur district on Saturday, police said. Raman Singh, Prasar Bharti, BJP react Chhattisgarh Chief Minister Raman Singh condemned the attack on police forces and DD cameraperson, calling it an "attack on democracy." "The society should strongly condemn the acts of violence and should come together in such times." He also called the attack a "shameful" act of Naxals. Information and Broadcasting Minister of State, Rajyavardhan Rathore also condemned the attack. "These insurgents will not weaken our resolve. We will prevail," he wrote on Twitter
Prasar Bharati parivar condoles the death of Cameraman Achyutananda Sahu earlier today near Dantewada in Chhatisgarh. Our prayers with his family during this difficult moment. pic.twitter.com/BQOMg4Jo04 — Prasar Bharati (@prasarbharati) October 30, 2018
Shocked and saddened by the death of our brave cameraman Achyutananda Sahu in the line of duty in Chattisgarh for the cause of democracy. Heartfelt condolences to his family. https://t.co/kFf8YsNwNx

— Shashi Shekhar (@shashidigital) October 30, 2018
BJP's Rajyavardhan Rathore was quoted as saying, "We stand in solidarity with family of the camerman, we will take care of his family. We salute all those mediapersons who go for coverage in such dangerous situations, remember their bravery." The junior minister for sports also tweeted out from his personal handle.
Shocked to hear the killing of @DDNewsLive cameraman Achyutanand Sahu and two policemen in #Dantewada#Chhattisgarh by Maoists. My thoughts are with the families of those who died while carrying out their professional duties. Om Shanti. — Rajat Sharma (@RajatSharmaLive) October 30, 2018
Rathore also announced ex-gratia of Rs 15 lakh to the family of Sahu. Sahu's wife will also be employed by Doordarshan.
Congress chief spokesperson Randeep Surjewala paid tribute to the deceased and termed the BJP government in the state "incompetent and worthless". "The people of Naxal-hit Chhattisgarh have made up their mind to oust the incompetent and worthless government of Chief Minister Raman Singh," Surjewala tweeted. He said, "A coward and scared Raman Singh has no right to be the chief minister even for a minute now". Telangana Pradesh Congress Committee spokesperson Shujath Ali, who earlier served as Head of News, Doordarshan Chennai, demanded Rs one crore compensation to the family of the deceased cameraperson. This is the first time that Naxalites have killed an official video journalist in their attack, he said in a statement.
India
In a first, CRPF has deployed senior IPS officer Rashmi Shukla as ADG of Jammu and Kashmir zone. BSF, too, has for the first time deputed Sonali Mishra, an IG rank woman officer, in Jammu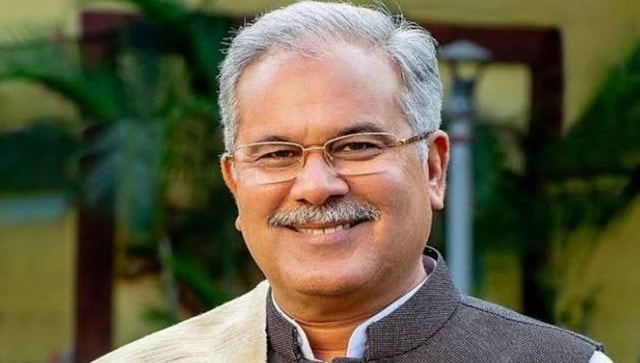 India
The chief minister has constantly dismissed speculations about political turmoil in the state and maintained that Chhattisgarh can never become Punjab
India
In Bihar, Anju Devi will contest the by-election from Kusheshwar Sthan assembly seat and Chandan Singh from Tarapur, Paswan said.