Holding that manual scavenging was prima facie a contravention of human rights and the right to live with dignity as per the Constitution, the Madras High Court today directed the Centre and the Tamil Nadu government to ensure that there was no engagement of manual scavengers.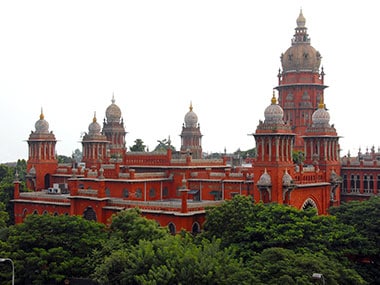 The first bench of Chief Justice Indira Banerjee and Justice M Sundar gave the direction on a PIL filed by Safai Karmachari Andolan of Chennai. The bench said, "Section 7 of the Prohibition of Employment as Manual Scavengers and their Rehabilitation Act, 2013 bars persons from engagement or employment for hazardous cleaning of sewers and septic tanks."
It said, "It is true that those engaging manual scavengers in violation of Sections 5, 6, and 7 of the said Act render themselves liable to penalty under sections 8 and 9 of the said Act."
However, it was imperative that the respondent authorities immediately take steps to ensure that there was no contravention of Sections 5, 6, and 7 of the Act, it said. The bench also issued notice to the assistant solicitor general representing the Centre and the government pleader of the state.
It said the Act clearly states that any contract, agreement for the purpose of manual scavenging shall on the date of commencement of this Act be terminated and the same shall be void and inoperative and no compensation shall be payable there of.
The petition submitted that as per an RTI query, a total of 30 persons have lost their lives by manual scavenging in the districts of Chennai, Thiruvallur, Cuddalore, Madurai, Trichy, Villupuram, and Virudunagar between 1 January, 2014 and 20 March  this year.
A survey conducted by the Tamil Nadu government on 13 June , 2017 showed that there were 363 manual scavengers in the urban areas and none in rural areas, it claimed.
The petition expressed shock over the state government's "unwillingness" to invest time and effort in
identifying those involved in manual scavenging and rehabilitate them.
In the light of introduction of the Act, the Supreme Court has made it clear that the duty was cast on all the states and Union territories to fully implement it and take action against the violators, it said.
It sought a court direction to the Ministry of Social Justice and Employment and the state government to forebear them from engaging manual scavengers including through contractors and terminate the tenders and contracts, if any, awarded to those who have engaged manual scavengers.
It said an FIR should be lodged, criminal proceedings against all persons suspected of engaging manual scavengers initiated and payment of full amount made in all cases where a death has occurred as a result of manual scavenging.
It said recovery of the same should be made from the person who actually engaged a manual scavenger.
Recording the submissions, the bench directed the authorities in the state and central governments to file their counter within two weeks and posted the matter to 21 August.
Updated Date: Jul 15, 2017 17:19 PM