Man hacked to death on busy Telangana road: Law and order situation deteriorating, little fear of police and judiciary
If eyewitnesses are to be believed, three policemen sat in the vehicle instead of intervening. Why didn't they act?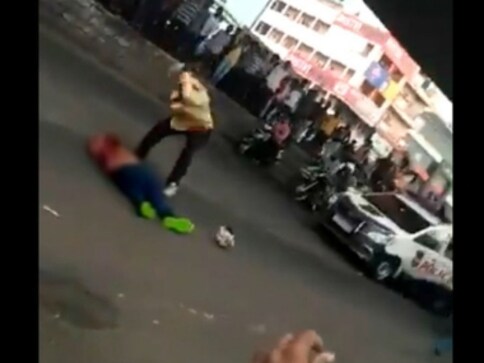 Ambika Rao (name changed) had just got out of the gym. She turned on to the Attapur road on her two-wheeler a little before noon on Wednesday when she noticed there was a traffic jam. As Ambika negotiated her way, she got the shock of her life: She saw a man in a cream shirt, assisted by another man, bludgeoning a man to death on the busy road. Ambika said this occurred even as a police vehicle stood ten steps away.
"Three men in uniform were inside the police vehicle. They watched the man kill the victim with an axe. There was a huge crowd. Many of them were recording the murder on their mobile phones. I did not wait to see what happened next and sped off," Rao claimed. Video recorded on a cellphone purportedly shows the police Innova driving away even as the assailant raised his hands to exult that he had done the deed. He then removed his shirt and threw it on the body.
"The policemen went to fetch their lathis (batons) but by the time they returned it was too late. Also, they did not stop because it would have created a traffic jam there,'' said Hyberabad DCP Prakash Reddy.
Traffic constable Lingamurthy and a couple of passersby initially tried to stop the assailants. However, as the visuals show, they could not overpower them. But, if eyewitnesses are to be believed, three policemen sat in the vehicle instead of intervening. Why didn't they act?
The Hyberabad police released a press note defending itself: "After the incident, a police vehicle with constables in civil dress were moving in that direction and got down from vehicle and apprehended the accused.''
This incident that occurred beneath the PV Narasimha Rao expressway that leads to Hyderabad airport was allegedly a case of revenge murder. The victim, 24-year-old Jerigalla Ramesh, was the main accused in the murder of Mahesh Goud in December. Ramesh was alleged to have killed Mahesh and burned his body. The victim was returning from court on Wednesday when he was attacked by Mahesh's father Kishan and his uncle Laxman.
A senior police officer describes the police's response as "shocking". "The assailants did not have a firearm with which they could shoot indiscriminately and injure passersby. What is there to be afraid of? The least they could have done is turn on their police siren. The noise would have had a psychological impact and distracted the assailants," the senior officer added.
This is the third such incident in Telangana in the past two weeks. On 14 September, in Miryalguda town, just 140 kilometres from Hyderabad, a hired assassin killed a man outside a hospital in a case involving an inter-caste marriage. Last week, in the busy Sanatnagar area of Hyderabad, Manohar Chary—upset over his daughter's inter-caste marriage—assaulted her and his son-in-law.
These incidents reflect poorly on the law and order situation in Telangana, and show there is little fear of the law and the judicial system. With modern vehicles and surveillance systems, the Telangana Police is one of the most tech-savvy forces in the country. However, this incident seemingly exposes that many in the force have forgotten the basic qualities needed in a police officer are courage and empathy.
India
The incident took place on Saturday night when the owner was drinking at his farm and the servant was serving him. After midnight, a brawl broke out between the two and in a fit of rage, the servant took a knife and killed Yadav by slitting his throat and fled from the spot
Education
Candidates can exercise web options for any number of subjects and colleges the candidate is interested to join as per their eligibility
Politics
TRS' general body meeting will be held on Dussehra, 5 October at Telangana Bhavan, an official release from K Chandrashekar Rao's office said