'Man-eater' tigress Avni killed in Yavatmal after 3-month chase that included drones, hand-gliders, sniffer dogs, elephants
Tigress Avni (T1) believed to be responsible for the deaths of 13 people over the last two years, was killed in Maharashtra's Yavatmal on Friday, after a three-month long change that involved 150 forest department officials, drones, elephants, sniffer dogs and expert shooters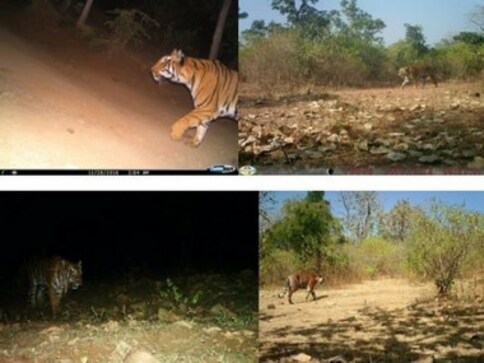 After nearly three months of search which involved drones, elephants and expert shooters, tigress Avni (T1) believed to be responsible for the deaths of 13 people over the last two years, was killed in Maharashtra's Yavatmal on Friday.
Avni was shot by Asgar Ali, son of Hyderabad-based controversial private marksman Shafat Ali Khan, who was hired by the forest department to kill the tigress. There is however, no update on her two cubs.
According to ANI, the post-mortem of tigress Avni will be conducted at Nagpur's Gorewada Rescue Centre.
While locals in Yavatmal celebrated the tigress' death, Avni's killing has drawn sharp criticism from animal rights activists including those who had filed a petition to save her. Sarita Subhramaniam of Earth Brigade Foundation, one of the key petitioners in Avni's case said, "We demand the resignation of the forest minister and suspension of the PCCF for orchestrating this fake encounter of Tigress T-1/ Avni."
Three-month long chase come to end
For about three months, 150 ground personnel, elephants and so-called expert trackers and shooters were on a quest to find Avni. The forest department conducted the search with the help of trap cameras, drones, sniffer dogs and a hang-glider along with a team of forest department officials in the vicinity of the Tippeshwar Tiger Sanctuary.
The undulated, pebbly and stony terrain of the area presented several challenges for the forest officials, forcing it to request trained elephants to track Avni.
On 4 September, the Maharashtra forest department had issued a shoot on sight order for  Avni. The forest department claimed that the six-year-old tigress, along with two of her cubs, had consumed 60 percent of a human corpse, which led to the decision of declaring her as a "man-eater". The decision to kill Avni however generated a flurry of online petitions.
Reportedly, Avni had claimed at least 9 lives till September.
According to Times of India, the decision was challenged in the Bombay High Court by wildlife lover Dr Jerryl Banait on 6 September. Justice BP Dharmadhikari and MG Giradkar at the Nagpur Bench of Bombay high court on 7 September disposed of the civil application seeking stay against orders to shoot Avni, known officially as T1 of Pandharkawda.
Buoyed by the court orders, senior officers had asked Pandharkawda officials to kill the tigress and capture the two cubs.
The Bombay High Court order was challenged in the Supreme Court. However, a Supreme Court bench of Justice Madan B Lokur and Deepak Gupta, refused to interfere in the Bombay High Court order, which gave the forest department a go-ahead to implement its order to tranquillise or shoot the tigress.
The bench had said that the forest department would be bound by their own order to tranquillise her first and, in case of failure, shoot her.
With inputs from Ankita Virmani
Politics
The Opposition has demanded the recall of Maharashtra governor Bhagat Singh Koshyari after he called Shivaji an 'icon of the olden days'. BJP's Sudhanshu Trivedi has also come under fire over the purported statement he made about the Maratha king on a Hindi TV channel
Politics
The state Assembly elections will be held in Gujarat in two phases on 1 and 5 December
Politics
A major controversy erupted a day after Koshyari called Chhatrapati Shivaji Maharaj an idol of "olden times" at a function in Aurangabad