Mamata Banerjee's 'bloodbath' comment on Assam NRC 'does not behoove a chief minister', says Sarbananda Sonowal
Sarbananda Sonowal said precious time of Parliament were wasted by stalling its proceedings by Mamata Banerjee's party, by spreading 'false propaganda' and 'wrong information' on Assam NRC list
New Delhi: Assam Chief Minister Sarbananda Sonowal said on Sunday that his West Bengal counterpart Mamata Banerjee's "inflammatory" comment on National Register of Citizens (NRC) does not behoove a senior politician and asserted that his government was committed to complete the exercise as per the Supreme Court order.
Sonowal, a student-leader-turned politician, said precious time of Parliament were wasted by stalling its proceedings by Banerjee's party, the Trinamool Congress, by spreading "false propaganda" and "wrong information" on NRC, a list of Assam's citizens.
"Not a single law and order situation has arisen in Assam after the the publication of the draft NRC, which was complete fair and transparent. The statements of the West Bengal chief minister were inflammatory and divisive and aimed at her vote bank in her own state. It does not behoove a chief minister," he told PTI in a telephonic interview from Guwahati.
Sonowal, 55, was responding to a question on Banerjee's comment that the NRC exercise in Assam was done with a "political motive" to divide people and it would lead to "bloodbath" and a "civil war" in the country.
He said rumours have been spread about the NRC in the country as well as abroad but he was thankful to the people of Assam, especially those from the Barak valley and the Bengalis, who did not fall to the prey to the "evil design" of the "outside" forces which tried to instigate people for "narrow political gain".
Sonowal also blasted the Congress for trying to take credit for the publication of draft NRC after initially criticising it.
"The Congress government in the state even failed to complete a pilot project on NRC launched in 2010 due to law and order problems. It was our government which took the initiative under the Supreme Court order and expedited the whole process in the last two years," he said.
The chief minister, who first went to the NRC office after taking oath in 2016 even before attending his office, said he was committed to complete the entire NRC update process as per the apex court mandate.
He said, as a chief minister, he will ensure that not a single Indian is left out from the final NRC.
Sonowal also profusely thanked Prime Minister Narendra Modi and Home Minister Rajnath Singh for their wholehearted support to the complex exercise.
Sonowal also dwelt on the Assam's relations with West Bengal saying the two states share harmonious relations since ages and scholars like Ashutosh Mukherjee helped introducing Assamese language in the Calcutta University early 20th century.
He said the people of Assam were guided by the humanitarian and unifying philosophies of singers Bhupen Hazarika and Hemanga Biswas and the former spent his prime time of his career in Kolkata producing some of his immortal creations both in Assamese and Bengali.
Sonowal said even renowned Assamese littérateur Lakshminath Bezbaroa strengthened the intrinsic relations by marrying Noble Laureate Rabindranath Tagore's grand-daughter Pragya Sundari.
"Therefore, being a chief minister of such a state which has its deep-rooted culture and traditions, Mamata Banerjee should not have made such baseless comments which have got communal undertone aimed at disturbing the strong relations between Assam and Bengal," he said.
Sonowal also thanked the Registrar General of India and the NRC authorities for carrying out the successful work of the NRC update as per the Supreme Court directive.
The massive Supreme Court-monitored exercise to identify genuine Indian nationals living in Assam excluded over 40 lakh people from the draft list published on 30 July, creating a huge political controversy.
Find latest and upcoming tech gadgets online on Tech2 Gadgets. Get technology news, gadgets reviews & ratings. Popular gadgets including laptop, tablet and mobile specifications, features, prices, comparison.
Politics
The 71-year-old leader died at 3.30 am after suffering from multiple organ failure, 10 days after he was admitted to the Medanta Hospital in Gurugram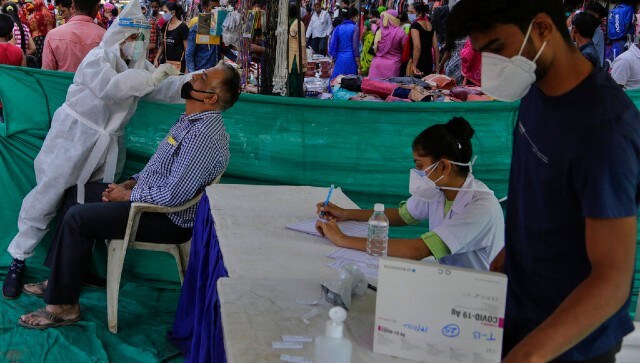 India
Modi made the remarks during a virtual meeting with states and UTs to discuss modalities of vaccine distribution strategy and review COVID-19 response, especially in eight states reporting a surge
India
The Constituent Assembly of India had adopted the Constitution on 26 November, 1949, with the day coming into effect in 1950