Malegaon blast probe: NIA accuses Maha ATS of using torture to extract confessional statements
The NIA has questioned the Maharashtra ATS' handling of Malegaon blast case in which it is accused of torturing to extract confessional statements.
Mumbai: The National Investigating Agency (NIA) has raised questions over the Maharashtra Anti Terrorism Squad's (ATS) handling of the Malegaon blast case in which it has been accused of using torture to extract confessional statement from the accused and the invoking of MCOCA provisions against them.
In the supplementary chargesheet filed on Friday in a special court in the case of the 2008 blast in which seven people were killed, the NIA listed many "shortcomings" in the ATS' investigations and claims how courts did not believe the confession statements of the accused.
The NIA said that accused Sudhakar Dwivedi when produced before the magistrate for confirmation of the confessional statement made by him, stated that his confession was the outcome of torture meted out to him.
The agency also said that "dubious" methods adopted during investigation by ATS become crystal clear from the disappearance of one of the main witness.
"The CBI during its investigation in the disappearance of the witness has submitted findings against the officers of the ATS Mumbai," the agency said.
"ATS Mumbai invoked MCOCA on the basis of the involvement of accused Rakesh Dhawade in the previous two blast cases i.e. Parbhani and Jalna in which the concerned courts had taken the cognisance. The way and circumstances in which the ATS invoked the provisions of MCOCA in this case becomes questionable", the NIA chargesheet said.
According to the NIA chargesheet a case was registered in November 2003 in Parbhani bomb blasts. The chargesheet was filed against two accused persons Sanjay Choudhary and Himanshu Panse. While in September 2006 first supplementary chargesheet was filed against accused Maruthi Keshav Wagh and Yogesh Deshpande.
"The second supplementary chargesheet was filed against accused Dhawade on 13 Novmber 2008 after his arrest on 11 November 2008 i.e within two days of his arrest (in Parbhani case)," the NIA said.
"This raises considerable doubt on the integrity of invoking of MCOCA by ATS," the chargesheet said.
India
Meghalaya MP Agatha Sangma said in a letter to Amit Shah that the case appears to be an 'orchestrated homicide, which requires investigation of highest order'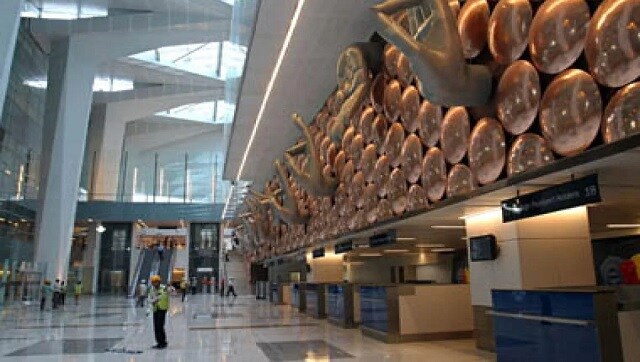 India
The decision to resume T2 operations was taken after the airport started witnessing gradual growth in passenger footfall post relaxation in lockdown and travel norms
Entertainment
Red Rocket is a delightful romp that relishes in the narcissism of straight male sexuality yet it doesn't get carried away by the deceptive charms of its own lead.