Male Appeasement: Why I'm wary of celebrating Shani Shingnapur and the Pope
From the Vatican to Maharashtra, anger is rising against even the smallest gains by feminists in the religious arena, and male appeasement is getting precedence over female empowerment.
This has been a busy month for feminism and world religions.
While India debates the triple talaq and women's access to domestic Hindu and Muslim places of worship, Pope Francis – head of the planet's 1.2 billion Catholics – has been grabbing global headlines. Francis has been slammed and salaamed by turns for a newly released document on family titled Joy of Love in which he has condemned gender stereotyping, female genital mutilation and marital rape (revolutionary, coming from a religious leader), advised husbands to share domestic responsibilities and cautiously praised feminism.
"There are those who believe that many of today's problems have arisen because of feminine emancipation. This argument, however, is not valid, 'it is false, untrue, a form of male chauvinism'. The equal dignity of men and women makes us rejoice to see old forms of discrimination disappear," the Pontiff writes.
After that commendation though, is this disappointing rider, "If certain forms of feminism have arisen which we must consider inadequate, we must nonetheless see in the women's movement the working of the Spirit for a clearer recognition of the dignity and rights of women."
Understandably, some feminists see in Joy of Love a play-it-safe balancing act on women's equality, with little concrete forward movement. Others, however, are viewing it as a continuation of the Pope's necessarily gradual move towards a more open-minded Roman Catholic Church.
The split liberal response is evident in the difference between The Washington Post's laudatory article headlined Could Pope Francis be a feminist pope? and the more guarded Is the pope a feminist? Well, it's complicated in The Guardian of the UK.
As for extreme conservatives, it goes without saying they are once again furious with Francis, as they have consistently been since he became Pope in 2013.
Anti-feminist anti-liberal anger in India this month has been directed elsewhere though, since Joy of Love has not got much attention here, possibly because Catholics constitute less than 2% of the population. A high-voltage Hindu temple entry movement in two states, legal proceedings against Mumbai's most famous Muslim holy place and Islamic social practices have dominated India's religious-feminist discourse instead.
So it came about that a few days back, I spent an evening locked in a debate on CNN News18 with Malayalam TV show host Deepa Easwar, an Ayyappa devotee who is married to the grandson of the chief priest at the Lord Ayyappa temple in Sabarimala, Kerala. The subject was a PIL filed by the Indian Young Lawyers' Association in 2006 in the Supreme Court (SC) seeking to end the bar on the entry of most women into the shrine. Easwar was present to oppose the PIL on which final arguments are now being heard in court.
This dispute has far-reaching socio-political consequences involving misogyny, menstruation, the Constitution, right to equality and freedom of religion in India. You would not have guessed that though if you had witnessed just the last couple of minutes of my conversation with Deepa on CNN News18. Here is an extract:
Deepa: Why is it nobody feels it's discrimination against women that there is no female member in the Indian cricket team? Is it a discrimination against women? ...
Me: C'mon, we have a women's team. Next you're going to say that it's discrimination against men that they're not allowed to run in the 100m women's race.
Deepa: Absolutely. Absolutely...
Me: What are you going to say now? It's discrimination against men that they can't get pregnant? Please don't make a joke of this.
Deepa: We have a women's cricket team. Similarly we have temples that women can enter too…
Despite her facile, laughable reasoning in the midst of a crucial discussion on religion as a patriarchal construct that thrives on male monopolistic hierarchies, it would be unwise to take this sweetly earnest young woman lightly. There is a reason why Sabarimala has plucked her out of their quiver of arrows as the case draws to a close in the SC: the temple authorities' reactions now have a desperate edge and pushing women forward to fight feminism is the ultimate weapon in the cornered misogynist's arsenal. Deepa was on TV defending Sabarimala on a day when her husband, activist Rahul Easwar, had issued this thinly veiled threat on Twitter: "Very Imp. Pls RT – Spoke to Legal team. If Feminists anywhere are intruding into Sanctum, STOP Them. We will bear expenses."
Note this if you have not already: the anger of male religionists is on the boil – not just in India but across the globe. And Deepa is an affable female face of rising masculine resentment towards feminists chipping away at one of the most long-standing bastions of patriarchy: religion.
Rahul's aggressive comment came in a week when Maharashtra temple-entry advocate Trupti Desai was assaulted at the Mahalaxmi Temple in Kolhapur, and Shankaracharya Swaroopanand Saraswati of Dwaraka Peeth in Gujarat warned that if women venerate Shani "incidents of rape will increase". Saraswati was responding to the Bombay High Court (HC) ruling of April 1 that it is a fundamental right for women to enter and worship in temples, an apparently landmark win for the activists who had petitioned the court and for Desai's Bhumata Ranragini Brigade which had been fighting on the ground since December 2015 for women's access to the sanctum sanctorum of the Shani Shingnapur temple in Ahmednagar district.
As feminists, we constantly exhort ourselves – and if not, we are often told with condescension – to see our glasses as half full, not half empty. As it happens, the HC verdict has overturned what is said to be a 400-year-old tradition at Shani Shingnapur. Yes it is a milestone, but a closer look at the finer details justifies some cynicism.
While the HC was hearing final arguments, Shingnapur temple officials banned men too from entering the sanctum sanctorum, thus aiming to nix claims of discrimination against women. As it turns out, what female devotees had borne for four centuries, men could not take for even a few days. When Gudi Padwa, the Maharashtrian New Year, came around on 8 April, men broke the new rule, broke barricades and stormed the sanctum. Facing heat from both sides – the Court ruling and angry male worshippers – the temple keepers finally permitted women on the platform bearing the Shani statue.
Their decision was hailed as a triumph for women's rights, but in truth it was a win for men's refusal to be restricted even momentarily.
As the country's temple entry crusade – and indeed the demand for gender-related reform in all religions – intensifies, this antagonism towards women and feminism is bound to deepen. And like Deepa Easwar of Sabarimala, the sole female trustee at Shani Shingnapur and Maharashtra Minister Pankaja Munde who criticised the movement last year, more women will be thrust forward to justify patriarchal practices.
Already at the Lord Shiva temple at Trimbakeshwar in Nashik, trustees this month reportedly first banned men in the sanctum sanctorum, to escape gender discrimination charges following the HC ruling, but buckled under pressure from male devotees to revoke the decision just days later. They have now allowed women to enter too, with wet clothes as the men do, a stricture opposed by activists.
The implications of the issue are far graver than status-quo-ists would have us believe. Some holy places see women as impure, others specifically designate menstruating women as pollutants, yet others see any female figure as a diversion from a higher male purpose.
Most do not even bother to couch their misogyny in polite terms. In 2014, Noorjehan Niaz and Zakia Soman of the Bharatiya Muslim Mahila Andolan petitioned the Bombay HC demanding admission for women into the sanctum sanctorum of Mumbai's Haji Ali Dargah, as was reportedly permitted till 2012. Haji Ali trustees responded by pointing out that many religions restrict women because menstruation is deemed "unclean or embarrassing."
The Sabarimala temple website lists its rule in these words: "As Sabarimala Ayyappa is 'Nithya Brahmachari' (celibate) women between the 10-50 age group are not allowed to enter Sabarimala." Since 10-50 is a rough estimate of the years during which most women menstruate, the cursory tone of the note suggests that it is self-explanatory: that if a man chooses to be celibate, post-pubescent pre-menopausal women should stay away from him. The implication of course is that during their reproductive years, women are a distraction to a celibate male God.
That is the micro view of the issue. At a macro level, the practice at Sabarimala further perpetuates a prevalent notion that women must bear the responsibility for the sexual behaviour of men. This of course is the mindset that goes to the extent of faulting rape victims for their rape. In this instance, Lord Ayyappa's followers do not hold him accountable for his vow of brahmacharya, instead they have made it the job of women to keep him on his chosen path, to view themselves as temptations and stay away from him.
Explaining the traditional argument that menstruating women will "disturb" the deity's celibacy, veteran lawyer Indira Jaising was quoted in The Hindu telling the SC: "If you are true celibate, why blame women for disturbing you? This is a classical blaming-the-victim game." Jaising is appearing on behalf of the 'Happy To Bleed' campaign which seeks to de-stigmatise menstruation and supports the Sabarimala petitioners.
The next hearing on Sabarimala is on 22 April. The Bombay HC has said it will rule on Haji Ali after the SC's Sabarimala verdict comes in.
Meanwhile, the All India Muslim Personal Law Board has decided to contest the Shayara Bano case in which the SC has been asked to declare triple talaq unconstitutional. As Muslims gear up for a stand-off between moderates and gender fundamentalists, locals at Shani Shingnapur continue to resist the entry of women to the temple's innermost core despite the HC ruling against discrimination. Activist Hemant Patil has now petitioned the Court seeking protection for women devotees there. Trupti Desai, for her part, has agreed to accept Maharashtra Chief Minister Devendra Fadnavis' decision on how the impasse should be resolved, an inexplicable decision considering how Fadnavis recently implied that the campaigners are publicity seekers.
Even many activists, it seems, are unwilling to go all out to risk the wrath of a patriarchal society and fuming male religionists.
Sadly, this appears to be the case with Pope Francis too. No doubt Francis is a liberal in comparison with his predecessors in the matter of women's rights. Even before he became Pope, he slammed as "hypocrites", priests who refuse to baptise the children of single mothers. And this January, he decreed that women be part of the annual Maundy Thursday ritual where priests wash the feet of 12 members of their congregation.
While some free-thinking Catholic priests (Indians among them) have defied convention for years now by including women among the 12, the new Vatican directive robs conservatives of any remaining excuse they might have. Long before his official diktat, Francis walked the talk himself by washing the feet of women as a Cardinal in Argentina and just days after he took over as Pope in 2013, women prisoners (including a Muslim) in Rome.
The Pontiff's delightful and repeated rejection of tradition has won him admirers among liberals across communities. That being said, he remains conservative in certain matters.  Besides, it is painful to see him tie himself in knots to appease the insecure men and conformist women of his flock. The harsh truth is that everything Francis has done so far as Pope amounts to crumbs thrown at feminists since he has not altered the Church's position on abortion, artificial birth control and priesthood for women. Even if he wants change on these fronts (in the matter of abortion it is clear he does not), Catholic misogynists – enraged by even his token gestures – will fight him hard.
Conservatives among the Catholic clergy politely speak of "confusion" in the Church under Francis. Seething traditionalists among the anonymous online laity are less diplomatic, variously describing him as an "anti-Pope", "false prophet" and "heretic". To them, Joy of Love is yet another effort by the Pope to woo his "favourite constituency" (read: women).
From the Vatican to Maharashtra, anger is rising against even the smallest gains by feminists in the religious arena, and male appeasement is getting precedence over female empowerment.
That is why I, for one, am cautious about celebrating the seeming 'victory' at Shani Shingnapur, the proverbial glass half full or even the Pope.
World
At the end of Angela Merkel's 16 years in office, Germany's gender pay gap remains among the highest in the European Union
India
The armed forces of the country have to do more on gender equality, a bench comprising Justices SK Kaul and MM Sundresh said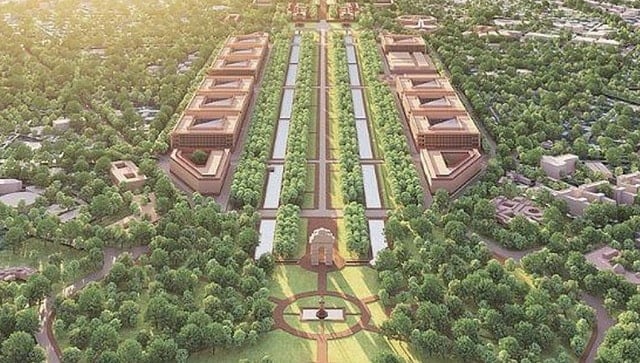 India
In this day and age where even private homes undergo renovation regularly, the Indian State continues to operate out of 90-year-old repurposed colonial homes retained after independence