Maldives returns helicopter gifted by India: A look at how ties between the two nations have deteriorated in 2018
Maldives has asked India to take back one of two naval helicopters New Delhi had gifted to Male.
Maldives has asked India to take back one of two naval helicopters New Delhi had gifted to Male, the latest incident in a series which clearly depicts the deteriorating ties between the two countries.
The Times of India quoted a top Maldives government source as saying that the country wanted a Dornier maritime surveillance aircraft instead of the Dhruv Advanced Light Helicopter (ALH) which India had gifted to Maldives.
Relations between India and Maldives have not been smooth for quite a while now.
A worrying fact for India has been the way Maldives has allowed China to make strategic inroads.
The arbitrary manner in which an airport project was handed over to the Chinese even though the contract had been won by an Indian company, the opening of a Chinese embassy, signing of a Free Trade Agreement and rumours that Beijing might be given the right to set up a naval base in one of the islands were all unsettling for India.
In the last week of March, Maldivian Ambassador to China Mohamed Faisal had said that India was like a brother to Maldives but China was like a long-lost cousin found.
"India is a brother. We are a family, we may quarrel and we may have arguments but in the end, we will sit down and resolve it," the diplomat had said.
He had claimed that the Maldives has taken a number of projects to India for finance "but we did not receive the necessary finance."
China, which looks at Maldives as a major participant in its 21st century Maritime Silk Road plan in the Indian Ocean, has made heavy investments in the nation of islands which has 26 tropical atolls and 1,000 small islands.
China has put up a staunch defence of Maldives president Abdulla Yameen, stonewalling international pressure and enabling him to stay in power during the current crisis.
The picturesque Indian Ocean archipelago was plunged into chaos early in February when the Supreme Court called for the release of nine imprisoned Opposition politicians, ruling that their trials were politically motivated and flawed.
The government refused to implement the ruling. Yameen imposed a state of emergency and arrested apex court judges and former president Maumoon Abdul Gayoom. On 22 March, however, the state of emergency was lifted.
Earlier in March, Mohamed Shainee, a senior minister in President Yameen's government, had reportedly told a group of visiting Indian reporters, "Why haven't we gone into the Kashmir issue...and asked to be (an) intermediary? Because they are internal matters...India should stay away from our issue."
"We are independent and capable of dealing with the situation. If we need help, we will let India know."
Reacting sharply, Indian officials had termed the remarks as "unfortunate".
Asserting that the two situations were not comparable, a senior official had said, "While the situation in Kashmir is due to state(Pakistan)-sponsored terrorism, the other is due to subversion of democracy."
Seeking to minimise the damage caused by the remark, Maldives ambassador in New Delhi Ahmed Mohamed had said that even though there was an "environment of mistrust" between India and Maldives caused by a host of issues in recent years, the two countries should let "bygones be bygones".
In an interview to PTI, Mohamed had also maintained that while there has been a steady stream of high-level visits from the island nation, the same was not reciprocated, an issue which many in Male feel is one of the factors for the drifting away in the relations.
In the last week of February, Maldives declined India's invitation to participate in the biennial naval exercise. The Maldivian ambassador to India later said that the country declined the invitation because of the then emergency situation in the country.
Maldives had also earlier warned India against taking "any actions" that could hinder resolving the political crisis in the country. In a statement, Maldives' foreign ministry had said that Yameen's government takes note of the public statements issued by the Indian government that "ignore the facts and ground realities" with regard to the ongoing political developments in the Maldives.
On 10 February, two foreign AFP journalists — including an Indian national — were arrested by the Maldivian police for violating immigration rules and eventually ordered to leave the island nation.
The two journalists, Indian national Money Sharma and British national of Indian-origin Atish Ravi Patel, were handed over to immigration authorities by the police after it was found that they were working in violation of the country's immigration rules, the police had said in a statement.
Two days earlier, Maldives had sent out envoys to "friendly nations", including China, Pakistan and Saudi Arabia. India, geographically the nearest country from the islands, however, was not a part of this list.
With inputs from agencies
India
At the city's Chamrajpet crematorium, authorities had to put up a 'housefull' sign and families were told to wait with bodies in ambulances to avoid overcrowding
science
NASA and some experts said China had behaved irresponsibly, as an uncontrolled re-entry of such a large object risked damage and casualties.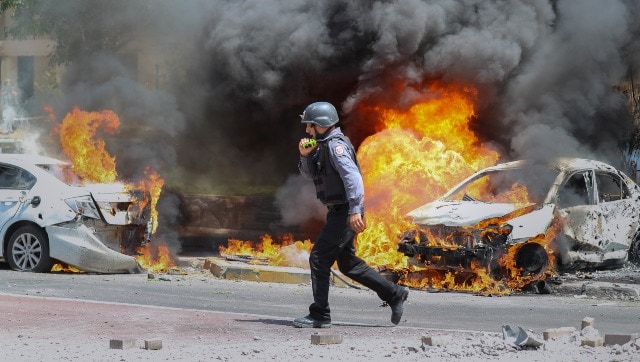 World
The recent nightly clashes began at the start of Ramadan, when Israeli police placed barriers outside the Damascus Gate of Jerusalem's Old City