Maldives election: Ibu Solih's win provides a strategic opening but India shouldn't count its chickens yet
In a televised address on Monday, the outgoing president of Maldives promised to step down and allow smooth transfer of power.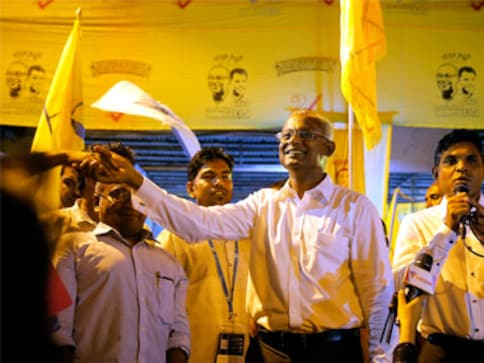 Winds of change have hit Maldives. Again. Abdulla Yameen, the tinpot dictator, has accepted defeat. In a televised address on Monday, the outgoing president of Maldives promised to step down and allow smooth transfer of power. This is by no means insignificant in a country which suffers from chronic political instability and seemed to have fallen back into authoritarian rule after transitioning to democracy only in 2008.
The political ramifications of this result will spill out of the confines of this tiny archipelago and become a major factor in the great power game. For India, the development offers an opportunity to salvage some leverage in the string of atolls in its backyard that occupy a crucial geo-strategic location. Even a month ago, that seemed improbable as Yameen-led Maldives turned steadily hostile towards India. Its deepening partnership with China posed a threat to India's security interests.
New Delhi's reaction to the election results has therefore been on expected lines. Long accused of inaction and indecisiveness, New Delhi rushed in to congratulate Opposition leader Ibrahim Mohamed Solih. The Maldivian Democratic Party leader had secured 1,34,616 votes (or 58 percent) against Yameen's 96,132 votes (or 42 percent). A turnout of over 89 percent indicates Maldivian public were out in numbers to ring out the change.
The result brings a dash of optimism for democracy in Asia where it is seen to be in retreat. Whether it is in Cambodia, Myanmar, Thailand or even Pakistan (where the military queered the pitch to put Imran Khan in power) — the decay of democratic norms, lack of independent judiciary, stifling of free press and free-and-fair elections contributed towards the decline of democracy and made it easier for China to extend its political influence.
This year's Freedom House report, for instance, captured six out of 10 states of the Association of Southeast Asian Nations suffering a fall in their scores. Only two witnessed an increase. Cambodia and Myanmar were categorised as places where "anti-democratic forces" are "on the march."
This provides the backdrop for India's palpable relief and alacrity at the development in Maldives, not the least because it had feared that pro-China Yameen will rig the election in his favour and secure democratic sanction for his authoritarian rule. These fears were not unfounded. Reports abounded on how Yameen government had denied visas to international observers and journalists. None of the Indian news organisations, for instance, could secure a visa to cover the elections, leading to a declaration from the Asian Network for Free Elections (ANFREL) that the 23 September presidential polls in Maldives were not free and fair.
Yameen had earlier put his political rivals in jail and forced Mohamed Nasheed, the former president and his biggest adversary, into exile. In February this year, he had declared a 'state of emergency' and imprisoned two Supreme Court judges because he didn't like the judicial verdict. A day before, the election police raided the office of Solih, the consensus Opposition candidate, to ostensibly "investigate acts of bribery" but found nothing.
Major discrepancies were reported in voter registration process, the European Union and the United Nations refused to send observers for the elections, fearing that their presence may legitimise Yameen's reelection, international media reported of an "orgy of corruption" under the Yameen regime and the United States and the EU threatened the tiny Indian Ocean nation with sanctions unless the polls were "free and fair". The US had also called for the release of the "falsely accused political prisoners", and for complying with the Supreme Court's orders in freeing the politicians.
In short, no one was expecting the polls to be free and fair, and there was little hope that a political lightweight like Solih would be able to pull off an upset. Yameen's surprise defeat, therefore, triggered a rash of diplomatic reactions. First off the blocks was India, betraying a sense of urgency and relief.
Instead of waiting for a formal declaration of results, in departure of norms, the ministry of external affairs came out with a press statement based on provisional results. Similar statements followed quickly from Sri Lanka, the US and the UK.
New Delhi extended a warm welcome to Solih. "We welcome the successful completion of the third Presidential election process in the Maldives which, according to preliminary information, Mr. Ibrahim Mohamed Solih has won. We heartily congratulate Ibrahim Mohamed Solih on his victory and hope that the Election Commission will officially confirm the result at the earliest," read the MEA release.
India's message to Solih and the Maldives Election Commission masked the anxiety that Yameen could refuse to accept the results and hang on to power. Given the weakness of Maldivian democratic institutions, this wasn't a far-fetched apprehension. The rushed communication was therefore an attempt to build pressure on Yameen and force him to comply with voter opinion. The US wasted little time in adding to the pressure.
"The United States congratulates the people of Maldives, who peacefully raised their democratic voices to determine the future of their country. Although the Election Commission has not yet announced the final tally, we note Maldives' media and NGO reports that the Joint Opposition candidate has secured a victory following a peaceful day of polling. We urge calm and respect for the will of the people as the election process concludes," said the US State Department in a release. The words "respect for the will of the people" are directed towards Yameen, both as a nudge and a veiled warning.
The MEA release also said: "This election marks not only the triumph of democratic forces in the Maldives, but also reflects the firm commitment to the values of democracy and the rule of law. In keeping with our 'Neighbourhood First' Policy, India looks forward to working closely with the Maldives in further deepening our partnership."
Parsing the Indian statement further, we see a triumphalism at the win of "democratic forces" and a call for early reset of bilateral ties. By evening on Monday, the MEA had released another statement, relating that Prime Minister Modi had called and congratulated the new Maldivian president, "conveyed his good wishes for the strengthening of democracy, peace and prosperity in Maldives under the leadership of Mr Solih" and "the two leaders agreed to work closely together to further strengthen the close, friendly and good neighbourly relations between the two countries."
The new government will be ushered in only after Yameen's term ends on 17 November. Even the formal results won't be published before a week after the election. It is therefore possible to interpret India's zeal and quickness in moving towards re-building the partnership with Maldives under a new leader as a reaction against charges of inaction and an ineffective neighbourhood policy when the Indian Ocean archipelago was seen moving firmly towards the Chinese orbit.
Given the fact that the tropical islands lie within India's traditional sphere of influence and its atolls span the critical trading and shipping routes that provide access to India's energy resources and also form the backbone of global trade across Indian Ocean, New Delhi had been alarmed at China's growing political influence in the islands. It feared that Beijing will eventually fortify its presence by building a military base in the islands and extend control over the crucial sea routes — employing the South China Sea playbook in India's backyard.
In February, The Times of India had reported that China is building a joint ocean observation station in Makunudhoo, the westernmost atoll, that may allow "the Chinese a vantage point of an important Indian Ocean shipping route through which many merchant and other ships pass". The proposed observatory would mirror the one that Beijing has established for South China Sea, formalising its control over the reefs and atolls in the disputed waters. According to the report, the station will have provision for a submarine base.
In face of such provocation, India's waiting game with respect to Maldives was seen as useless, overly cautious and even counterproductive with editorials calling for "jettisoning this diffident approach" and military intervention because "if one petty dictator in the region is allowed to go scot-free after harming India's interests, there will be more of them in future."
Mohamed Nasheed, the exiled former president, urged India to take military action against Yameen to prevent, as he put it, Maldives being sold off to China "piece by piece, island by island". Not just the former president of Maldives or its own public, India was facing international pressure as well. New Delhi's role as the net security provider in the region was under scrutiny.
"There are expectations from many other countries — the US, the UK and Australia — that are looking to India… The ball is in Delhi's court to do something," analyst Constantino Xavier was quoted as saying by Financial Times.
Yet, India refused to act beyond calling the imposition of emergency 'disturbing' and issuing a travel advisory. Meanwhile, the Yameen government asked India to withdraw its military helicopters and personnel and clamped visa restrictions on Indian nationals despite New Delhi's traditional role as prime civilian aid provider and its civilisational ties with Maldives. One Maldivian minister even bracketed Maldives' situation with Kashmir.
"Why haven't we gone into the Kashmir issue...and asked to be (an) intermediary? Because they are internal matters...India should stay away from our issue. We are independent and capable of dealing with the situation. If we need help, we will let India know," Mohamed Shainee, a senior minister in President Abdulla Yameen's cabinet, apparently told Indian reporters.
India's apparent reluctance to act was less due to fear of Beijing, and more due to an apprehension that any military intervention might turn popular opinion against India and may trigger a backlash that Yameen could use to further consolidate his power. Having burnt its fingers in Nepal, India was loathe to make the same mistake twice.
The developments bear out the success of India's strategy of non-interventionism, but New Delhi will make a grave mistake if it confuses election result with waning of China's influence. Beijing's roots in Maldives by now are so deep and enduring that it can easily take the unseating of Yameen — its man in Malé — in its stride. The new government has already promised to "reassess" Chinese projects and may even renew the close strategic partnership with India but even if he is guided by best intentions, Solih's hands will be tied due to the mountain of Chinese debt that his nation must somehow repay without mortgaging Maldivian sovereignty.
That is easier said than done.
As Robert A Manning and Bharath Gopalaswamy writes in Foreign Policy, whereas Beijing didn't have even an embassy in Malé in 2012, today, Maldives is "awash with Chinese tourists, as well as large streams of Chinese foreign investment. A report by the Center for Global Development says the largest Chinese investment projects are an $830 million upgrade of the airport, including a 1.3-mile bridge to link the airport island with the capital, which is a $400 million project. The Chinese are also building a 25-story apartment complex and a hospital." Chinese projects reportedly account for "some 70 percent of the total Maldivian debt, and $92 million a year in payments to China, roughly 10 percent of the entire budget."
India doesn't have the resources for chequebook diplomacy, neither does it believe in extending strategic influence through debt-traps, a ploy patented by Beijing. To be sure, China will woo Solih with the same zeal that it courted Yameen, and there will be enough sticks and carrots to prevent Maldives from veering back into India's sphere of influence.
According to strategic affairs analyst Brahma Chellaney in Nikkei Asian Review, India "must assist the new government in infrastructure development and meeting its foreign debt obligations, including by extending low-interest loans to pay off Chinese credits. Escaping debt entrapment is vital for the Maldives to retain strategic autonomy."
It seems improbable for a nation that doesn't have enough budgetary outlay to modernise even its own army. Nevertheless, it could align itself with like-minded powers such as Japan and the US to help smaller neighbours tide over the Chinese debt crisis. A recent report in Financial Times says that the US is planning to set up a "$60bn agency to counter China in developing world." This may provide an opening for India. However, the strategic competition with Chine requires sustained and consistent diplomatic attention. This is a tall ask in Indian set-up, and even more so ahead of a busy election season. Solih's win therefore shouldn't lead us to count our chickens, yet.
World
Until 1971, Radio Free Europe was a covert US intelligence operation seeking to penetrate the Iron Curtain and foment anti-communist dissent. The Russia-Ukraine war has shaken up its operations and highlighted its importance
Explainers
Mike Pompeo's book 'Never Give an Inch' is a memoir of his time as Donald Trump's top diplomat and CIA chief earlier. Let's take a closer look at the biggest bombshells
Opinion
There is no denying that every presidential hopeful, including and possibly starting with incumbent Solih, is waiting to know the possibility of Yameen being able to contest the election, for working out his own election strategy, including a reality-check on the wisdom of throwing in his or her hat