Maldives crisis a tricky challenge for India, but comparing it to Doka La would be a diplomatic misstep
While the Maldives crisis is certainly a challenge to Indian diplomacy, comparing it to Doka La is to misrepresent what both were about.
As the Maldives crisis deepens with the leadership showing no signs of following democratic and constitutional norms, the level of noise calling for India to act decisively has increased to absurd proportions. One skein of the arguments put forward to justify such an intervention is that the Maldives is a dilemma similar to the Doka La crisis last year. While the Maldivian situation is certainly a challenge to Indian diplomacy, comparing it to Doka La is to misrepresent what both were about. That could lead to very dangerous consequences for policy.
First, and this cannot be said often enough, the Maldives is going through an internal power struggle that is fairly common to states that are still putting down the roots of democracy. In plain words, it is entirely an internal issue that a legitimate government has to resolve for its own good and that of its people. It's not too late for President Abdulla Yameen to heed the advice of the international community and release political prisoners, and hold an early election. His slide into authoritarianism is regrettable, chiefly for himself and the Maldivian people.
As of now, there is no evidence of severe violence, and unless matters get out of hand, there is nothing to indicate that the Maldivians cannot deal with this themselves. As far as the crisis goes, the Government of India's only concern is that the country should remain reasonably stable and that the leadership – whoever it may be – should be able to defuse the crisis with minimum use of force and maximum resort to democratic norms.
Simply put, the political crisis is not one that immediately threatens India's national security. Doka La was. An incursion of China into that narrow neck would have permanently jeopardised our communications with the North East, besides physically threatening another sovereign country, Bhutan. The urgency for action is therefore entirely on a different level.
Second is the issue of Chinese investment and 'predatory economics' which is a somewhat separate problem from the crisis itself. After all, China's entry into the country was more than five years ago under an earlier president. It is undoubtedly the sovereign right of a country to choose with whom it trades or invites to invest. Yameen would hardly have been unaware that showing China a welcome mat would rile New Delhi. But this is how smaller powers have tried to balance themselves against larger neighbours.
Most of India's neighbours have tried to do this at some time or other, sometimes teaming up with the United States – remember Pakistan was a member of the South East Asian Treaty Organisation of 1954 – or with China at different times.  It is this behaviour of smaller states that has led to a veritable deluge of literature on the subject of the balance of power, 'bandwagoning' and soft balancing, all of which is the stuff of debates so dear to the hearts of students of international relations everywhere.
India has to accept that such behaviour can be expected of all its neighbours, and therefore build the requisite tools and capabilities to prevent such tactics to the extent possible. This needs to include generous alternative financing mechanisms, but also that basic foundation stone for good neighbours, provision of defence equipment. A country that is dependant on you for spares is a country that is likely to remain on good terms with your military.
Unfortunately, building a defence industrial base is something that past governments have ignored to our peril. International relations follows the basic laws of science in that it abhors a vacuum. Simply put, if you don't put up the dollars, someone else will. In this case, it is China, which – much like the East India Company – is not out there for charitable purposes, but to bleed out resources for its own benefit.
Third, there is no doubt that Yameen has crossed various red lines with regard to Indian interests. His signing of a Free Trade Agreement with China, the first with any country, was followed by the enthusiastic adoption of the Maritime Belt and Road Initiative – a scheme that is a nicely packaged plan to extend China's economic and military thrust into the Indian Ocean.
The sidelining of Indian companies, the deliberate pushing away of India projects away from areas where the Chinese are dominant, and most of all the entry of Chinese warships into its port, are all calculated to send a message. Yameen was thumbing his nose at India. This is something no regional power will tolerate, even if these are the actions of an entirely independent country.
Certainly, India would like such a president out the way, but that is hardly by military intervention. If as former President Mohamed Nasheed says, the country has sold itself to China, then it is for the Maldivians to vote out a government that works against its interests.
As the Maldivian economy slides into the red, and the loss of tourism bites, this is probably what will eventually happen. Meanwhile, India and the international community can only insist on a free and fair election.
The challenge to India is on two fronts. First is the possibility that the Maldives will slide further into serious violence, pushing India into a decision on whether or not to intervene to restore order. While military intervention is a simple task in operational terms, it is a very complicated one in politico-diplomatic terms. Such an intervention may be eventually presented as part of humanitarian assistance, complete with hospital ships and medical teams. But its still an option that India could do without. History shows interventions are messy and usually unrewarding.
At present, New Delhi will probably prefer to watch and wait, while discreetly pulling strings from outside. In other words, there is still a choice here, unlike Doka La, where the need to react militarily was immediate and urgent. There is no need for this to be presented as a "test" of Indian leadership and muscularity as was Doka La. The situation is entirely different, with the potential for use of multiple tools of statecraft.
Which brings us to our second challenge. Our decisions on the immediate crisis cannot and should not be shaped by the boorishness shown by Chinese media – the article in Global Times notwithstanding – or even statements by Chinese officials. We resisted Chinese stridency during Doka La, which led to a very firm and balanced policy. The present situation will turn into a military intervention issue only if China decides to send a flotilla to protect the Maldives.
This remains unlikely since that would be tantamount to a virtual declaration of war, at a time when Beijing is already beset with problems in the South China Sea. China and various other countries are trying to egg the present leadership on to precipitate action – the last challenge, therefore, is not to do so.
Multiple sources will call for intervention. Apart from armchair analysts frothing at the mouth, will be the defence circle itching to show their capabilities and win laurels. These are challenges to your internal cohesion, and should not be a prod to jump for the gun.
Meanwhile, consider the opportunities in the Maldivian crisis. One is to rewrite and relook at our regional policies as a whole. Prepare to set out your own economic and defence assistance policies on a very large scale. Regional power doesn't come cheaply.
A second is to operationalise the 'Quad' – the virtual non-alliance between Japan, India, Australia and the United States – to provide the financial capabilities that can replace Chinese predatory economics. In short, create the leverages to provide the 'pressure' so urgently needed for muscular diplomacy. If not, just let the commentators let off steam.
Explainers
Amid the backdrop of Nancy Pelosi's visit to Taiwan, the US has sent ships to waters near Taiwan. While China has the largest navy in the world, it cannot match the US' capabilities. Which is why it has been focussing on developing 'carrier-killers'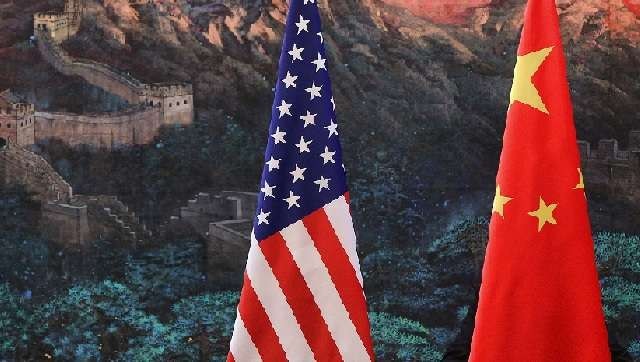 World
Sweeping theories for the supposed advantages of one system or the other over climate change and the COVID-19 pandemic have been of little help in predicting how these crises would play out
World
Prime Minister Narendra Modi asserted that India has been and will continue to be the 'first responder' to any need or crisis Maldives faces