Washington: The Islamic State terror group along with climate change are seen as posing a major risk to India by its people, while an assertive China is considered the third top threat to the country, a latest Pew Research Centre survey said on Tuesday.
In India, 66 percent of the respondents considered Islamic State as a major threat, while 47 percent said they considered global climate change as the major threat, the report said.
Islamic State is named as the top threat in a total of 18 countries surveyed — mostly concentrated in Europe, the Middle East, Asia and the US, it said.
Forty-four percent said China posed a threat to India. This was closely followed by cyber attacks (43 percent), according to the report.
Chinese and Indian troops are locked in a face-off in the Sikkim sector's Doklam area, also claimed by India's ally Bhutan, for over a month after Indian troops stopped the Chinese army from building a road in the disputed area.
While China tops the list among three countries in terms of threat perception for which Pew did the survey, it is quite low for the US (19 percent) and Russia (17 percent).
In fact, China is increasingly being seen as an emerging threat by many countries in the world, the report said.
In South Korea (83 percent) and Vietnam (80 percent), the respondents considered China's power and influence as a threat.
In the US, 41 percent of the respondents expressed concern over Chinese power and influence. It was also a country of concern by people in Spain (51 percent), Japan (64 percent), Philippines (47 percent), and Ghana (46 percent).
Islamic State is clearly the primary concern among the issues tested in Europe. Many Europeans also see climate change as a major threat to their countries.
In the Asia-Pacific, the IS and global warming rise to the top as major concerns, but a median of roughly half (52 percent) also worry about cyberattacks, Pew said.
A median of 47 percent across the region says China's power and influence is a major threat, the report said.
China's power and influence are seen as a major threat by a modest median of three-in-ten across Europe, it added.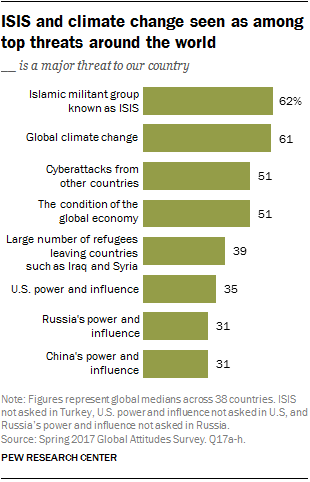 Pew said across seven Asia-Pacific nations surveyed, a median of 62 percent see Islamic State as a major threat and 61 percent see global climate change in the same light.
About half across the region see cyberattacks and Chinese power as a major challenge.
Fewer are very concerned about the global economy, refugees or American and Russian power, it added.
Updated Date: Aug 01, 2017 20:53 PM