Mainpuri accident: 7 killed, over 30 wounded as bus rams into truck on Agra-Lucknow Expressway; injured taken to Etawah's Saifai Hospital
At least seven people were killed and over 30 injured on Sunday when a bus rammed into a truck on the Agra-Lucknow Expressway near Mainpuri in Uttar Pradesh, in the early hours of Sunday
At least seven people were killed and over 30 injured on Sunday when a bus rammed into a truck on the Agra-Lucknow Expressway

The incident took place near Mainpuri in Uttar Pradesh, in the early hours of Sunday

Reports claimed that the injured have been sent to Etawah's Saifai Hospital for treatment
At least seven people were killed and over 30 injured on Sunday when a bus rammed into a truck on the Agra-Lucknow Expressway near Mainpuri in Uttar Pradesh, in the early hours of Sunday, reports said.
#NewsAlert – 7 dead, 34 injured in a bus accident in Uttar Pradesh. Bus rams into a truck on Agra-Lucknow expressway. Accident near Mainpuri claims over 7 lives. pic.twitter.com/rNnybIhgfr

— News18 (@CNNnews18) April 21, 2019
Reports claimed that the injured have been sent to Etawah's Saifai Hospital for treatment.
7 dead and 34 injured after a bus rammed into a truck on Agra-Lucknow Expressway near Mainpuri pic.twitter.com/sBjWuaSzu1 — ANI UP (@ANINewsUP) April 21, 2019
The identities of those killed are yet to be ascertained.
According to Zee News, the number of people killed in the accident is likely to rise. "The bodies trapped in the bus were retrieved by cutting off parts of the bus," the report said.
Find latest and upcoming tech gadgets online on Tech2 Gadgets. Get technology news, gadgets reviews & ratings. Popular gadgets including laptop, tablet and mobile specifications, features, prices, comparison.
India
Police had earlier suspended Vinay Tiwari, station officer at Chaubeypur station on the suspicion that he might have tipped off Dubey about the raid, after which eight cops were killed.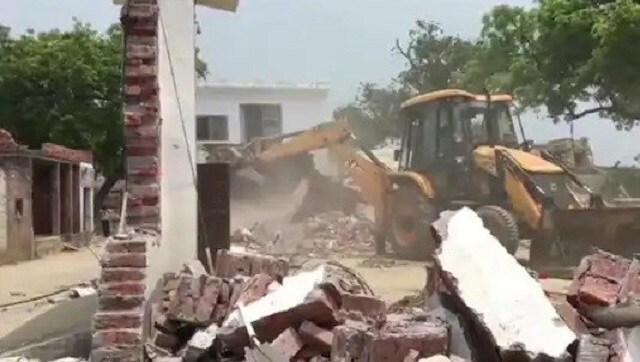 India
An official indicated that Vikash Dubey, who who is wanted in 60 criminal cases, may have fled to Nepal or taken shelter in a neighbouring state
India
Only 5,000 tourists will be allowed to visit Taj Mahal in a day, split into two groups, a far cry from peak levels of 80,000 a day